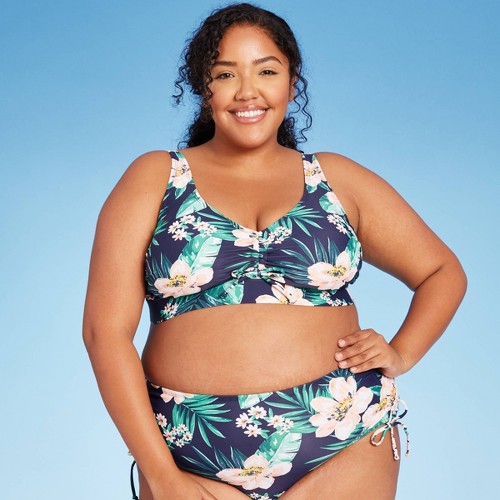 Please rating for this item if you love : 0 star
Check Price In Store: Target
Women S Plus Size Cinch Front Sea Breeze Bikini Top Kona Sol
Enjoy a warm summer day by the water in the Cinched Front Seabreeze Bikini Top from Kona Sol™. This women's bikini top features a floral print with white blooms on a navy blue background and it's cinched in the middle for an extra touch of style. Adjustable straps help ensure you have the best fit while removable cups provide customizable coverage. Whether you're strolling along the shoreline or stretching out by the pool this blue bikini top is a must-have for your swimwear collection. Size: 24W. Color: navy/sea. Gender: female. Age Group: adult. Material: Nylon.
Kerry Beck: Thank goodness for a good heavy duty masher that doesn't bend or mash properly. I will be mashing more than just spuds.
kiwimommy: Far superior to a vertical masher, I love this masher! Its short handle helps you to avoid slipping around the potatoes when you're mashing and you can throw your weight into it, so to speak. The grip is easy on your hand, and clean-up is a snap.I couldn't be more pleased. Highly recommended.
LexNoir: I got this for my wife because she always complained about mashing potatoes. This thing didn't do a very good job. She ends up continuing to mash the potatoes by hand. We both hate lumpy mashed potatoes.
Marge M: I can't believe that I am so excited about such a simple kitchen tool. The vintage ricer which I used for more years than I will acknowledge has been retired.I looked at several different mashers and realized that ergonomically I needed the downward push. And this masher more than meets my expectations. And shortened the time in the process.My only issue is that it must be stored in a larger drawer because of the size and not in my kitchen tool container. Worth every cubic inch of storage.This is The One to buy. Sturdy, comfortable to use, economy of motion and easy to clean.
Mel: This is an excellent masher. If you're doing skin on potatoes it clogs up slightly - but still made short work of a few batches of mashed potatoes (with and without skin) & mashing up sweet potatoes for another dish.The one flaw of the design? It's short handle. However, it's not a deal breaker. In fact - the plus-es of this more than made up for it's sole shortcoming. My old masher (vertical handle) was about the same height and had the same issue.There's only one masher I've used that I liked as much as this one - but it was literally twice the price (it's a Cuisinart model). However, I would still choose this one over that other model because there was no hand fatigue with the Oxo. My family loves mashed potatoes and when I make them I make a lot. This was definitely put through some trials for Thanksgiving. I'm looking forward to using it for Christmas, and for meals in between.