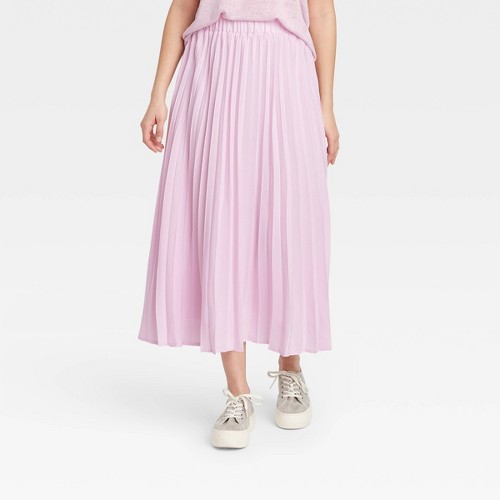 Please rating for this item if you love : 0 star
Check Price In Store: Target
Women S Midi Pleated A Line Skirt A New Day Light Pink XXL
Lend some elegant flair to the simplest of outfits with this Midi Pleated A-Line Skirt from A New Day™. This vibrant orange A-line skirt makes a great option for casual and formal outings alike. It features a flared hem along with pleated detailing for plenty of movement and elegant texture. The lightweight fabric with soft lining ensures a comfortable drape while the pull-on style with elastic at the waist allows for easy wear. Simply tuck in a plain tee or a blouse and slip into block heels to complete your chic look. Size: XXL. Color: Light Pink. Gender: female. Age Group: adult. Pattern: Solid. Material: Rayon.
CreativeHeart: I have one before for almost 6 years, unfortunely the handles broke when it hit the floor accidently, so I ordered another one recently through Amazon, and love it very much. It is the perfect size, not too small or too big, fits right into my microwave, and though I haven't cook pasta in it I have steam many vegetables and other food items in it. It works even without the steamer basket or the small round steamer insert. It does a good job of steaming potatoes and raw vegies well and it's so easy to clean.
Creekndell: Bought this as a gift for a college freshman and she loves it. Good item for a college student. They can use it to cook almost anything in the microwave.
Cricket: I use this to steam vegetables. I use it to make mashed potatoes. I use it to make Mac&Cheese.; I use it to make pasta. I've used it to make rice or Ramen. I use it virtually anytime I have something I want to microwave that doesn't go on a plate or in a single serve bowl. The measuring cups and spoons that came with it are good quality, and I use them for a large variety of cooking.You can either cover your veggies (or noodles) in water with or without the basket...and then pull the basket out as its own strainer. Or you can put a little bit of water in the bottom and steam things, which works well. It's more difficult to clean the basket than the bowl, but it's dishwasher safe.The biggest problem I had with this was it didn't come with much in the way of instructions. While I can cook following my own experience and cookbooks, I'm never exactly sure how the inner lid is supposed to be used. If I didn't know what a spaghetti measure was, the three-holed tool would have really confused me.Also, we dropped it one day and one of the lid clips broke off (you can lock the lid on, but I don't know how necessary this feature is)...but it still works just as well as before. If I feel inclined to need to seal the lid a bit more tightly, I can use a rubber band to hold the other side on.I think this is a perfect college student or housewarming gift.
David J. Morse "Darkgoth": cheap
Diane Kistner: Okay, so I really wasn't expecting this to work well for rice, but I knew if I was going to eat more rice I needed something just like this. And so far, the 1-cup amount of long grain brown rice I've cooked has turned out just fine. The first time I made it, I used 1:3 rice and water like the instructions said (too much water, methinks); the second time 1:2 (too little), so next time I'll try it 1:2.5. The first time, I cooked the water at 100% for 5 minutes like another reviewer suggested, then added the rice and finished it at 70%. I got a small amount of spillage on the microwave turntable, but nothing a quick swipe of a sponge wouldn't take care of. The second time, I started the rice cold and cooked at 70% for the entire 30 minutes; same thing. Really, it's no big deal. It's easier to clean up than wiping the stovetop, and I like it that I'm not heating up a stove burner.I also picked up aJapanese Rice Washing Bowl with Side and Bottom Drainers, so I'm washing my rice first. I think I'm going to start sprouting my rice a little bit first, then cooking it.Anyway, I wanted to say how nice it is that these pieces all fit together. I especially like the pasta drainer insert, because I can use it as a colander when I'm washing up veggies in the sink. Today I steamed some fresh veggies in the the pasta drainer instead of using the steamer insert, then ran cold water over them to get them to stop cooking. Then I put my rice in the rice cooker and started it in the microwave, then diced up all the steamed veggies and some fresh herbs and mixed them up with a little olive oil, salt, rice vinegar, and grated parmesan cheese. When the rice was at the "fluff" stage, I fluffed it up and stirred in the diced veggies, then snapped the lid back on and left it all sitting on the counter to flavor-blend. That's what we had for lunch, and it was simple, cheap, and yummy. And then I was able to quickly wash everything up by hand, then dry the pieces and sit them right there on my counter beside my stainless steel bowls. I'll use this thing daily!