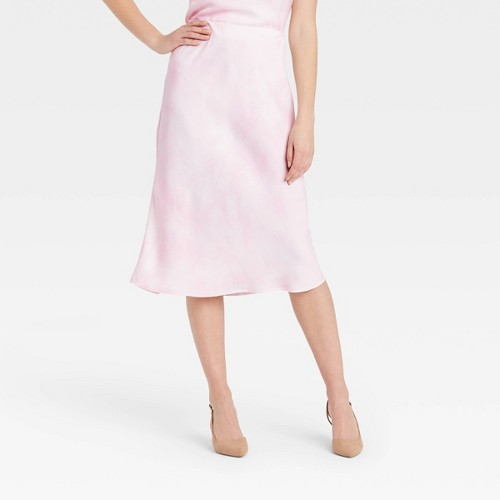 Please rating for this item if you love : 0 star
Check Price In Store: Target
Women S High Rise Midi Slip A Line Skirt A New Day Pink S
Get a closet staple that adds easy elegance to a variety of tops with the High-Rise Midi Slip A-Line Skirt from A New Day™. This high-waist midi skirts sits at the natural waist for a flattering fit and features a full waistband elastic so it's simple and comfortable to pull on and wear. The skirt is bias cut at a diagonal for a more dramatic and elegant drape making this stylish midi skirt easy to dress down by tucking in a plain tee or to pair with a coordinating color blouse for a chic two-piece look. Color: Pink. Gender: female. Age Group: adult. Pattern: Tie Dye Design. Material: Polyester.
Kal: I first purchased a set of $20 Stainless measuring cups but they didn't agree with the dishwasher so I instead bought these, saved money and they don't mind the dishwasher one bit. They are hard to place however as they won't stay in place very well.They do clip securely to the ring and stack nicely within themselves but finding a slot in my growing drawer of utensils is hard because of their bulky size. Scooping dry ingredients is pretty easy with the angled front lip and overall I'm satisfied.
Kathy B Jones: I have been looking for measuring cups that would fit into the mouth of my flour canisters and allow me to level the measurement without flinging flour everywhere. These are a nice graduated oval shape, perfect for my use, sturdy handles (a definite plus) as well as the cup size designation appears to be one that will not wear off. They even have a 2/3 and a 3/4 cup (never heard of that before).
Kh Fernandez MD "khfdez": This set has a 1/3 cup and a 3/4 cup measure which my other sets lacked. They stack up neatly.
Knits in Tardis: Although a kitchen veteran, I'm relatively new to baking. For baking, a measuring cup that can easily scoop flour, sugar, etc., and that can be leveled with the back of a knife flush to the top of the scoop for precise measure - that's the ideal. And that's what Oxo has created here.Before, I've had scoop sets but they were round or cylindrical. You've got to use and compare that kind to this set to really appreciate how an oval scoop shape can get into those corners of a flour/ingredient container. It seems like a small thing, but between that and the ergonomic handles, this set will have you throwing out older, cheaper scoops in a heartbeat.I don't know how the colored numbering on the handles will wear. I have a similar measuring spoon set from Oxo that is a few years old, also black, and on those the size numbers have started to wear off. However, on the new scoops, the numbers are not just painted but raised, so you could still make out the measure size, under decent light, even if the paint were to come completely off.Another reviewer complaint I've noticed is stuff sticking to the inside of the scoops. Yes, even flour tends to leave a bit of a residue on the spoon after measuring, moreso than with some other plastic and glass measures I've used. But it's an insignificant and residual quantity, irksome only insofar as you can't always fudge and scoop from one container, then another, without rinsing between those uses, if you don't want to cross-contaminate the flour with cocoa or whatever.L-O-V-E these scoops. For style and precision, they're a Porsche 911 to the dollar store's Yugos.
Kscribe "Kscribe": I like the design of these measuring cups, which stack together well for storage. The ring they arrive attached to is strong and durable, and I like how the cups unclip from it easily and re-attach for storage with a quick click back on the ring.