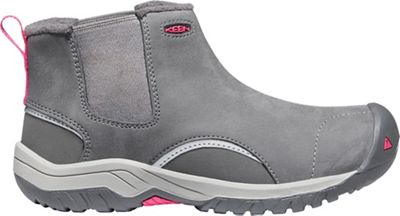 Please rating for this item if you love : 0 star
Check Price In Store: Moosejaw
KEEN Youth Kootenay III Chelsea Boot 1 Steel Grey Pink Peaco
Features of the KEEN Youth Kootenay III Chelsea Boot Waterproof leather Upper Elastic Gore for easy on and off Fleece lining for warmth Thermal heat shield insole captures warmth Higher-traction rubber Outsole Keen. warm Insulation rated to -4°F/-20°C Eco anti-odor for natural odor control PFC-free durable water repellent Stitch-and-turn construction Uses minimal adhesives Slip-on design for easy on and go
MK Reagan "Mary Kay": I may order the large size because I like the small one so much. Easy to use and clean. Enough for 2-3 good sized salads. As recommended, I store the washed greens in it and they keep twice as long as in a regular tupperware. My old salad spinner, c. 1980, has gone to Goodwill!
mm "working mom": This is a product that was clearly designed by someone who doesn't use a salad spinner...or maybe someone with really big hands.It's attractive and very sturdy, and the big push knob does lock in the down position easily. And it doesn't slip around when you are spinning it.BUT:- it's heavy and has no way to hold it one-handed, due to its large size and slippery material.- to spin a decent amount of water out, you have to push the knob fast and use a lot of force.- there is no spout, so you have to take the lid off, pour out water (and it takes both hands to hold the bowl so you need a place to set down the lid and to set down the strainer full of lettuce)Unfortunately I had already recycled the box before using this so I couldn't return it. So, I donated it to a nonprofit thrift shop. Maybe there is someone with huge, strong hands who can use it!
Motown Jane: Veggie people will love this. It is sturdy, very easy to use, and more effective at drying lettuce, etc. than any spinner I have owned. The bonus is you can use it to store in the frig and it keeps salad beautifully. Highly recommend.
M. Shaw "Mahatma": She has used it for (3) years. No complaints from her lips to my ears. I do not know what else to say about a salad spinner.
MS "MS": We eat a lot of greens so the way we wash , dry it and store it is very important. This baby is doing all of it + you can even serve them in a bowl. Sturdy and esthetically pleasing for your eyes and touch is worth the money. We love it.