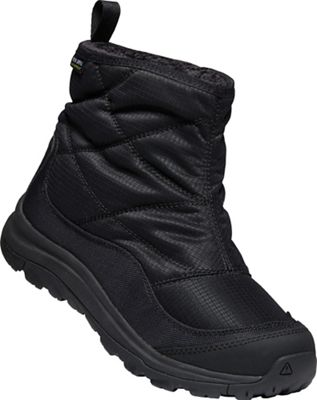 Please rating for this item if you love : 0 star
Check Price In Store: Moosejaw
KEEN Women S Terradora II WP Ankle Pull On Boot 8 5 Black Bl
Features of the KEEN Women's Terradora II WP Ankle Pull-On Boot Recycled Pet plastic Upper Fleece lining for warmth Thermal heat shield insole captures warmth Low-Density EVA Midsole caters to a woman's foot Keen. freeze rubber Outsole for traction in cold conditions Non-marking rubber Outsole leaves no trace Stability shank delivers lightweight support Keen.dry waterproof breathable membrane Keen.warm Insulation rated to -25°F/-32°C Eco anti-odor for natural odor control Recycled Pet plastic PFC-free durable water repellent Slip-on design for easy on and go
W. C. LITTLE: I already had the 8-quart bowl and was satisfied with it for beginning the kneading process for dough. With that size I eventually had to put the dough on the counter for the final kneading. With the 12-quart size I can do the entire kneading in the bowl and not have the counter to clean when finished. Plus it's almost large enough for a Saturday night bath.
Y. R. Wu "The will to win is nothing without ...: Summary - this bowl is junk, made in India. Avoid!I had a 8 Quart AMCO bowl purchased ~1997. It was heavy, solid and top notch quality.I was hoping to replace it with something similar - however this is total JUNK.In addition to being very noticibly light, the bottom of bowl is CONVEX which means it wobbles. If you try to push it in it POPS into place (watch your ears!) then POPS back. Very poor quality, not what I was expecting from AMCO. It was so bad I returned it. (Purchased in November 2012)In case you are curious, this bowl was made India - the original one I had was made in Korea.IHope this helps you avoid the same mistake I made.
Bella Figura: I wish I had bought the slightly smaller one, nevertheless this is perfect for draining pasta without losing the precious pasta water needed to add to sauces.
john m: Way larger than i expected, BUT i didn't read the description thoroughly.. my fault. This style cleans much better than the woven mesh type of strainer.
M. Heck: I like to make very large batches of soup. I begin with the onions and meat diced very small. Before I'm ready to add vegetables, I half the soup base and freeze one half. I've found that freezing some vegetables (especially potatoes) makes them mushy. Buys just freezing the base, thawing it and adding vegetables then prevents that.This large scoop colander lets me get out all the meat and onion quickly and easily for dividing them into the two sets of soup base and keep the amounts equal for a better tasting soup.The quality and style are on par with my Cuisinart colander. Well made and sturdy.