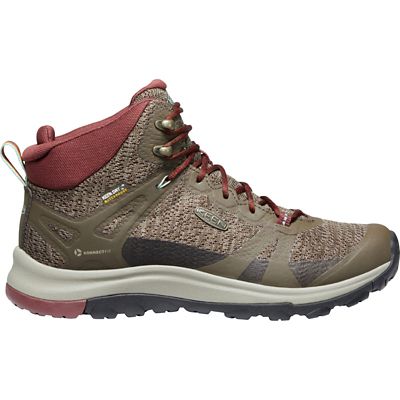 Please rating for this item if you love : 0 star
Check Price In Store: Moosejaw
KEEN Women S Terradora 2 Mid Height Waterproof Hiking Boots
The KEEN Women's Terradora II MID Waterproof Boot is a hiking boot that repels water for better traction and comfort on the trails. KonnectFit heels lock you in place for expert Performance and the KEEN. ALL-TERRAIN rubber Outsoles add a level of necessary grip. Its PFC-free repellant is eco-friendly which is an added bonus. And if things end up getting a little stinky eco-friendly anti-odor Footbeds help keep the smell away. If you're looking for an environmentally conscious piece of footwear this is it.Features of the KEEN Women's Terradora 2 Mid Height Waterproof Hiking Boots WATERPROOF: KEEN.DRY waterproof breathable membrane provides a waterproofing TRACTION: KEEN.ALL-TERRAIN rubber Outsole for Higher-traction grip SUPPORT: The stability shank delivers lightweight support on uneven surfaces Fit: Built on a women's specific foot form for a more narrow and precise Fit CAre TIPS: Gently brush the boot with a soft damp sponge to remove loose dirt
neurotome "neurotome": After an abortive try at breadmaking a couple years ago (two bland, spongy loaves, and weeks of sore wrists from kneading) I figured I'd leave it to the experts. But I finally walked past that 'specialty flours' aisle once too many times at the supermarket, and so I broke down and bought this bread machine.I didn't know quite what to expect, never having seen a bread machine before. I can tell you that this idiot-proof machine goes from zero to staff-of-life in 3 hours 32 minutes. Basically, it's like this: You dump in the liquid ingredients. You dump in the solid ingredients. You make a little hole in the flour pile, for the yeast, and then you dump the yeast in there. And If you have stuff you want dribbled on the top of the final loaf, you put that stuff in a special little compartment, which falls open at the right time.Then you push a button.Hey presto, delicious bread! I honestly didn't believe the bread could be so good - or the machine so forgiving. Just for laughs I dumped a bran-muffin ready-mix package into the 'honey banana bread' recipe - the result was better than the normal recipe. You can dump in a lot of things - fruits, nuts, weird flours, molasses, rye, caraway and poppy seeds, oats - it all works. I've yet to have the machine protest, even when I put it on the wrong setting.Sourdough and really good white bread, as you might expect, take a little extra work, but each can be attained. And don't underestimate the fun factor - kids will love making bread and eating the fruits of their labors!I'd recommend this for anyone who likes to cook or eat bread!
Perry M. Smith "prysmith": One never really expects much from high tech products that are meant to substitute for elbow grease and common sense, but this gadget is nothing less than fantastic. I am a first-time bread machine owner and was actually astonished that the Breadman does everything that was promised with minimal tweaking. I have discovered, however, that one should be observant during the first kneading operation to make sure that all the dry ingredients are thoroughly mixed into the dough mass. If not, simply add a little water (up to a tablespoon at first), and help the unabsorbed flour etc. into place with GENTLE nudges from a plastic spatula. The machine then does the rest and does it magmificiently. You are now free to go watch television, clean the house, play with computer, nag the spouse, or nap. Because of the necessity for this initial watchfulness, I am very hesitant to try the delayed baking option; also, since many recipes require the inclusion of eggs and other perishable foodstuffs I simply do not think it wise to let the non-cooked ingredients to sit at room temperature for several hours. On the brighter side, I did not find the machine noisy or loud, certainly not as intrusive as the average dishwasher. It's great and I cannot sing its praises too loudly!And, oh yes, the bread is scrumptious!
PurpleVictoria: I was not a big lover of bread until I bought this machine to make bread for my husband a few months ago. I have made white, wheat, banana, cinamon raisin, maple sweet potato, dill, garlic, potato, and fantastic pizza dough just to name a few. EVERY loaf has come out perfect even though I am not the most precise person when it comes to measuring. I made ginger bread with the delay feature and WOW how nice the house smelled when we woke up. I have not bought a loaf of bread since I bought the machine. I make a loaf every few days. It takes about 10 minutes or less to pile all the ingredients in the machine, then press start and 3 or so hours later you have wonderful bread. It really couldn't be any easier. I have had no problems with the machine. It works perfect every time. My only gripe is that the slices of bread are HUGE, so be prepared to have big sandwiches and big toast, which is okay because the bread is so darned good! I would recommend buying an electric knife because otherwise cutting your delicate slices is a royal pain. Happy baking.
R. Mastromauro "Mommy Dearest": I received this machine as a gift from my wish list, I wanted it because at the time it had received fairly great reviews from users. I have a couple of problems with it though.First the loaf pan was difficult to remove the first couple of times I used it. Secondly, one of the reviewers mentioned that it does not bake the top half of loaves that are larger than 1 lb. That is true. I made the zucchini bread recipe from their cookbook, the top half did not bake properly, I let it bake an additional 10-15 minutes, this ended up overcooking the bottom half of the loaf with no apparent progress on top. Also when I made the standard 2 lb white loaf, it didn't bake a small portion of it at at the top.Either way I still use it quite a bit to make doughs and it works great for the most part. I tend to stick to making more 1 lb loaves though. Still it does a great job otherwise. I use it several times a week.
Robin C.: I bought one of these a few years ago based on its choice by Consumer Reports as the top bread machine. I struggled mightily with it for two years, trying every different recipe I could. Here's the bottom line--it consistently made OK bread that wasn't burnt or raw, but it just comes nowhere close to homemade bread.The texture I get when I hand-knead bread is chewy, slightly moist, with air holes. The texture I get with the bread machine is very fine-grained, unchewy, and dry, just like supermarket bread.This may be true for all bread machines, but I somehow think it's just this model because other people rave about the bread they get from their bread machines.I finally gave up and put the machine out in the garage.If you like a very commercial-style bread, this may be OK for you. Be warned that it's very noisy. I tried using the timer to make bread at night for morning use, but even in a large house it is still way too noisy to sleep through.