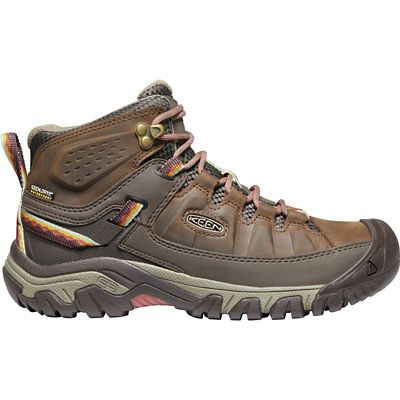 Please rating for this item if you love : 0 star
Check Price In Store: Moosejaw
KEEN Women S Targhee 3 Rugged Mid Height Waterproof Hiking B
The KEEN Women's Targhee III Mid Waterproof Shoe is a hiking boot for active adventures. This boot takes the original Targhee's beloved Fit durability and Performance to a new level. The KEEN DRY waterproof Upper combined with the all-terrain rubber Outsole means this shoe is ready for just about any condition. The breathable mesh lining roomy toe box and speed hooks offer improved levels of comfort. This boot utilizes a mid-cut height to provide stability and peace of mind no Matter where you wander. Features of the KEEN Women's Targhee 3 Rugged Mid Height Waterproof Hiking Boots Waterproof: KEEN. DRY waterproof breathable membrane provides a waterproofing Material: Leather mud shield for resilient durability in all condition Traction: KEEN.ALL-TERRAIN rubber Outsole for Higher-traction grip Traction: 4mm multi-directional lugs for superior traction Comfort: Dual Density EVA Midsole to support comfort and minimize weight Comfort: Cushioned collar reduces irritation and discomfort around ankle Support: Reinforced eyelets work to seal foot in place CAre TIPS: Gently brush the boot with a soft damp sponge to remove loose dirt
Dwight: you only get four and if you are getting these for baking - don't because you can get nice metal ones from Cuisipro or other brands in a larger range of sizes for the same price or less. I also have the cheap plastic Norpro ones that I use all the time although I prefer metal because the white Norpro ones have very easily visible markings for the different sizes - you would still have to squint to see these Oxo ones but since there are only four of them - it is probably easy to remember at a glance which is whichthe marking is raised but I wouldn't say they were especially easy to read compared to the NorproI guess it is important to remember that Oxo products are designed for people with grip problems. I think this product is kind of a nonstarter. I don't particularly like the brushed metal compared to the shiny smooth metal of standard measuring cups because seeing the streaks in the metal lead me to suspect that food will become embedded in the very thin grooves.I would chuck the ring as the hook on each handle is meant to be slid off the ring. I don't see it as being all that useful.In Oxo's defense, I will say that these are definitely a higher quality in that the metal is thicker and the handles are thick and sturdy and they rest solidly on a flat surface. Still, it is a specific market willing to pay twenty dollars for four measuring cups that Oxo is targeting. If this item is successful, then they should consider offering more sizes - then anyone would be happy to place such a deluxe premium set on their bridal registry.
E. Barron "alphabetjungle": Overall these are nice cups--not as heavy as some, but sturdy enough for use in my kitchen. The handles are comfortable to grasp, though this is something I don't usually consider. (I like a comfortable chair and a comfortable pillow, but not once have I ever thought, gee, I wish I had comfortable measuring cups.)These are my two reservations: the metal edge on these is turned slightly outward all the way around. This is not problem when working with solids, but I've noticed my liquids seem to spill much more easily with this edge. Second, though comfortable to grasp, the handles would be more practical if they were slightly longer and narrower. So these aren't bad, but for the money, I think you can find something designed a little better.
E. Burian-Mohr "cornerstoregoddess": I didn't think I would get excited about measuring cups, but these are high on the measuring cup scale. Why?~ They are solid. Many sets of measuring cups end up with dents from being dropped, dinged in the dishwasher, crushed in the dish pan. These seem quite solid and I don't think that will happen. This also means that they will sit steadily on your counter-top and not skitter away,~They look like futuristic space ships. They have a jaunty angle to them.~A ring that won't fall apart! Many sets of measuring cups come on rings. Most of those rings are flimsy and in no time at all, all your cups are wandering off on their own. This is a solid ring. You can keep the cups on it, take them off, put them back on... and the ring remains intact.~Color coded. At first I thought that was something that was pretty useless, but, if you left your glasses in the mixing bowl and can't read the fractions, the colors will help you out. It also makes it easier to distinguish between the 1/4 cup and the 1/3 cup.~Good grips on the handles. These won't shimmy out of your hand. You can get a good grip here.~They are accurate! This should not even need to be said, but I went through a period of time where none of my recipes were quite right. It turns out the measuring cup I was using was inaccurate. Shocking, I know. These are accurate.~There's enough of a handle on them that you can use them as scoops for your flour or sugar.~Many complained about the flimsy handles, but those were reviews from several years back. Apparently these are the new improved measuring cups and I'm not experiencing and bendy problems.~Some also complained that you can't use them in the microwave for melting butter... but that's what Pyrex is for. These are dry measuring cups that do nice butter melting over the pilot light. Liquid measuring is usually done in a more pour-able kind of cup.~And... they fit right in my drawer.I hope they fit in yours, too.
E-Cowboy: In general I really have liked these measuring cups. With the updated design, I have not noticed a problem with bending handles. I do wish that the whole cup and handle were stainless steel though as the numbers tend to rub off of the rubber. I also am left wishing there was a 2/3 cup and 3/4 cup measuring cup. One feature that I really like is the shape of the measuring cup. It makes a slight spout which is great for scooping. Stainless steel is also great for measuring hot liquids, which I always had to do separately when using my old plastic ones. They come on a nice ring with easy on and off slits as well for easier storing.
Eddie Wannabee: The updated version of these OXO Good Grips Measuring Cups, Stainless Steel, Updated Design, are sturdy, reliable measuring cups. I understand that OXO, having heard from previous reviews that there was a need to correct this set of measuring cups, and they have done so brilliantly. These are reliable for all types of kitchen, and come in handy when precise measurements are the only way to go. They are actually very plain looking, but that does not take from the fact that they work beautifully for what they are designed to do.OXO has proven over and over, to be the one to look for first, in all kinds of kitchen products. Without reserve, I would say that OXO is at the top of the heap in all the gadgets they make. The measurement markings are easy to read, and according to the company, should last through the course of time. The handles are sturdy and all signs indicate they will remain so for years to come. Plus the fact that the handles have a soft grip, which helps as well. They stack up well with each other, and should be no problem placing them anywhere within easy reach. They have a ring that keeps them all together and can easily be hung if available space and conditions are met. The ring is sturdy as well, like this whole set, it gives the feeling they are here to last. Once again, a great shout out to Amazon.com, the one and only, for giving us the chance to try this efficient set of measuring cups.Everyone that bakes knows that when it comes to precise ingredient measurement, nothing beats a set of good measurement cups, and with this set OXO once again delivers a product every bit as good as its long lines of products. We have the best can opener from them, a great strainer, potato masher, I should probably stop now, for there is no doubt we favor OXO, and always seems to be our first choice when selecting things we need to have in the kitchen. This one is definitely a keeper! 4.5 Stars!