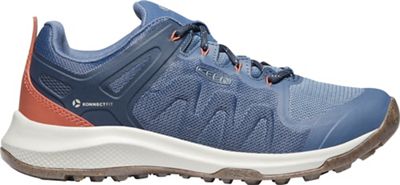 Please rating for this item if you love : 0 star
Check Price In Store: Moosejaw
KEEN Women S Explore Vent Shoe 6 5 Vintage Indigo Redwood
Features of the KEEN Women's Explore Vent Shoe Removable Dual-Density PU Footbed With Arch Support For Long-Lasting Comfort EVA Midsole For Lightweight Cushioning KEEN. ALL-TERRAIN Rubber Outsole For Higher-Traction Grip 4mm Multi-Directional Lugs For Traction Stability Shank Delivers Lightweight Support KonnectFit Heel-Capture System For A Locked-In Feel Eco Anti-Odor For Freshness
OoThought: The quality is good for what it is. The material is vinyl and stitched well. I needed the longest roll I could find because I have one very large chef's knife. This one fit it just barely. Other options would have not (in this price range).What I don't like about it is that vinyl could have been more flexible, so that you could actually ROLL it. As it is, you can only fold it over twice to close it. It isn't bad, but rolling would make it tighter to hold the knives. That is what is it is supposed to be. You are supposed to roll it and tie it tight so the knives and held together tight and so they aren't loose to bounce around and are protected from damage against hitting something else or being dropped.Also, because the velcro is really short, if you try to roll it tight, the velcro overshoots its target and you can't close it off. They should have either extended the velcro fuzzy side or used some other strap securing mechanism. This would have added a nickel to the cost I think.Overall, if you need something to contain your knives and don't want to spend much for a really good one, this will do the job. But it isn't anything special. It does look clean and neat though.
R. Carandang "optimus25": This is a great product for holding your knives. My wife and I got a nice set of Henckel knives as a wedding present. I couldn't figure out how I could transport the knives. Along with the Blade Savers, this roll bag does a great job of protecting as well as allowing us to safely transport our knives.
R. Poole: If you only need to carry a couple knives and not much more this bag would be fine. As a culinary student I found myself needing to carry more small items like measuring spoons, pens and sharpies, thermometers, note pads, a bench scraper... and this really wasn't able to do the job. I ended up going with a metal toolbox, but I will keep this around for the times when I only want to take three or four knives and a steel to work.
Serious music junkie: I'm a private chef so I use this ALL THE TIME! Works great for protecting and transporting my knives (which are actually investments and key to my trade). It holds enough knives to be effective and it's long enough to hold my really long chef's knife (WITH the tip-guard on). I'm planning to buy another one for backup when the one I have eventually wears out.
W. Accousti: Not sure how anyone could expect a better product for around $20. I use it to tote my fish cleaning knives (large Dexter Russel types w 8" blades) in their own somewhat bulky plastic sleeves. Works great, holds at lease 7 knives, a small sharpener and a plastic (Bicco) fish scaler with ease. Construction is very very good. Easy to clean vinyl covering and secure mesh divided elastic pockets inside. Side flaps keep all the knives inside when folded up. Would by a second if I had more knives.