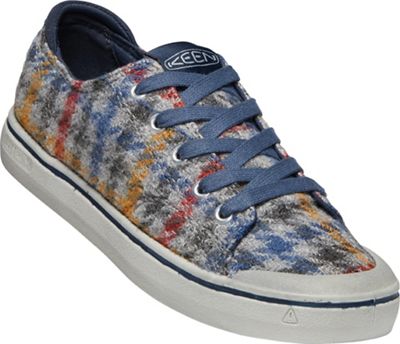 Please rating for this item if you love : 0 star
Check Price In Store: Moosejaw
KEEN Women S Elsa IV Sneaker 6 Grey Multi White
The KEEN Women's Elsa IV Sneaker is a canvas shoe for the urban run around. Skip along the city streets arm in arm with your besties. Farmer's market to window shopping do it all with coffee in hand and comfort on your feet. The direct-attach Midsole delivers cushioning that just won't stop and the canvas Upper breathes all day long. Finished off with a trusty rubber Outsole you'll enjoy a non-slip grip on sidewalks to tiled floorings. Features of the KEEN Women's Elsa IV Sneaker Luftcell PU Footbed for all-day comfort Direct-attach PU Midsole for resilient long-lasting cushioning Higher-traction TPU Outsole for lightweight durability Eco anti-odor for freshness Canvas Upper Canvas lining Achilles pad for comfort
Upstate Guy: Farberware 8 Cup Percolator makes really hot coffee. I love coffee that's flaming hot. After the coffee is made, the Farberware 8 Cup Percolator keeps it very hot, wonderfully hot. Using decent grade coffee, the percolator makes good tasting coffee. What more can you ask?
Vibert: Drink only 2 cups of coffee per week so this is the ideal size. Easy to clean. Small storage space. Brews in 3 minutes.
Vince Neil: And that flaw is it's cup-a-minute brewing speed. Percolation is a slow process. Remember the percolators of yesteryear and how long they took to brew a dark and satisfying cup of coffee? Not so here. Leave the room for a minute and come back and it's done. Huh? Yes, this percolator tries to brew coffee WAY too fast and the result is like weak tea.I suppose you could use excessive amounts of grounds to try and get a cup of coffee that could be considered good but why should you have to do that?This maker is some sort of compromise aimed at impatient people. I won't have cared if I had to wait 10-12 minutes to brew coffee if I knew in the end it would be good. The coffee that came out of this maker was a joke. Move along. This is not for serious coffee drinkers!
wackyfarm: We use this everyday. I have it set up with an appliance timer. It is done when I get up and 2 hours later it turns off. No worries!We enjoy the perk coffee so much!
Westie "ML": The first thing my husband said when I handed him a cup of coffee made in this cute little pot is "it's not bitter". That's been a problem for him, especially with various coffeemakers we've tried (single cup, small drip, & stainless carafe drip). Most importantly for me, the coffee is smooth & it's hot. I like a hot cup that's not too strong, but not wishy washy either. This fills the bill.I use regular basket filters (cut a small hole in middle) to make sure there's no silt in the bottom of the pot. It perks quickly (about 4 minutes) & makes 4 Fiesta mugs, which is plenty for our daily morning needs. I measured the temp of the coffee & it was 180 degrees using my instant thermometer.The longevity of the electrical system remains to be seen and I wish it had a red light to show when it is in keep warm mode. I make sure to never leave the kitchen with it plugged in. All in all, after using this for a few weeks, I'm very happy with my purchase.