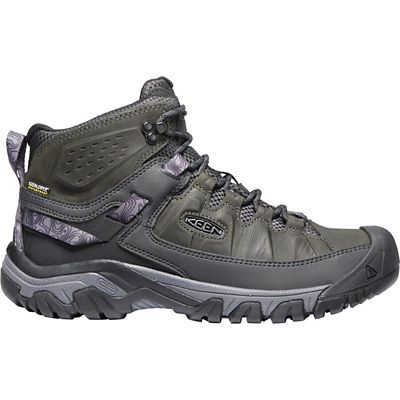 Please rating for this item if you love : 0 star
Check Price In Store: Moosejaw
KEEN Men S Targhee 3 Rugged Mid Height Waterproof Hiking Boo
The KEEN Men's Targhee III Mid Waterproof Boot is a waterproof boot for all-terrain hikes. Spend your life on the trail with a pack on your back and durable leather protecting your feet. The mid height supports and shields the ankle while 4mm lugs in a High-traction rubber grips the twists turns mud and dirt of the trail. Features of the KEEN Men's Targhee 3 Rugged Mid Height Waterproof Hiking Boots KEEN. DRY waterproof breathable membrane provides comfort and keeps your feet dry all day KEEN ALL-TERRAIN rubber Outsole provides High-traction grip in muddy environments Non-marking rubber Outsoles leaves no trace or imprints when walking indoors The Torsion stability External Support Shank (ESS) provides support on uneven surfaces The injected TPU heel-capture system provides next-level stability Low-profile Upper for comfort and secure Fit with padded tongue and collar Metatomical Dual-Density EVA Footbed provides excellent arch support and Cradles the foot KEEN recommends using a leather cleaner and conditioner found at most footwear dealers/shops
Kenny: I have enjoyed using this for rice, but the pasta was a bit of a bummer on my first try. Now I can't find the booklet, so I forgot how much rice to water to use....no biggie.
Kona Mike: Bought for use in RV microwave. Unit comes with every thing you need for cooking rice, pasta, and steaming vegetables. Well made plastic. Nested storage [space is a premium in RV].
Lisa "dancinsfun": but the steamer is exactly what I wanted. I use it for vegetables rather than pasta or rice--in fact, I can't imagine how to cook rice it in at all, but maybe that's in the directions I threw away. The steamer is lightweight, the locking lid feature is handy when moving it in and out of the microwave, and it's easy to clean. I put it into the dishwasher on the top rack with no heat.
Lynrie "Oh HELL no": I COOK in my microwave, not just heat/reheat food most times because I don't like heating up the kitchen using the electric stove and oven. With this 100+ degree heatwave our power grid has been stressed requiring limited electric usage from 3-7 PM each day to avoid brownouts/blackouts. So dinner is either a cold meal or something that can be made in the microwave. I've pulled out my Rice/Pasta Cooker to whip up meals...either rice or pasta prepared meals OR meals from scratch.(Rice a Roni Red Beans & Rice, 5-Ounce Boxes (Pack of 12)Pasta Roni White Cheddar & Broccoli Rigatoni Mix, 5.5-Ounce Boxes (Pack of 12)are two I use following the microwave instructions on the box AND some of their "add-in" suggestions. Just be sure with the mentioned prepared package meal you DO NOT NEED TO COVER THE COOKER WITH THE TOP! Don't be scared be creative too without the packaged meals ;)This cooker set has come in so handy recently BUT I couldn't find the instructions. As usual I came to Amazon for ideas and help, a reviewer was kind enough to scan and post them for us to use. This is sooo worth having and giving it a try. You'll use less electricity and not heat up your house while trying to stay cool and eat a decent meal. With high electricity costs eating out isn't an option. You can't beat the price for all the items you receive in this set. It definitely is a must have for the microwave cook!
MickeyJoe: My main inspiration for this was the pasta cooking ability, though it does much more. But after trying things likePasta N Moreetc., this is far superior. In my case, I cook penne pasta... throw the whole pound in the basket in the pot, fill with water til it covers the pasta, and whatever time the pasta box/bag says, that is your cooking time. Put the inner lid over the basket, then the locking cover. That's is. No waiting for water to boil, no oil or salt to add, just remove the lid lift the basket, your automatic strainer, and serve. Microwave a mug of sauce, and you're done. Easiest cleanup.There's also the option to steam vegetables with an insert, and of course, rice. Also comes with 6 measuring cups, 4 measuring spoons, rice paddle and a nifty spaghetti measurer.At the list price, it's a bargain. But currently part of the 4 for 3 deal. But 3 get one free, mix and match products. No brainer gifts for not just yourself, but great for students etc.