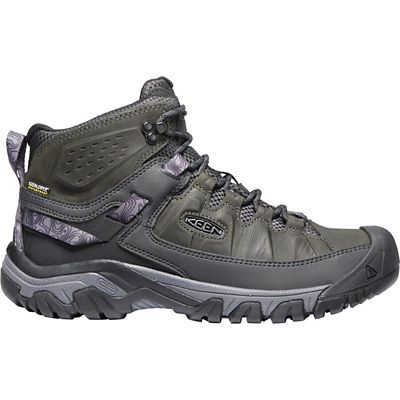 Please rating for this item if you love : 0 star
Check Price In Store: Moosejaw
KEEN Men S Targhee 3 Rugged Mid Height Waterproof Hiking Boo
The KEEN Men's Targhee III Mid Waterproof Boot is a waterproof boot for all-terrain hikes. Spend your life on the trail with a pack on your back and durable leather protecting your feet. The mid height supports and shields the ankle while 4mm lugs in a High-traction rubber grips the twists turns mud and dirt of the trail. Features of the KEEN Men's Targhee 3 Rugged Mid Height Waterproof Hiking Boots KEEN. DRY waterproof breathable membrane provides comfort and keeps your feet dry all day KEEN ALL-TERRAIN rubber Outsole provides High-traction grip in muddy environments Non-marking rubber Outsoles leaves no trace or imprints when walking indoors The Torsion stability External Support Shank (ESS) provides support on uneven surfaces The injected TPU heel-capture system provides next-level stability Low-profile Upper for comfort and secure Fit with padded tongue and collar Metatomical Dual-Density EVA Footbed provides excellent arch support and Cradles the foot KEEN recommends using a leather cleaner and conditioner found at most footwear dealers/shops
Maui: The OXO salad spinner is the best one we have used in our household. It is very easy to pump (and it will keep spinning for a long time). The brake will bring it to a stop in a short time. It is a snap to clean. The outside bowl can be used to rinse greens before spinning. We love it!
Maxwell's Mom: I bought this salad spinner when the one I purchased at Target broke. It had a pull cord that jammed, so I was looking to avoid that feature. This one works great. I normally do two spins to be very thorough. I spin once, open it up, take out the basket, tip out any liquid, shake the lettuce in the basket, reassemble and spin once more. If you're prepping a lot of greens, I recommendProgressive International LKS-06 Lettuce Keeperto store lettuce for a week+. Also, this might just be me, but I'm not totally comfortable using the bowl to serve from as others have described. I mean, aren't you spinning off water that is removing dirt and chemicals from the greens? And aren't those chemicals and dirt thus being spun onto the sides of the bowl? It would make a nice serving bowl, but I'd probably wash it post spin and pre serve.
McMack "drtrouble": This really is the best. But, as mentioned on America's Test Kitchen, dont overload the spinner, and dont expect the greens to be bone dry. The only thing that competes is the time honored method of whirling a pillowcase with your greens. Both methods can be done one handed. Granted, the time honored way uses more calories, but it also requires a great deal more space (unless you want to hit your guests in the face or some other body part.) Also great for those "delicate" fruits, as raspberries, blueberries, strawberries, etc.Even better, the handle locks down so it doesnt take up tons of space in the cupboard!. There is also a cover that you can use, if you wish to store the greens in the frig for a period.
MDALUV "MDALUV": This is a nice item to clean your salad mixings. It is easy to clean and I would highly recommend this.
mdh49: Wonderful spinner! We use it all the time, its very sturdy and easy to use. If it breaks I'll buy another one here.