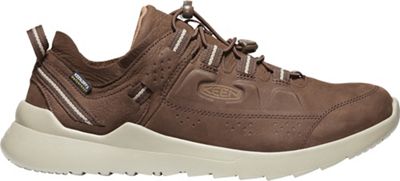 Please rating for this item if you love : 0 star
Check Price In Store: Moosejaw
KEEN Men S Highland WP Shoe 14 Chestnut Silver Birch
The KEEN Men's Highland WP Shoe is a Hybrid shoe that is one part trail and one part street. The leather Upper brings in the style while providing durable protection against trail debris. Walk with confidence in this low-profile shoe ankles moving easily and an EVA Outsole that cushions and grips. The cinchable lacing system is quick and easy so you can take off for work just as quick as you will the trail. Features of the KEEN Men's Highland WP Shoe Waterproof premium leather Upper Lace-lock bungee system Removable luftcell PU insole for long-lasting comfort High-rebound EVA Midsole Abrasion-resistant EVA Outsole Keen. dry waterproof breathable membrane Eco anti-odor for natural odor control Environmentally preferred premium leather from LWG-certified tannery
Desert Gypsy "A Brooklyn Girl Out West": I had a larger version of one of these potato ricers for years and was very satisfied with it - it had interchangeable plates and could even handle a well scrubbed peel without clogging or even unloading the peels in between presses, but with a newly empty nest my cooking habits/needs as a single person have changed and I'm trying some different equipment these days. After using both my old and this new OXO potato ricer over the past Thanksgiving week, this one wins my 'cooking for 1-2 people' approval.Comparing side by side, this basically one piece design does a great job creating smooth mash - the other model had different size plates but if I want it a little more homestyle/chunky I can keep a little of the potatoes in reserve and mash with a fork, adding texture to the smooth batch as desired. There was no struggling with this one to unscrew any parts to clean - just tossed it in the dishwasher. I never realized this was a bit of a chore with my other ricer until struggling to get it apart after it was tossed in a sink at Thanksgiving with other greasy items and pretty much glued itself together until it sat in a little soapy water for a while.The handles are significantly shorter than I'm used to but even with pretty bad arthritis they are easy enough to work and get the job done. The smaller handles mean this is much easier to store in the drawer with my most used tools as opposed to the larger model which had pretty much made an appearance once a year because it lived in a pantry. The OXO version has already been used twice in the past two weeks - I'd almost forgotten how well meatloaf goes with mash - yummmm!
dj: This was great for mash potatoes, carrots and yams. In general this provides a lot more air into the root that you are trying to mash. It provides a much softer mouth feel than traditionally smashing does.
DMR: When I used the ricer, I was very disappointed with the way the potatoes turned out. They were heavy and stiff (almost like you could remold them into whole potatoes) - the only good thing I can say is that there weren't any lumps. My family was disappointed as well. They were looking forward to the light, creamy and fluffy potatoes that I've been making for years.I've been trying to find other uses for the ricer, but haven't had any luck yet.On the plus side, it is sturdily made, and it cleans easily.It requires a little more effort than I had expected to compress the handles. If you have any problems with your hands, this is definitely not for you.Overall, it's a big disappointment and I wouldn't recommend it.
Donald A. Nelson: I honestly only use this ricer on potatoes, and only after my "food mill" has done all the work, yet has left me with a few hard scraps that won't pass through the blade. I place the scraps into the ricer and voila, no wasted potatoes.I was watching Chef Michael Chiarello on the Food Network and this is the exact model he uses on his mashed potatoes. It's construction is solid and smooth.I myself do not make spaetzle, so I cannot comment on its uses for making that dish; however, for making potatoes, when combined with the food mill, it serves a purpose for me. If I could only afford one tool for mashed potatoes, I'd opt for the "food mill".
Dwight: I'm ready!This replaces a 30 year old potato masher that is rusted.P.S. The spaetzle recipe worked despite my clumsiness. A few times, the structure of the ricer prevented my overturning the dough or the ricer in my nervousness. This is a very sturdy and well-built ricer.