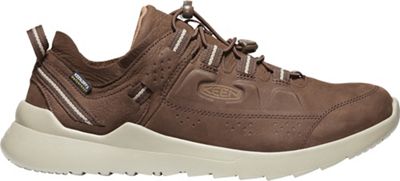 Please rating for this item if you love : 0 star
Check Price In Store: Moosejaw
KEEN Men S Highland WP Shoe 10 Chestnut Silver Birch
The KEEN Men's Highland WP Shoe is a Hybrid shoe that is one part trail and one part street. The leather Upper brings in the style while providing durable protection against trail debris. Walk with confidence in this low-profile shoe ankles moving easily and an EVA Outsole that cushions and grips. The cinchable lacing system is quick and easy so you can take off for work just as quick as you will the trail. Features of the KEEN Men's Highland WP Shoe Waterproof premium leather Upper Lace-lock bungee system Removable luftcell PU insole for long-lasting comfort High-rebound EVA Midsole Abrasion-resistant EVA Outsole Keen. dry waterproof breathable membrane Eco anti-odor for natural odor control Environmentally preferred premium leather from LWG-certified tannery
Lonnie-The GreatNorthernTroll-Moore "GreatNor...: I and my family have had a blast with this ice cream maker! We have been making up some of our own recipes as well as using those supplied with the machine and some from Ben & Jerry's recipe book. The savings over store bought ice cream is phenomenal too. I only have one small exception to our "eye blasting red" ice cream maker (and it is indeed a small exception). It could be perhaps be a bit quieter... On the other hand, it is readily apparent by the change in the "noise" the machine makes, that your delectable treat is ready to decant!GET IT, MAKE IT, LOVE IT... then do it again!
Lotsacookin: I bought this for my elderly mother and she loves it! It's working wonderfuly and making some fantastic ice cream. She can see it make the ice cream from the top. I'm sure it would be fun for kids to watch as well. No problems at all with it. Everyone should have one of these.
Loves2Read: The cream seems to freeze the the sides really quickly, which makes the top do this crazy clunky noise that seems.... wrong. Plus the ice cream doesn't always turn out perfect. Which could be a user error.... So keep that in mind!
LP: Do not buy this piece of crap. It's a waste of money. Yes, in theory, it can make ice cream, but not the ice cream that's worth the time and effort. I consistently got batches of ice cream that were "icy." NO, this was not a temperature problem. I would chill my custard for well over a day, and I would leave the bowl in the freezer for weeks. So, if you're looking for an ice cream that will not knock your socks off, this is not the machine. If you want something that will make quick "icy" ice cream, then this is your machine. You're better off with the old ice and rock salt ice cram makers; at least those machines can make ice cream that's smooth. Incredibly poor designing by cuisinart. I expect better from them; the paddle design seems to be the crux of the problem. The paddle doesn't adequately scrap the sides of the bowl. Also, I can't believe how many people have actually said they liked this thing. Low expectations I guess.
L. Thomas: Take some chocolate milk, cool whip and eagle brand milk. Mix together and pour in the ICE-20. In appr. 25 minutes you have ice cream that tastes like a Wendy's Frosty. Keep excess mixture in frig for later. It actually tastes better after being in the frig overnight. I was amazed how easy the ICE-20 is to clean. No salt to rinse out, no ice - just some great, smooth, wonderful ice cream. After ice cream is made, you just rinse the bowl with hot water, dry and return to the freezer for the next time. The paddle and lid are also very easy to clean. The manual says to keep the bowl in a plastic bag to prevent freezer burn. I have had my ice cream maker for appr. one month and I could not be happier so far.