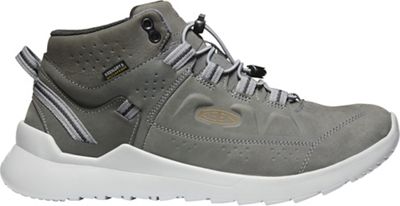 Please rating for this item if you love : 0 star
Check Price In Store: Moosejaw
KEEN Men S Highland WP Chukka 7 5 Steel Grey Drizzle
The KEEN Men's Highland WP Chukka is a Hybrid shoe for light trails and urban excursions. The sneaker-like Fit is where your feet will find utter happiness when strolling around for the day. It's all about the High-rebound EVA Midsole with not too High but not too low height at the Upper. The KEEN. DRY Technology delivers waterproof breathable Performance so you can make it through any day rain or shine. Walk with confidence in the leather chukka that meets town and trail with pride.Features of the KEEN Men's Highland WP Chukka Waterproof premium leather Upper Lace-lock bungee system Removable luftcell PU insole for long-lasting comfort High-rebound EVA Midsole Abrasion-resistant EVA Outsole Keen.dry waterproof breathable membrane Eco anti-odor for natural odor control Environmentally preferred premium leather from LWG-certified tannery
SH in Tampa "SPH": I am not particularly good at using a standards sharpening stone. I found that I was a little too uneven in my stroke to get a really good edge on my knives. So I bought this device to help keep a fine edge on my good knives.If you ensure a nice even draw on each stroke throught the guides (both wheels should be turning) and you give the knife 15-25 strokes through each set of grinders, you will get an excellent edge on your knives. However, this device only provides "maintenance". You will still need to take your blades to a professional sharpener when they get very worn.In addition, we tried the sharpner on some of our cheaper, thin blades ... and while it did some good, cheap blades just can't be maintained as well as the larger, heavier equipment.Overall, I am very happy with the results of this device on my good quality knives.
skacleve "skacleve": Although this sharpener is lightweight and simple to use, it actually seemed to further dull our Wusthof Classic chef's knife. It also scratched up the sides of the blade about an inch from the edge. Obviously, we won't use it for that knife any longer, and are back to our diamond sharpening stone for now. Maybe it'll work on our other knives. Cook's Illustrated magazine noted that Asian knife blades have a 15-degree angle, whereas Western knives have a 20-degree angle. They seem to like the Chef's Choice 110, which is an electric device at around $80, though they don't specify for which type of knife. For the Asian knives, they like the Chef's Choice 463, or the electric 130, 315S and 1520, pricey from $100 to $150.Update: We bought another sharpener, the Wüsthof 2-Stage Knife Sharpener, for $20. We happened to see it at Williams-Sonoma, so we bought it there, but it's almost the same price on Amazon. The Wusthof is a far superior sharpener, and I highly recommend it over the Chef's Choice, especially for high-quality knives. It is also light and easy to use. There are some 140+ Amazon reviewers who gave it high marks. As some have added to comments about it, you shouldn't sharpen your knives every day or after every use. Use a steel (that textured rod that comes with most knife sets) instead to re-align the blade edge, and only sharpen (which actually removes metal from the blade) after the steel no longer helps the edge stay sharp (maybe once a week or every other week). On the Wusthof sharpener, one slot is for coarser sharpening, and the other is for finer honing. There's also a sharpener in it for scissors. One test for sharpness is holding a piece of newspaper up by the edge and running the blade down into it from the top edge. If it slices cleanly and easily, it's sharp enough.
T. Reinhardt "olivia lee": I had alot of knives laying around in various states of dullness and a friend of mine sharpened them on his version of this sharpener. His version could not be used on serrated blades so when I went out the following week, I bought the one that could. This one was a bit more expensive... but it didn't make sense not be able to sharpen serrated edges.)I am very happy with my purchase. It is small and very easy to store. It is quite ergonomic to hold and use. The unit is set up so that when you are using it correctly the dials spin, so you have a visual clue that you are sharpening at the correct angle. And that is extreamly important. This unit appears to be shiny chrome, its not. Its light plastic with a shiny metal-ish looking plastic covering.. Im wondering how well over time this will hold up. In truth tho, this isnt and item that will need a whole lot of washing, if any, so i dont expect a lot of problems. The other model (my friends model) was a solid color (no metal-ish plastic ) and his will probably look better in 10 years than mine when all the chrome-ish stuff peels off.I have several quite expensive chef knives and this unit does a very good job with them. It takes a bit of time to do but I think its worth caring for expensive things *by hand*... I find that it takes more *passes* thru the unit than the direction suggests but I don't have a problem with that. I suspect that as I use this on a more regular basis, the time it takes to sharpen the blade will decrease.I am very happy with this purchase. Very happy with its small *foot print* and very happy with this brand in general.
Amazon Customer: I like these pie weights but it takes MORE than 2 packages to weight a raw pie shell, so be warned. Buy more than one package.
Anthony D'Atri "Anthony11": As others have written, one bag of these is scant coverage. Get two or three. They're cheap, and it sucks to not have enough to properly do the job.