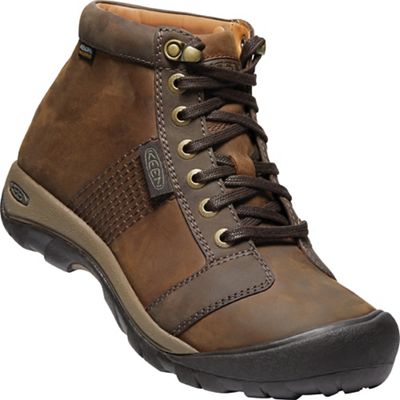 Please rating for this item if you love : 0 star
Check Price In Store: Moosejaw
KEEN Men S Austin Mid Waterproof Shoe 13 Chocolate Brown
Features of the KEEN Men's Austin Mid Waterproof Shoe Waterproof premium full-grain leather Upper Seam-sealed waterproof protection for dry comfort Tongue gussets help repel outside elements Removable metatomical eva Footbed with arch support Rich leather Footbed cover for premium comfortcompression-molded eva Midsole for cushioning Non-marking rubber Outsole leaves no trace
triviamcstudmuffin2014 "CrackerMan": This is a great bread knife that slices with ease. Very effective blade that cuts bread like it was butter.
Waldo: This is a very sharp knife, so much so that I cut myself on the first use. It works as advertised, no problems.
Big-Z: THis is a great knife that arrives quite dull. After correct sharpening, however, it became one of my favorites. It is easy to hold and the balance is good... a great buy overall, but it does dull easily. If you hate the rusting and/or discoloration of expensive high carbon steel knives, this is the knife for you. I find myself using it even when I could use a smaller knife. Use a stone to keep the edge on it after every use.
Bob Manson: Woohoo! I cut something with this knife! It's awesome! It's changed my life!Ok, seriously, it's a knife. It cuts things. It has a *nice* handle, doesn't get slippery when it gets wet... just for that it's worth $$. Best chef's knife I've ever used? Sure, it's clearly superior to my Leatherman Wave (and my Topeak Alien, for that matter) for cutting fruits and bread, not to mention it totally blows away my previous #1 choice (X-Acto saw). (Ever try to cut a cake with an X-Acto saw? I did. Bad. Now try it with this one. Good!)For a first kitchen it's a great choice...and it may just be the last chef's knife you ever need to buy. It doesn't cost $$ but that's a good thing... I'd be pretty miserable knowing I spent $$ on a kitchen knife when I could've spent a lot less for a good sturdy knife like this one.
C. Douglass: This is absolutely my favorite knife. (including a few by Wustoff Trident) I'm not much of a cook, but WHEN I cook, I want it to be painless and hassel free. I picked up one of these at TJ Maxx here in the Chicago area about 2 years ago for $10.00, and now I wouldn't be without it. It replaced a much more expensive chef's knife by Chicago Cutlery that I found to be a useless piece of junk (gave it to my brother - now the thing is his problem!). This one has a much nicer balance to it, sharpens beautifully, and as with all the Good Grips products, love that no-slip handle! I'm not a gourmet or a professionally trained chef, but for the average household kitchen, I think this knife would be a great addition. Great for kids in the kitchen learning to cook too. Smaller hands seem to find this knife much easier to use than most.PS - my other two top Oxo picks: the red spoon shaped spatula, and the red regular spatula. Spend $30.00 for the 3 and make your life a whole lot easier!