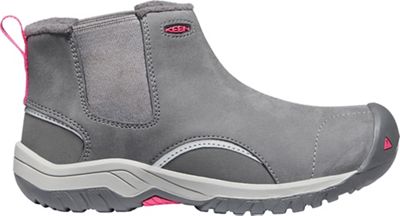 Please rating for this item if you love : 0 star
Check Price In Store: Moosejaw
KEEN Kids Kootenay III Chelsea Boot 9 Steel Grey Pink Peacoc
The KEEN Kids' Kootenay III Chelsea Boot is a slip-on winter boot for the little kids. It's insulated with a rating down to -4°F/-20°C and also Features a thermal reflective layer for efficient heat-trapping without adding bulk. Leather Uppers offer waterproof protection and excellent durability and the stretchy Gore panels make it easy to put 'em on or kick 'em right off. Features of the KEEN Kids' Kootenay III Chelsea Boot Waterproof leather Upper Elastic Gore for easy on and off Fleece lining for warmth Thermal heat shield insole captures warmth Higher-traction rubber Outsole Keen.warm Insulation rated to -4°F/-20°C Eco anti-odor for natural odor control PFC-free durable water repellent Stitch-and-turn construction Uses minimal adhesives Slip-on design for easy on and go
Lucy Hamm "Gus Ryan": I finally purchased these weights to use for baking my empty pie crusts. Works GREAT. But be sure to soak and wash them before using them the first time... and then lay them out to dry over night. I also washed out the container to get the "ceramic dust" out of it. Now I have a great container to store these weight in when they are not being used. I don't know why I waited so long to purchase these... they really help in baking a pie shell. Keep it from puffing up. I recommend these weights.
M. Knight: I tried these out the other night when making pie crust and they distributed the heat well and helped the crust lay flat. No bubbles!
MoInnkeeper: If you make pies, this is a must for blind baking the crust. Perfect weight and size.
Nancy: Yes, they did seem dusty but you just rinse the pie weights and the box they come in and you're all set.America's Test Kitchen uses these pie weights, or something so similar I can't tell the difference, for pre-baked pie crusts. They suggest laying a piece of parchment paper in the bottom and then adding 2 cups, which is 2 containers, of pie weights. Bake the crust at 375 for 25 minutes, remove weights and parchment paper, and bake an additional 10-15 minutes. The addition of parchment paper keeps the weights from sticking to the crust and serves as a container to remove them.The box the weights came in is heavy plastic, as thick as the disposable food storage containers, so I don't think it's flimsy and it stays closed for me. I must say, the packaging they show for the product is totally different than what I received so maybe they have changed it and need to update their pictures.
orengineer: I bought these to replace the jar of dried beans that I had been using. The beans were starting to get hard to wash and stayed just a bit greasy. I was concerned about the oil becoming rancid and affecting the taste of the pies. The ceramic seem to be heavier than the beans and may work a bit better. Dropped to 3 stars because the packaging was poorly done. I ordered 2 sets and both of them had broken open in transit and where rolling around inside the box when I got it. Who knows if any "escaped".