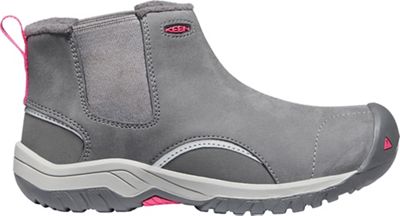 Please rating for this item if you love : 0 star
Check Price In Store: Moosejaw
KEEN Kids Kootenay III Chelsea Boot 8 Steel Grey Pink Peacoc
The KEEN Kids' Kootenay III Chelsea Boot is a slip-on winter boot for the little kids. It's insulated with a rating down to -4°F/-20°C and also Features a thermal reflective layer for efficient heat-trapping without adding bulk. Leather Uppers offer waterproof protection and excellent durability and the stretchy Gore panels make it easy to put 'em on or kick 'em right off. Features of the KEEN Kids' Kootenay III Chelsea Boot Waterproof leather Upper Elastic Gore for easy on and off Fleece lining for warmth Thermal heat shield insole captures warmth Higher-traction rubber Outsole Keen.warm Insulation rated to -4°F/-20°C Eco anti-odor for natural odor control PFC-free durable water repellent Stitch-and-turn construction Uses minimal adhesives Slip-on design for easy on and go
Cynthia Robutka: THIS IS MY FIRST PURCHASE OF A PASTA MAKER. IT IS FANTASTIC. I HAVE USED ALL THE DIFFERENT PASTA DIES THAT CREATE THE SHAPE OF THE PASTA WITH NO PROBLEM. THE DIES ARE STRONG. YOU GET AN EXTRA RING THAT HOLDS THE DIE IN PLACE BECAUSE WHEN FIRST LEARNING TO JUDGE THE CONSISTENCY OF THE DOUGH SOME MAKE THE DOUGH TOO HARD AND FORCING IT THROUGH THE DIE CAN CAUSE THE RING TO BREAK. THE TRICK HERE IS TO BE SURE YOUR DOUGH IS THE RIGHT CONSISTENCY, NOT TOO DRY AND NOT TOO STICKY. I DID NOT KNOW IF I WOULD EVEN LIKE FRESH PASTA BUT I MUST SAY IT WAS WONDERFUL. CLEANING IS EASY AND THE BOOK THAT COMES WITH IT SUGGESTS YOU LET THE DOUGH DRY ON THE PASTA DIES FOR EASY CLEANING AS YO CAN THEN JUST CRUMBLE OFF AND DOUGH THAT IS LEFT HARDENED ON THE DIE MUCH EASIER. IT COMES WITH AN INSTRUCTION BOOK AND A RECIPE BOOK AND AN ORDER FORM FOR MORE DIES IF YOU WOULD LIKE ADDING TO THE COLLECTION OF PASTA SHAPES. I WILL USE THIS MACHINE OFTEN. IT IS FANTASTIC!
Daniel F. Moore: Having read all of the reviews of the machine, it strikes me that people who have had trouble are probably not used to making things that require a level of attention. Making pasta is not like using a breadmaker. You can't just put all of the ingredients in the machine and walk away. Having used a CTC Pasta Express for years and being generally satisfied with it, I wasn't in the market for a machine as expensive as the Simac. But as an earlier reviewed observed, a large mail order company was selling it for 119 dollars including shipping. I decided to give it a try.The PastaMatic 700MX operates differently than most models. For one thing, you have to weigh your flour and carefully measure the egg mixture(I use Egg Beaters). It takes longer to knead than my CTC too.BUT...it makes the best pasta I have ever tried. The strands are much thinner than the CTC and a short dip in boiling water produces a superior pasta. I have purchased additional dies from Lello and look forward to trying them. The complaint about not being able to use 100% semolina is a recognition that that flour alone is just too dense and coarse for an extruder. No electric machine recommends using 100% semolina. But you can use a mixture of semolina and durum flour, which is a finer grind of semolina.As for the cleanup, I was expecting all kinds of problems but it really wasn't any more difficult than any other appliance. Let it sit for an hour or so and the remaining dough will harden and be much easier to remove.In short, I really like this machine! It takes time to make it work but that is time well spent.
J. Couture: My wife and I decided we wanted to make our own pasta. Step one was to see what was on the market and what others liked (and didn't). The Simac went to the top of the list very quickly. Step two, find the most reasonable price. Failing Amazon (dicont.) went to Ebay. Average price was $150 for a new or barely used machine with all the parts/manuals. So I tried my luck...no good, and I hate the outrageous shipping charges. Went to Google again and did a deeper search. Ah ha, a big name retailer had them in their clearance section for $119 (wow) with free shipping (FedEx home delivery no less). I ordered it on Tuesday night and it arrived on Friday afternoon...double wow. Due to the issues we read about below, we decided to RTFM first. However, we also decided to go with a recipe for tomato pasta from the recipe book.After we washed all the parts, we assembled the ingredients. I happen to own a kitchen scale (I use it for my RC airplane hobby) so we used that method to measure out a lb of flour. We sifted it as directed and put in the other ingredients. Pushed the button, and added the water slowly as directed. The pasta was too wet so we added a tbs. of flour (as directed) and let it run 3 minutes more. We had to add about two more tbs. of flour to get it in the "walnut sized balls" stage. During this time, something strange happened that I'll describe at the end. Finally, we ran hot water over the die we wanted while extruding 2 "golf ball" sized lumps without the die in place (as directed). The pasta was "ragged" on the edges, but after the first foot or so it cleared right up. We just recycled it. The pasta (linguini) only took 45 seconds to cook. It tasted good, but I am now aching to try some semolina :)The weirdness:We have GFCI plugs in the kitchen (as is code). After the first 10 minutes of kneading, the GFCI tripped? They should only trip if the HOT (120VAC) is connected to the ground. Very weird. It tripped both GFCI's. I didn't smell any burning so I moved the machine to a non-GFCI outlet to complete the process. Weird item number two: neither switch would turn off the machine? Hmmm, I'm an EE so I had an idea of how the machine is put together. The two switches are in series (if either opens then no current will flow) and most manufacturers switch the HOT side. When I opened the unit up, I saw that they were switching the neutral side. I also saw the problem. The HOT wire had become pinched between the case and the very hefty gearbox (metal BTW) and was shorting to ground. This completed the circuit to the motor so it would run but bypassed the switches too. I wire tied the offending wire out of harm's way and all is well. The motor on this machine is massive and I am positive that running it like that did no harm. After seeing the quality of the insides, I am also positive this machine will last a lifetime.Jay
R. Towner: I bought this a few months back, and have yet to make a batch of pasta. We bought the "precise kitchen scales" per several recommendations and followed the directions precisely. The dough ends up a clump of glue that doesn't feed through the pasta die holes. Clean-up is a total mess, the pasta dies included are not for any popular/normal shapes, and on the first use my wife cracked one of the plastic dies that was included. We resorted to pulling out the dough, rolling it out, and cutting it by hand on the last use, and that even didn't work right. My advice is to stay far-away from the pasta maker, as the construction is flimsy/weak, its very difficult to clean, and unless you have more luck that us, you won't get it to produce pasta. It's become a $65 piece of junk taking up a corner of one of our back kitchen cabinets.
Wolf in Sheep's Clothing "Up Late Every NIght...: We make a lot of pasta at our house. Because of arthritus in my hands, hand kneeding is out of the question -- so to make up a batch of dough, I use either my Simac -- my bread machine -- or my food processor. Any of the three will make acceptable pasta dough. However you do need to know going in that the dough is going to be tougher, harder, and less pliable than any bread or cookie dough. It's basically a damp flour rock.And, YOu have to listen to the machine -- whether it's the simac, or a bread machine/food processor -- and not let your motor overheat, because, obviously, kneeding a damp flour rock is a lot of work.But once it's all mixed evenly, the process is the same regardless of which machine mixes it, and which machine is going to turn the rock into luscious pasta... Take your flour rock and wrap it in plastic wrap and put it in the fridge for a half hour or more. You have to do this to give the gluten in the flour time to form the long felxible strands necessary to turn rocks into spirals of spaghetti in sauce.Then take about half a standard pasta recipe (assuming you are starting with the standard recipe 3c-3.5c flour/4 egg/2T water/1t salt.)Take half that rock and either press it out thin enough to start a roller version (to cut into long strands of varying lengths, or stuff like ravioli) or put it back into the simac to extrude one of the pastas that doesn't simply slice -- like penne, rigatoni, macaroni, or hollow spaghetti.A home-sized extruder machine is always going to be a bit of a wimp-- because the big commercial machines used by dry pasta manufacturers cost thousands of dollars, take a gymnasium-sized factory to house, use mega-electricity, and turn out pasta that tastes like reconstituted school paste.The real stuff takes time, patience, attention, and a bit of knowledge -- READ THE MANUALS! READ COOKBOOKS! TALK TO THE CHEF AT A LOCAL cafe who makes his/her own pasta.... And it also takes practice. Regardless of the machine, your 10th batch will be easier, faster, and tastier than your first. That's just the way it is.If cooking were so easy you could get it perfect the first time, everybody would get it perfect the first time, and there would be no need for cooking schools, cookbooks, or practice. If you can balance your checkbook and drive a car, then you have mastered what it takes to make pasta or make bread, or make ice cream, or make polenta or black forest cake -- the ability to learn. So give yourself a learing curve and go learn something new. (and quit blaming the machines....)A note about cut pastas -- even if you've got a good Simac extruder, your noodles will still be easier to deal with if you roll-cut them in a good machine like the Imperia, the Atlas, or better still, the Trattoria. You don't have to worry about noodles sticking together, to the machine, or to anything else. Not everything in the 21st century benefits by plugging it into the wall.Best advice for pasta making: get a sturdy ironing board with a cloth cover and clamp your apsta roller to that. Flour the cloth cover and you've got sturdy, clean elbow room without emptying your crowded cabinet tops.