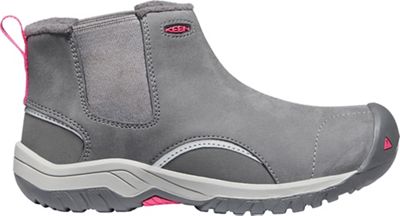 Please rating for this item if you love : 0 star
Check Price In Store: Moosejaw
KEEN Kids Kootenay III Chelsea Boot 13 Steel Grey Pink Peaco
The KEEN Kids' Kootenay III Chelsea Boot is a slip-on winter boot for the little kids. It's insulated with a rating down to -4°F/-20°C and also Features a thermal reflective layer for efficient heat-trapping without adding bulk. Leather Uppers offer waterproof protection and excellent durability and the stretchy Gore panels make it easy to put 'em on or kick 'em right off. Features of the KEEN Kids' Kootenay III Chelsea Boot Waterproof leather Upper Elastic Gore for easy on and off Fleece lining for warmth Thermal heat shield insole captures warmth Higher-traction rubber Outsole Keen.warm Insulation rated to -4°F/-20°C Eco anti-odor for natural odor control PFC-free durable water repellent Stitch-and-turn construction Uses minimal adhesives Slip-on design for easy on and go
LR: I ordered this as a large strainer for juice and yogurt but it is not as tightly woven as need-be. After using this, I could still get out a good bit of pulp when using my smaller but super fine mesh strainer. I returned it in hopes to find one just as large but more fine. For other applications, I'm sure this would be fine though.
Madeline E. Washington "maddywash": I've been using this strainer for a long time now almost daily and highly recommend it. It proven to be sturdy and durable.
M. A. McAuley: I own two of these strainers, and they are used almost daily for a variety of tasks. They are hanging on hooks on my kitchen wall to keep them near at hand, and save on storage space. I started out with one, then realized I wanted a second one because I sometimes prepare Indian dahl and basmati rice. Both the rice and the lentils are washed several times and then soaked before cooking, but usually cooked separately. I like to wash and soak them in the strainers in bowls of water. The strainers are a perfect size for this task. Each one can fit down really well in its own large mixing bowl. After soaking, I can just lift them out, drain, and I'm ready to cook. As other reviewers have mentioned, it's great because they are long enough to suspend right over a standard size sink from one side to the other. Handy for draining things.More recently, I have been experimenting with eating a raw food diet. There can be a fair amount of soaking nuts, dates etc involved in the process. So, if anything, my strainers are more in use then ever. The mesh is very fine, so you could sprout seeds in them if you suspend over a bowl, and cover with a damp cloth to keep them from drying out between rinses.I also like the tightness in the area where the screen meets the surrounding metal that holds it in place. In some strainers this is loose, and so a lot of small particles of food stuff can get under the rim and be trapped. Waste of food, and yuck!I have had both strainers for several years. I am by no means delicate with my kitchen stuff, quite the opposite (not proud of this trait, but it's true). These have been packed and moved a couple of times also. Still in excellent condition.For those who are concerned with cost, I bought each of mine at Bed, Bath & Beyond with a 20% off coupon. This made them a bit more affordable, and quick if you need one right away. I shop at Whole Foods, but I would never, ever by OXO products there as one reviewer mentioned. Not with B B & B around nearby, where the price is lower even without the 20% off coupon. Hope this information helps.
Matthew R.: This strainer is pretty small. I bought this to replace my large strainer that's many years old. The pictures of this one make it seem bigger than it is. First of all it's pretty shallow, it maybe holds 2 pounds of hamburger to be strained, but likely it would tip on its own (if you had it resting on the sink like I do.) I wouldn't use this for pasta as it would overflow easily. It does have a great handle, and the opposing loop helps it sit in a sink. But I was hoping for something larger. Our old strainer easily holds double what this one does and had two prongs on the other side so that it wouldn't tip when rested on a bowl or the sink.
Matt Stein: I can't think of any way I'd improve this strainer; the mesh is substantial enough that it hasn't taken any dents and is still in perfect shape after lots of use. The handle is rubbery enough to be nice and grippy while coming perfectly clean in the dishwasher along with the rest of the strainer. I hadn't cared about that little lip opposite the handle when I ordered the thing, but it's a thoughtful addition: it doubles as a bowl/pan rest and a place from which you can hang the strainer if so desired.Looks great, cleans easily, and ... you know ... strains effectively too.