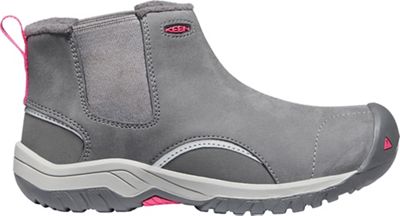 Please rating for this item if you love : 0 star
Check Price In Store: Moosejaw
KEEN Kids Kootenay III Chelsea Boot 12 Steel Grey Pink Peaco
The KEEN Kids' Kootenay III Chelsea Boot is a slip-on winter boot for the little kids. It's insulated with a rating down to -4°F/-20°C and also Features a thermal reflective layer for efficient heat-trapping without adding bulk. Leather Uppers offer waterproof protection and excellent durability and the stretchy Gore panels make it easy to put 'em on or kick 'em right off. Features of the KEEN Kids' Kootenay III Chelsea Boot Waterproof leather Upper Elastic Gore for easy on and off Fleece lining for warmth Thermal heat shield insole captures warmth Higher-traction rubber Outsole Keen.warm Insulation rated to -4°F/-20°C Eco anti-odor for natural odor control PFC-free durable water repellent Stitch-and-turn construction Uses minimal adhesives Slip-on design for easy on and go
Joel and Melissa: Bought this set for my father and he loves them! He already had one set, but wanted an extra knife and I could only find them as a pair. It was worth paying for both to give him what he really wanted. The knife is good quality and the wide handle is nice so your hands don't get tired cutting veggies, etc. Good buy!
Justin T. Lowery "Justintosh": Of all the paring knives and peelers I've ever used, these are the most comfortable in the hand, and the most secure with wet and / or greasy hands. My wife and I recommend them so highly, we even buy them for newlyweds as a housewarming gift. They are one of the favorite pieces in our well stocked kitchen, and that's saying a lot!
Linda: I've been using this Oxo set for at least six years now, and I've even replaced it once, after my partner tried using the parer as a crow bar. [Not recommended!!] The peeler is fine, better than the old ratty one I'd had for years, and never enjoyed using. Now I admit I don't use it all that much, so perhaps a swivel-peeler expert would find it less satisfactory, I don't know. For my needs, it's more than adequate.I do like the knife. The blade is very good; not the best, but certainly not the worst one I've ever had, it's easy to keep it sharpened, and the size is about right for a number of tasks. The handle is what I really love! I don't have arthritis or anything, but a lengthy veggie prep session will make my hand cramp with most knives. This one's comfortable to use for an hour or more, long enough for the biggest salad or stir-fry marathon.I've also bought sets for gifts, and my friends seem to like these tools, too. In fact, I recently replaced a set for one who lost hers during a move. Give it a try, especially if gripping a knife for long periods is starting to bother you.
M. FUSCO "yawnmower": I do not understand the negative reviews. Thanks goodness I did not pay much attention to them when I ordered, as I would have missed out on a great value with this set.The peeler is effortless and smooth as silk to use, peeler away from you normally. Great control and the blade is sharp as can be, making a carrot easy work. The paring knife is sharper than my brand new Victorinox 8-inch knife. Cuts through carrots and onions easily and with the barest effort.The handles are typically Oxo: large, comfortable, and steady.
Michael J. Edelman: Until you try these, you won't realize how poorly most kitchen implements are designed. I bought there not long after I bought my Oxo can opener, and I'm slowly buying all their tools. The peeler in particular is a wonder. Unlike most peelers, it doesn't cut into your palm or slip, and it seems to just glide over cucumbers.