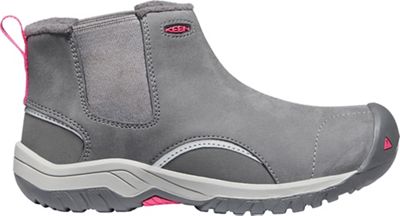 Please rating for this item if you love : 0 star
Check Price In Store: Moosejaw
KEEN Kids Kootenay III Chelsea Boot 10 Steel Grey Pink Peaco
The KEEN Kids' Kootenay III Chelsea Boot is a slip-on winter boot for the little kids. It's insulated with a rating down to -4°F/-20°C and also Features a thermal reflective layer for efficient heat-trapping without adding bulk. Leather Uppers offer waterproof protection and excellent durability and the stretchy Gore panels make it easy to put 'em on or kick 'em right off. Features of the KEEN Kids' Kootenay III Chelsea Boot Waterproof leather Upper Elastic Gore for easy on and off Fleece lining for warmth Thermal heat shield insole captures warmth Higher-traction rubber Outsole Keen.warm Insulation rated to -4°F/-20°C Eco anti-odor for natural odor control PFC-free durable water repellent Stitch-and-turn construction Uses minimal adhesives Slip-on design for easy on and go
Kelly Garbato "Marchpane!": I wish I'd invested in a potato ricer years ago. Best $25 I've ever spent!My old method of whipping up mashed potatoes – namely, a hand mixer – was a nightmare. It involved no small amount of crying, cursing, and yelling, and usually ended with chunks of half-mashed potatoes strewn all about the kitchen: stuck to the walls, the microwave, the floor, you name it. The dogs, both terrified by mom's breakdown and enticed by the crumbs scattered all over the place, were nearly as stressed as I was. Needless to say, mashed potatoes were a rare occurrence relegated to holidays and cookbook reviews.But no more! On Terry Hope Romero's strenuous recommendation in VEGAN EATS WORLD (or was it Isa and Terry in VEGANOMICON? Too many cookbooks to keep track of them all!), I finally decided to give a potato ricer a try. With limited storage space, I'm hesitant to buy kitchen utensils that only have a single, narrow use. But this one? So worth it!OXO Good Grips Potato Ricer mashes potatoes like a dream! Once the potatoes are boiled, simply place them into the basket of the ricer a few pieces at a time, position over a pot or bowl, and squeeze. (Try not to fill the basket more than halfway at any one time; the more potatoes, the harder it is to squeeze them through the holes underneath. It takes a little while, but overall it's much easier than using an electric hand mixer. TRUST ME.) The potatoes come out the other side in stringy, noodle-like segments. After you're done processing all the mashed potatoes, add your soy milk and margarine as you would normally and stir. It's that easy, and your mashed potatoes have never tasted so light and fluffy.The secret lies in the method of processing: starchy vegetables such as potatoes can sometimes become glutinous when over-processed, and the ricer ensures that each bit is only mashed once – in stark contrast to, say, a potato masher or hand mixer. Plus it will filter out the skins, so there's no need to peel your potatoes either. (Though this is a distinct disadvantage if you're a skins fan.)While researching ricers, I found that reviewers complained about water becoming stuck in the nether regions of some of the cheaper, plastic models (namely somewhere in the handle). I was a bit nervous about buying the OXO model, since I couldn't tell from the pictures exactly how it opened up. Happily, the handle extends from the basket 180 degrees, so that all the cracks and crevices of the tool are fully accessible; there's nowhere for water to hide. Additionally, it's dishwasher-safe, making cleanup a snap. (Though fitting it into a dishwasher is a little trickier, especially when open!) The construction is sturdy, with a stainless steel body and padded handles. I've only had it a few weeks, but it looks like it will last a long while.5/5 stars. I couldn't be happier with my new kitchen gadget!
Ken Baxter "Modestspender": The best mashed potatoes require a ricer. This is a lifetime quality model. Simple to use and easy to clean. Results will be the same as 4 star restaurant prepares. Was a gift for my grown son and same as the one I use at home.
Kestas Parakininkas: This makes mashed potatoes so much more creamy and no lumps. It is alot easier that mashing it by hand and I think easier than pulling out the blender. Saw it on the cooking shows and gave it a try. Awesome product.
Kevin Courcey: After reading a recipe on making perfect mashed potatoes, which recommended a ricer, I bought this. And yes, it does make a difference. It is easy to use, one small potato at a time, for a creamy uniform consistency. TIP: pour the boiling potato water through it before mashing...keeps the potatoes hot.
K. M. Montgomery "Teddy": I use this for straining tincture, with cheesecloth as a layer between. Im sure it works great for potatos too!