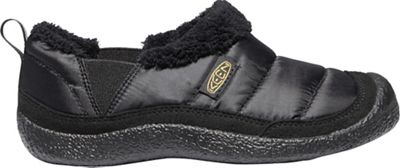 Please rating for this item if you love : 0 star
Check Price In Store: Moosejaw
KEEN Kids Howser II Shoe 12 Black Black
The KEEN Kids' Howser II Shoe is a cozy slipper for in house wear that is capable of a little bit of outdoors. Cozy fleece interior with a rubber Outsole to prevent slips. Eco Anti-Odor provides natural odor control so let your kiddos lose their socks and throw these on instead. PJs all day and happy comfortable feet. Marathon some cartoons get up for snacks and no worries about siblings touching each other with cold feet. Features of the KEEN Kids' Howser II Shoe Lightweight Performance mesh Upper Elastic Gore for easy on and off Fleece lining for warmth PU and EVA foam insole for ultimate step-in comfort and support Direct-attach PU Midsole for resilient long-lasting cushioning Eco anti-odor for natural odor control
PWTSM: To put it very simply, the blade is ultra sharp and the handle makes it ultra easy to use. For someone with a disability or arthritis (or just weakness in your hands) this is perfect. And even if you don't have dexterity problems the handle makes it very easy to peel a lot of potatoes and carrots. Usually my hand is tired after two or three, but I just did more than 20 for a party and my hand was not tired.
Queen Mom "Research Queen": This is a very good peeler. The only reason it lost 1 star, is that I have had better. I could not, for the life of me, find the same one I had before (which was lost), so this is the next best option out there.
Quin Delvoye "Flixsor": Wish it would be a little less plastic, I guess I'm just used to the old school ones. However it's pretty good.
Radiskull "Radiskull": I've used many before only to end up in the trash can. Bought a Cuisinart peeler a week ago and it sucked. This has the right angle and a good blade. A much better broad handle which makes holding it a lot easier! I recommend this.
Rafshan Caesar: Been slicing like a pro ever since these things came in. I've skinned cucumbers, apples, and other veggies and fruits that I couldn't skin before.