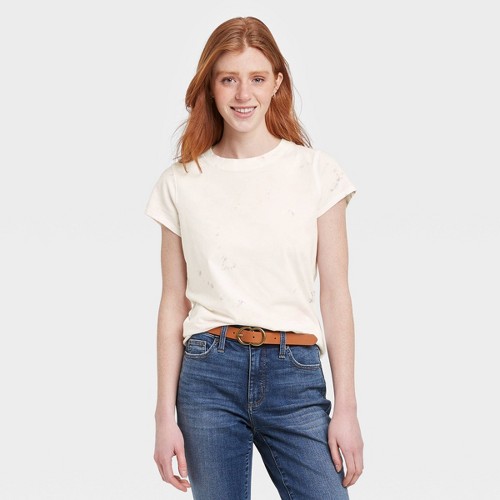 Please rating for this item if you love : 0 star
Check Price In Store: Target
Women S Tie Dye Short Sleeve T Shirt Universal Thread Cream
Get on with your day in comfort and style in the Short-Sleeve T-Shirt from Universal Thread™. Crafted from 100percent cotton this short-sleeve T-shirt feels soft against your skin making it a great warm-weather staple and it can be worn as a layering piece under your jackets or zip-up hoodies in cool weather for cozy styling. Falling at the waist for wearing tucked or untucked you can mix and match it with a variety of bottoms for creating versatile casualwear options. Wear it tucked in high-rise pleated shorts or pair it with your go-to jeans to showcase your easygoing style. Size: XS. Color: Cream/Pink. Gender: female. Age Group: adult. Pattern: Tie Dye Design.
Steve Paul: This is one of those 'how did I ever get along without it' kind of kitchen tools! It is sturdy, sized right, easily used, easily cleaned, and multi-tasking. I use it for potatoes, squash, making guacamole ( mashes avocados just right), refried beans (mashing heated beans gives just the right texture), and anything else I need to mash just right in my food prep. Have used this for over 2 years and it is just like new after many uses and washings. This is a great example of the best of kitchen tools. Buy it now, trust me you DO need it.
T. Reinhardt "olivia lee": This is a good product. I have used it on potatoes (all root veggies actually) as well as things like apples cooked for apple sauce. It is easy to use with a comfy grip.That said..i still feel like i need a ricer. I think if I had got the ricer first I wouldnt feel the need for a masher so I am thinking probably it would have been a better buy to just get the ricer... storing all this kitchen stuff is always an issue for me.The company that makes this has consistantly made excellent products (great heat resistant spatulas too) and this is one more. I think this is a great buy if this is all you will need. If you will ultimately need a ricer anyway...consider getting that first and than see if you still need this
TwinsForMeToday: Great replacement for a traditional masher. The horizontal handle makes it easier to mash potatoes or bananas than the traditional kind. There is a small gap in the welds on the sides by the masher that catch some food particles but they clean easily. The compact size also fits better in a gadget drawer. My preschool age children can also use this with relative ease when helping with food prep.
Two Bears: This does mash nicely, but if you use it in more than a very small pan, you get your fingers covered with potatoes! The handle is really too short, and I don't actually find it ergonomic. It makes you get in a slightly strange position, since your hand has to be clenched on the top rather than gripping from the side. I'm buying something else!
Ursiform: If, like me, you learned to mash potatoes with one of those mashers that looks like a thick wire bent back and forth, you probably don't like mashing potatoes by hand. The wire tools don't work very well. This masher does! Spray it with a little non-stick spray, mash a few time, and yum. This is definitely the tool to mash potatoes by hand. I avoided making mashed potatoes before I learned about this type of masher, now I make them frequently. It's small price to pay for a tool that really works.