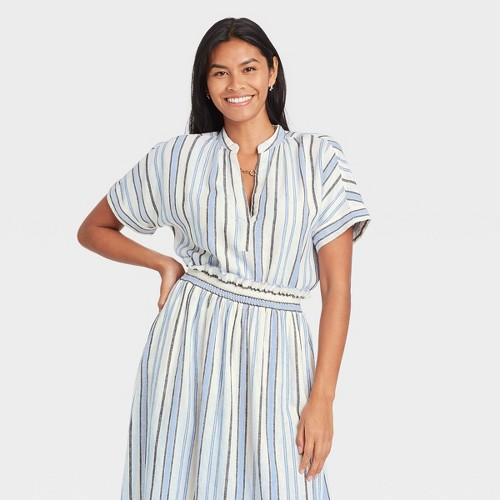 Please rating for this item if you love : 0 star
Check Price In Store: Target
Women S Striped Short Sleeve Top A New Day Blue XL
Style up your everyday looks with the Short-Sleeve Top from A New Day™. Made from a soft linen-blend fabric and tailored in a relaxed fit this women's popover T-shirt keeps you feeling comfy from day to night and its deep V-neckline with a stand collar and shirring detail turned-up cuffs and a curved hemline add cool laid-back vibes to your outfit. This short-sleeve top makes a great pairing with a variety of bottoms from wide-leg trousers to slim-fit jeans or an A-line skirt to create a range of cool-casual pared-back ensembles. Size: XL. Color: Blue. Gender: female. Age Group: adult. Pattern: Stripe.
R. D. Collins: This spoon rest is made of very heavy stainless steel -- you couldn't break it (or even dent it) if you tried! The bowl portion is large enough to hold a couple of big cooking spoons, spatulas, or forks, and it's very stable so it won't tip over. Cleans easily and dishwasher safe. Does what it's supposed to do and looks very nice, too. We have two of them, one on each side of the stove.
Sirhin: I was getting tired of resting the spoons and other cooking utensils on the counter top or in a bowl. I was a little tempted with the pair of spoon rests but it looked rather like a certain part of the male anatomy, and so I desisted and settled for this. It came in on time and had a nice weight to it. It definitely seems as if it will last a while! There were some comments on water stains, which is common for most things. I just hand wash it and air dry it with the concave side upside down so all the water runs off. I don't have a lot of problems with it, if at all, and am pretty happy with the purchase!
Tina: I love stainless steel in my kitchen, and this is no exception. Great, durable, easy to clean, and it's big enough to catch drips from all of my spoons, including my ladle! Some may be put off by how big it is, but it is exactly as described and perfect for me.
T. Reinhardt "olivia lee": This is an excellent item! First I like that it is stainless steel so that if anything gets stuck on it you can just *brillo* is off. The stainless finish makes it very arractive and so much better looking than most kitchy-looking spoon holders. Altho this is more of a utensil holder...its big. Its a great fit for wooden spoons, the heat-resistant spatulas, large spoons..etc. It will even accomodate ladles altho they pretty much rest on it, as opposed to rest in it.This unit is sturdy and weighty. It doesnt move around or tip when you put on a utensil. I have put it in the dishwasher with no problem.This would be an excellent item for someone setting up a kitchen, a kitchen themed gift basket, or a kitchen themed housewarming gift.It's really an excellent item
Vyshtia: I bought this before I really started getting into cooking, thinking that it was a good idea to have a spoon rest so the counter doesn't get dirty. But now that I cook a lot, the only thing this thing does is make it so I have one more thing to wash.The item itself is good quality and easy to clean, so if you want a single spoon rest - I would recommend the item. It's also useful if you're making a single pot meal where you really are only using one utensil - then that ONE utensil can rest here.