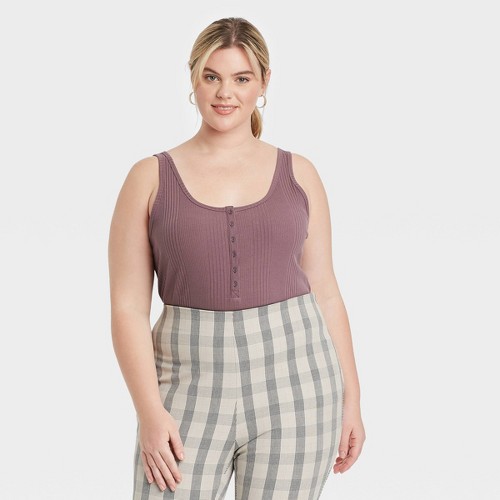 Please rating for this item if you love : 0 star
Check Price In Store: Target
Women S Plus Size Tank Top A New Day Purple 2X
Give your collection of basics a comfy stylish update with this Tank Top from A New Day™. This sleeveless tank top features a simple scoop neckline with front button-down that allows for easy mixing and matching with layering pieces and bottoms in your closet. It's cut from a soft stretchy fabric for comfortable wear from day to night and season to season with a rib-knit construction lending a touch of texture and softness. Pair with jeans skirts or linen shorts on warm days and layer under cardigans jackets and more when cool weather rolls in. Size: 2X. Color: Purple. Gender: female. Age Group: adult. Pattern: Solid. Material: Cotton.
chuck "S": I've had this pot for about 1 1/2 yrs now.When it was new it made good coffee, no problem.What others have said about the programing buttons cracking is true, we knew that when we bought it (from the reviews) and we were careful but they still cracked, but are still operable.Bad design for pouring as it only dribbles out of the spout very slowly.The main complaint is the thermal sensor has gone weak and it shuts off the pot way before the brewing cycle is over resulting in a weak tea instead of coffee. I called Salton (who now owns this part of Farberware) and there is "NO" replacement part that they can get as it's made in "China" and parts are unavailable even to them!No one on the internet that I can find sells this small dime sized part for the 'FCP' model pots.So one month after the warrentee is over I now have a paper weight.I have replaced this unit with a 'Presto' 12 cup electric perk and although it does not have the programing feature, it works great and pours 'Very' well. Not as nice of a shine to the stainless steel as the Farberware though.
Jennie: 8/31/04 UPDATE: I spoke to Salton yesterday. I just couldn't bear the fact that I would have to junk a $100.00 coffeepot that was supposed to be under warranty for one year. After asking me some preliminary information I was told, and I quote, "that because I make 2 pots of coffee a day it is overuse, or rather, not the products intended use". I just hung up the phone. I have not been making 2 pots of coffee for years with this machine. I've owned it for 8 months and it has only been used 6 of those months. I should have known. It will go in the trash and I will go to esalton website where they list every brand name that they actually make so I can be sure NEVER to buy one of their products again.ORIGINAL REVIEW:I had a Farberware perculator for 10 years. When it finally gave out I went through a drip pot, but yearned for a perk one. I bought this one thinking I would not have to worry about coffee makers for another 10 years. After 2 months of use the plastic top broke right off the lid. I called the number, thinking I was going to be dealing with a class act company and instead am talking to Salton (these are the same people who told me I needed to make coffee in the nursery in order to get the clock to work on a Melitta drip maker I bought in the interim). Ok, they tell me that the broken top is considered normal wear and tear (yes, even after 2 months) and I would have to buy another. I did. Now I am sorry that I spent the $6.00 for it because this is month 8 (keep in mind it was not used for 6 weeks while I waited for the lid) and now it is dead. Also, the coating on the start button is peeling and it is sharp. Another great looking piece of junk from Salton. I can't recommend and will not buy Farberware small appliances or Melitta brand small appliances any longer because you can't go by the former good names of companies. And I will now have my doubts about buying any other type of product with the Farberware name on it because I don't trust it any longer and am rather shocked that they would allow their good name on shoddy products. I spent $99.00 at a department store for something that worked for less than a year, well less than 6 months if you count the time it was not being used. So I will try and find a new pot and read the box carefully to make sure "Salton" isn't anywhere on it. I will never buy anything that has that name on it.
JMD "gradster": I've had one of these for many years and it recently went on the fritz after a LOT of usage. I'm getting another. It can't be beat - and the fact that it's cordless is huge. You can have a table full of folks for dinner, and walk around freely with your percolator; no unplugging required. And the coffee comes out delicious.
Mr. William A. Dispoto "gorilla-bill": Whereas I agree with those who have commented on this product's durability issues, your experience will depend on the application. In my case, I brought the coffee pot to work, where I brew one small (6 cups) pot a day. I haven't had the problems with the programming buttons (cracking and peeling) or the top knob coming off. I will admit that this pot is rather "dainty" and not recommended for "extreme" home use. However, if you want a consistently hot, strong and fast cup of coffee, this is a great coffee maker!I also dislike the "grounds in the cup" syndrome, and tried to combat this by customizing a round filter. Unfortunately, the filter only clogged the drip mechanism and caused the coffee to overflow the basket, forcing even MORE grounds into the coffee! Keep the basket clean and the problem is minimized. Overall, one of the best cups of home brew I have ever made!
Mustang Sally "MSally1965": We love percolated coffee. My husband kept forgetting to turn the old one off so we bought this one. The only thing I don't like about it is the fact that you can't override the auto shut-off feature for when you are home, etc. Sometimes because I work a different schedule the coffee is cold by the time I get some. However, the pot is beautiful, easy to set and easy to clean. We love it. I would definitely buy it again! Recommendation to manufacturer to extend auto-shutoff time to 4 hours rather than 2.