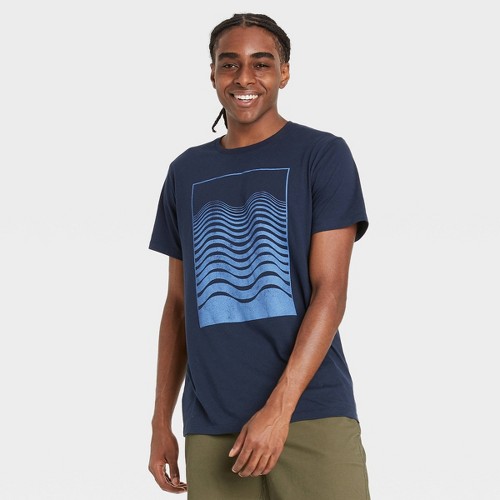 Please rating for this item if you love : 0 star
Check Price In Store: Target
Men S Regular Fit Short Sleeve Crewneck Graphic T Shirt Good
Update your casualwear with the Short-Sleeve Crewneck Graphic T-Shirt from Goodfellow and Co™. This men's pullover T-shirt is perfect for everyday wear and can be paired with a range of bottoms for multiple styling options while a cool graphic on the front lends relaxing vibes to your look. Cut in a standard fit and hitting at the hip this solid T-shirt is made from a soft lightweight and moisture wicking fabric to keep you fresh and dry all through the day. This short-sleeve tee is designed with a crewneck and a straight hem for a clean look — making it equally great for wearing on its own as for layering under shirts and jackets for year-round rotation. 100percent Satisfaction Guaranteed. Color: Blue/Shapes. Gender: male. Age Group: adult. Material: Cotton.
Michael D: I have had this machine for about 2 years, and it is excellent and very reliable. The reviews here are quite accurate. One note ... It is very easy to clean ... The easiest technique is to use paper towels, which takes about 2 minutes total. (1) Remove most of the ice cream with a spoon, and let the machine bowl warm up a little. (2) Wipe out the bowl with 2 paper towels, after 3-4 rounds of wiping, the bowl will be spotless. (3) Wipe it again with a lightly soapy sponge, or a damp towel.
M. Widner "Huckleberry": Holy Cow this thing is expensive! Your friends and family will make fun of you. You will suffer buyers remorse if you have an average budget like most middle class.Now the good part: You serve up that batch of goodness this little baby produces and the room goes quiet and no more jokes cause they ain't got time to talk when they are stuffing their face with your ice cream delight!If you love ice cream and tired of the old method of making it, I wager a hefty sum that you will not regret the internal organ you had to sell to afford this instrument of addiction.Easy to use, Easy to clean, and like bar-b-que, this ice cream actually gets better in the freezer. (yes I know you don't freeze bar-b-que but you know what I mean).
orengineer: Update after two years:This continues to be one of my best "luxury" purchase. It still gets used at least once a week, much more often in the summer. I like that it only makes about a quart to a quart and a half because we eat all that we make and haven't gained 50 lbs. If I come across really ripe fruit at the grocery store or fruit stand that is marked down, the first thing that comes to mind is "sorbet or sherbet". It's also great way to easily store ripe fruit to use later in smoothies. I bought the bookThe Perfect Scoop: Ice Creams, Sorbets, Granitas, and Sweet Accompanimentsand as far as I'm concerned, that is the only ice cream book you'll ever need. I have never regretted spending the extra money for this ice cream maker.Original Review:I bought this ice cream maker because I love to make homemade ice cream, but I never remembered to pre-freeze the bowl from my cuisinart.The first Musso 4080 machine that arrived didn't chill (1 hour and 10 minutes and still soup). I called Amazon the next afternoon on a Friday and they arranged to pick up the defective one on Monday and a new one was delivered Wednesday morning.I have houseguests and we've been in ice cream heaven since that second machine arrived. I've made 9 different kinds of ice cream/sorbet over the past 2 weeks and they have all been amazing. In only 20-30 minutes, we have the most delicious dessert ever. This is easy to use and makes perfect ice cream every time. Now I keep eggs and cream around as a household "staple".I've found that chilling the mixture and anything you plan to mix in at the end for a couple of hours first gives more consistent freezing times, but even if you don't do that, it still makes great ice cream and sorbet. Last night, I had a half a pineapple left from making fruit salad which I chopped up a pureed, then added 1/2 cup each of sugar and water to make wonderful fat-free pineapple sorbet. Tonight I'm going to try to make something similar with blueberries that we just picked.This machine is expensive, but worth the money.
Rheumor: Fast, sleek, sculpted and expensive.....now that's Italian! This is the ice cream maker for the serious player. It is substantial (heavy!), magnificent and works wonderfully well. Plug it in, load some cream, flavorings and fruit, and let it rip. With its reassuringly quiet motor whirring away, it churns and chills a family-sized portion of surprisingly good ice cream in no time. The only limit is your imagination (vanilla with white chocolate chunks and raspberries was great!) and your waistline. Anyway, this is a great purchase that is easy to use, useful and I feel certain will never join the abandoned fad machines that line my pantry.
Skwerl "Skwerl": I am in love with this machine. It's big, weighs a ton, and is slightly noisy when running, but it produces wonderful ice cream. I've never found the bowl-in-the-freezer machines to be able to freeze a rich ice cream base, but this guy handles it like a champ. It has a strong motor, too, so it can keep on churning when the mixture is very thick. Just for your reference, here's my ice cream recipe. This will make TWO batches of vanilla base, so you can flavor each one differently. Simply halve the recipe if you only want one type.4 cups heavy cream (NOT ultra-pasteurized, if you can get it)2 cups whole milk1.25 cups sugar1 dozen large or medium egg yolks (not extra large or jumbo- the flavor's not as good)3 vanilla beans or some vanilla extract1 tbsp unflavored gelatin1. Whisk the egg yolks and sugar together until denatured and a bit lighter2. Combine cream and milk. If you're using vanilla beans, slice/scrape them and add them to the cream/milk. Bring cream/milk to a boil, then remove from heat. If you're using beans, let them steep in the hot cream for 20 minutes, covered with a lid, then reheat cream/milk to boiling. Remove vanilla bean pods.3. SLOWLY pour the boiling cream into the egg/sugar mixture while whisking constantly.4. Pour the mixture through a fine sieve to catch any curdled egg or vanilla bean pulp. You may skip this step if experienced.5. Chill the mixture for a few hours, then add the vanilla extract if not using beans. The resulting texture will be better if the mixture is cold when you put it into the machine.6. Bloom the gelatin in a little cold water for a few minutes, then melt it. Try to get the gelatin as hot as you can without boiling it in the microwave. QUICKLY pour all the gelatin into the ice cream base while whisking VERY briskly. If you don't whisk quickly enough or the gelatin is not hot enough, or you add it too slowly, you might get gelatin strings in the base. Just pour it through a sieve to catch the strings, and melt some new gelatin. Do not skip the gelatin!!! This is what will give your ice cream a superb mouthfeel and inhibit ice crystal growth after you put the churned product in the freezer. The ice cream will retain its smoothness for days this way. Without using the gelatine as a stabilizer, it will turn grainy.7. Add the mixture to the machine and churn until very thick, and the motor is straining slightly.