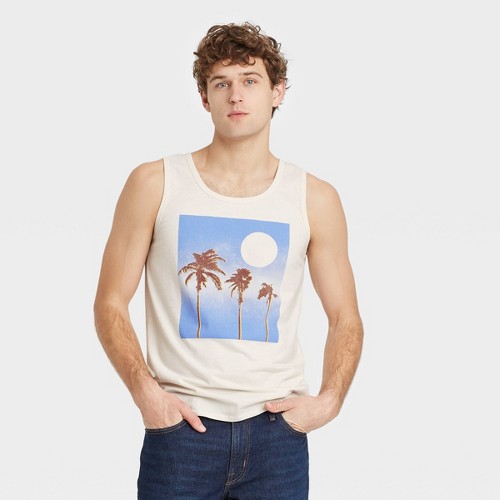 Please rating for this item if you love : 0 star
Check Price In Store: Target
Men S Printed Regular Fit U Neck Tank Top Goodfellow Co Beig
From starting your day with your cup of coffee to taking a walk around the block bring comfort and style to your warm-weather days with the Standard-Fit U-Neck Tank Top from Goodfellow and Co™. Made from a lightweight and shrink-resistant fabric this men's standard-fit tank top offers you cool comfort all day and you can also layer it under your button-down shirts hoodies or jackets for cozy year-round wear. Cut in a U-neck style and featuring a classic sleeveless design you'll love pairing it with anything from your favorite shorts to jeans or joggers for cool styling. 100percent Satisfaction Guaranteed. Color: Beige. Gender: male. Age Group: adult. Pattern: Landscape. Material: Cotton.
Andrew: I purchased this set of measuring cups after I accidentally threw away a 1/2 C measure from a separate stainless steel set. Plus, a very good friend of mine recommended them.So far, I'm happy with them.Pros: The cups nest well whether they're attached to the ring or not. They also sit completely flat. The measurement markings are bright and clear, and after owning them for about a month -- I have not seen anything that would suggest that they were fading or will fade as other customers have suggested. Even if that were to happen, the measurement markings are slightly raised and stamped ONTO the handles, and would be readable without the colored paint. The 3/4 C measure is great, and eliminates a lot of unnecessary measuring compared to a 1/4 C measure. The inside of each cup also features a halfway line, which is convenient when you're measuring liquids and only need half the amount the cup measures.Cons: My only complaint has to do with the storage ring, which is rather large and takes up a lot of drawer space. When attached to the ring, the cups are also harder to use, so if you purchase these, you'd be better off storing them individually and throwing the ring into your junk drawer.If you need a better look at these cups before deciding whether or not to purchase them, visit Oxo's official website [...]
Arily22: I love using my new measuring cups. The way they are shaped make it easy for me to pour as well as scoop up. The fact that they sort of clip onto a ring makes them extremely convenient and easy to remove and use. Helps me keep them together and I'm glad I don't have to open up the ring they came in in order to remove one of the cups. I also purchased the measuring spoons.
A. Shearn "minihaha": I have only had these for a little while but I love them. I have had no problems getting ingredients out and I have been hand washing and have had no problems with the numbers. They are sturdy and they include the extra sizes which is very helpful!
asiana: I liked these OXO measuring cups a lot, but there were some features that I didn't care for. The pluses: I liked the fact that there was a 2/3 cup measurement. I also thought that the non-slip grip on the handle was a real improvement over other measuring cups. However, I disliked and later removed the plastic band that held all the cups together. When I am reaching for a specific cup, I don't want to take the time to pull it from its "holder." I also didn't particularly like the shape of the cups since they took up more room than my round cups in the drawer.
Aurora Koch: Scooping ingredients out is so much easier with the angled design, and they clean easily as well. The hook on ring makes for convenient storage by keeping the cups together and allowing them to hang from a wall hook.