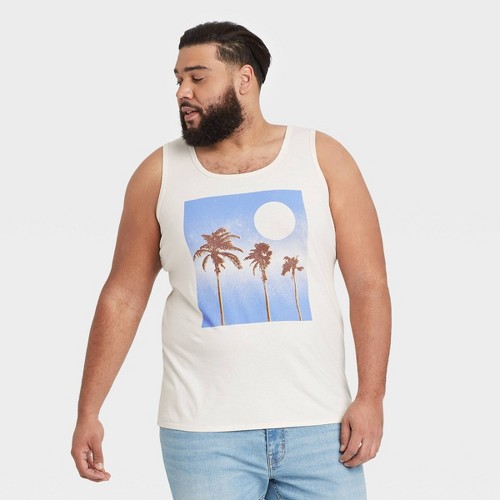 Please rating for this item if you love : 0 star
Check Price In Store: Target
Men S Big Tall Printed Regular Fit U Neck Tank Top Goodfello
From starting your day with your cup of coffee to taking a walk around the block bring comfort and style to your warm-weather days with the Standard-Fit U-Neck Tank Top from Goodfellow and Co™. Made from a lightweight and shrink-resistant fabric this men's standard-fit tank top offers you cool comfort all day and you can also layer it under your button-down shirts hoodies or jackets for cozy year-round wear. Cut in a U-neck style and featuring a classic sleeveless design you'll love pairing it with anything from your favorite shorts to jeans or joggers for cool styling. 100percent Satisfaction Guaranteed. Size: 2XL. Color: Light Beige. Gender: male. Age Group: adult. Pattern: Landscape. Material: Cotton.
Nixon72: This was a great buy! It is very solid and makes cutting through dough/pastry so easy. Also feels good in my hand.
NuJoi "Create with me": Update 8/25/07: I love this so much that I bought a second one! Now I have one for baking and another for everything else. When I cook big meals, I tire of having to rewash it.This is my second bench scraper. The first was a single sheet of metal that curved to form a handle. The measurements were painted on it. I probably paid $3 for it. After repeated use and trips to the diswasher, the measurements began to wear off and the bottom started to get uneven.I am so thankful for this version by OXO! There's the obvious sturdy handle, but what I love the most is that the measurements are etched instead of painted. I have to have the measurements because I use bench scrapers to measure the thicknes of dough in addition to cutting product (you'll never cut brownies or bars again with a knife) and cleaning the board. This product is a lot heavier than my previous version and I like the weighty feel.Dishwasher safe.
Nygelis: I wish the measurements were printed on both sides instead of only one side. I also wish the handle was not wider than the metal part - it makes it difficult to measure thickness on a flat surface (for example, measuring how thick dough is on a baker's board). Other than that, this is my favorite tool in the drawer. Excellent workmanship.
Ohana "Mr&Mrs": I use it to help cut pizza dough and biscuits, it really works well. Just be careful because it is sharp.
pab: This is a great Oxo product. It cuts well (I've used it for cutting dough into portions in the past). I think I got this as a free product in the 4:3 promotion, but after having used it I would still purchase it now if it wasn't free. It feels good in the hand and is solidly made. Sharp, and not expensive.