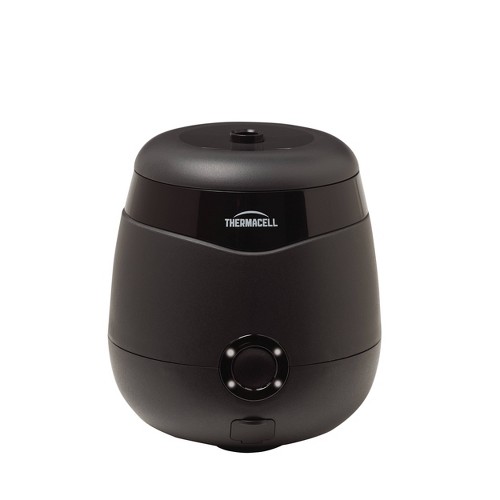 Please rating for this item if you love : 0 star
Check Price In Store: Target
Thermacell Rechargeable Mosquito Repellent
RECHARGEABLE MOSQUITO PROTECTION E55 builds upon the breakthrough technology introduced with Radius to provide the most advanced mosquito repellent ever developed. With the push of a button E55 heats rapidly to create a zone of mosquito protection. The powerful and long-lasting E55 Rechargeable Repeller is ideal for backyard entertaining relaxing gardening or any of your favorite outdoor activities that are best enjoyed mosquito-free. E55 features an enhanced user interface with a sleek sophisticated style. Audio cues and bright oscillating LED lights let the user know when E55 is turning on/off when it is up to temperature and how much battery life remains. Heat diffuses repellent forming zone of protection. Refill contains heat-activated repellent. Powered by USB rechargeable Li-ion battery.
HomeSchoolingMomma2four "CC": I bought two of these and am still trying to decide if they were worth it. My first batch was horrible, thick tortillas. Second was okay, but had to flip the rack upside down and set them in. I haven't tried using oil yet to help them hang on but the thinner tortillas did hang easier than the thick. I make my tortillas fresh and put them into a warmer which makes them the perfect softness in just a few minutes. The racks do work, and I'm sure I'll get the hang of it. Doesn't take long to overcook them. I do like being able to flip the racks over and insert the shells for filling. Makes it handy to do quite a few and set it on the hot pad on the table. Rack helps to keep the shells warm for a little bit.
HSMomof3: I bought two of these racks so that I could bake several corn tortillas at once instead of frying one tortilla at a time, hoping to save both time, and making the end result lower in fat. I really wanted this product to work. However, only one rack fits on each baking sheet, so I can still bake with only one at a time. I should have just bought one rack and tried it out first. Even with trying to soften the tortillas in the microwave, I could not get them to mold themselves to the rack - they kept sliding off. I gave up in frustration the one time I've tried to use the rack. I will give it another try sometime, but so far, I am not impressed.
Mary Frazier: I bought this so that I wouldn't have to buy the stores Stale Fried, taco shells. But since most of the tortillas either break right down the middle and fall off of this baker, or the get REALLY HARD. I wouldn't recommend it to anyone at this point.
Movie lover from HB: We followed directions exactly (preheated corn tortillas in microwave with damp paper towels), but all the tortillas remained almost flat and unfoldable and when we tried to put them on the racks they just slided off!! We tried bending tortillas, but they only broke. We tried spraying tortillas with butter spray, but that made it worse.I was going to buy a steamer, but seemed expensive just for tortillas. Then I googled how to steam tortillas. Easiest method THAT WORKS is to put slightly damp paper towel on plate, add stack tortillas then put another damp towel on top. THEN put ANOTHER same size plate upside down over all. Microwave 45 sec to 1 min and NICE SOFT TORTILLAS that DO LAY OVER the racks. I haven't tried cooking them yet, but at least there is now a chance this may work.
Nancy Rattigan "Cyberfrance": Since I like to cook Mexican and hate to use ready-made anything, I rarely used corn tortillas. I decided that to break that cycle, I'd have to find a way to bake a bunch of corn tortillas at one time, since it takes too long to produce them in any quantity when we have more than two people dining. I ordered two of these racks and it was the answer to my problem. After I have formed the tortillas, I spray the racks with a little cooking spray and bake them in the oven until they are crunchy. They come out hot and pliable enough not to shatter when you fill them. Sometimes, I add some sea salt when I bake them. I know other people simply hang them through the oven racks, but they seem to be a little to closed to fill easily. These racks are built very well and I'll use them for many, many years.