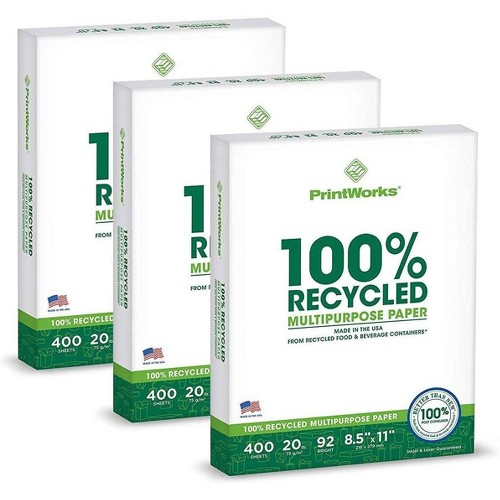 Please rating for this item if you love : 0 star
Check Price In Store: Target
3pk 400 Sheets Pack 20lb 100 Recycled Multipurpose Paper 8
Buy in bulk and save! This 3-pack of 400 sheet reams (1200 sheets total) is perfect for the home office desk school printer station work station and more. Printworks 100percent Recycled Multipurpose Paper takes the common belief that what's good for the environment needs to be expensive and turns it on its ear. While most economical recycled papers are made with 30percent recycled fiber Printworks Recycled Multipurpose Paper is 100percent recycled more than 3 times the recycled content but around the same price. Tread lightly on your wallet and the earth for sustainable savings. Printworks 100percent Recycled copy paper is REMADE right here in the United States! To reduce costs Printworks 100percent Recycled printer paper is made from raw materials sourced within 300 miles of the paper mill. This reduces the amount of transport: gas energy carbon required to get the materials from origination to production. When you buy Printworks 100percent Recycled paper you are helping to keep materials out of landfills and promoting a sustainable process. At the mill a proprietary process takes everyday food and beverage containers along with other print materials and separates the poly layer (the shiny stuff that controls temperature and moisture) from the paper layer. The poly is collected and remade into common household goods like composite fencing and decking. The paper that comes from the coffee cups ice cream containers soda boxes and food packages is put through a chlorine-free cleaning de-inking and re-pulping process to form the basis of this recycled paper. The performance of Printworks 100percent recycled paper is comparable to all recycled papers and is great for all inkjet and laser printers and copiers. This multipurpose paper is perfect for everyday printing at home school or in the office. For over 55 years we have been the experts on coatings paper finishes and the total printing process. The Printworks family of multipurpose papers is the perfect choice for a wide variety of printing needs. Whether you are printing recipes driving directions school reports or presentations for that I've-got-to-impress business meeting Printworks has a grade of paper specifically engineered to meet your needs. Printworks brand copy paper is designed and engineered with you in mind. Stringently specified. Meticulously crafted. Assured quality. Satisfyingly affordable. All come with a 100percent Satisfaction.
Wilyry "Ryan": I'm a minimalist. I like neat, orderly, and efficient. This is it. Great control, great whisking action, fits perfectly with a tiny footprint in my top drawer. Much better than big, overwhelming whisks. Love it!
A Customer: I received my whisk today. The feel and balance are perfect in my hand. The tines are a nice heft and do a good job of mixing and aerating ingredients. It is not flimsy, like some other whisks I have bought and had to return. This whisk does the job and makes a nice addition to my utensil collection.
adw: I really do find the handle easier to use than a cheaper wire whisk - the size and balance of this one works well for whisking up most anything I need to use it for. Good purchase.
A. Fisher: I have started to simplify my life and have gone back to basics. Instead of using a machine to blend and mix my batters, I now use a stainless steel mixing bowl and this wonderful whisk. It is very pretty, also, in my favorite pink color.
Book Face: I use this all the time. Cleans easily, doesn't get liquid between the handle and the wires, and whisks just like it's supposed to.