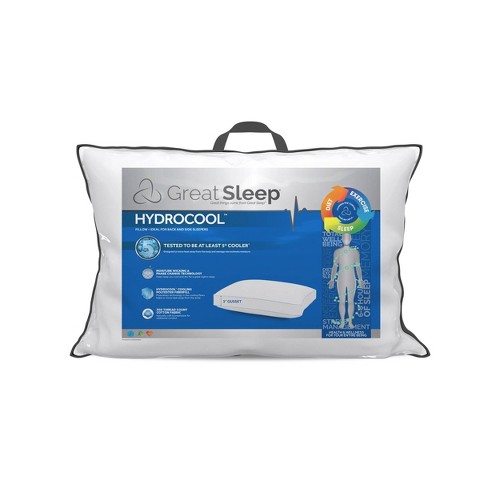 Please rating for this item if you love : 0 star
Check Price In Store: Target
King Hydrocool Back Side Sleeper Pillow Great Sleep
Get the cool comfortable sleep you dream of with the HYDROCOOL™ Pillow by Great Sleep tested to be at least 5-degrees cooler compared to conventional pillows. Designed to move heat away from your body and manage microclimate moisture this pillow features moisture wicking and phase change technology that helps keep you cool and dry each and every night. The proprietary technology in the HYDROCOOL cooling fiberfill helps to move heat away from your body while the 300-thread count cotton fabric cover is naturally soft and breathable for additional comfort.
Angela Bong: This loaf pan is heavy weight and very durable. Anything that you bake in it browns evenly not to mention easy release when you bake bread. Highly recommended !!!
B. Robbins: I have a lot of loaf pans but this out does them all. It's heavy duty, cleans up nice, and cooks evenly. I love this pan!
C. Hudnall "RambleberryFarm": I have waited a little over a year since I purchased this pan in order to write this review - that way I could actually give an accurate review.I love this pan!Oh, more details needed?Okay, if you spray this pan before you use it (since it is NOT a non-stick pan), you won't have any troubles. It gets darker the more you use it. I had forgotten that it was bright and shiny when I first received it. I throw it in the top shelf of our dishwasher and have had absolutely no problem.I use it to make bread (I bake bread 2-3 times a week for our family), I make meat loaves in it all the time (great for freezing), use it to make chili loaves (put plastic wrap in it, then pour in chili, freeze, unmold it, and have chili in freezer anytime). Yes, I know that using it as mold for freezer food is not the original intention, I'm just saying there are options. ;o)The main intention obviously is baking bread, and it really does do a great job. And the size of the loaf is wonderful!I'll give a little tip: in our oven, no matter what pan I use to bake bread, crust would always gets too dark for our liking. So, I took heavy duty aluminum foil and shaped it around the outside of the pan, and I slip it on before I bake with it. I also have heavy duty af shaped as a cover for the top. I let loaf bake for 7 minutes, or until just starting to get color, then I carefully add rounded 'top' fitted loosely over it and finish baking. Since I started doing that, our loaves come out absolutely gorgeous.It comes with instructions, read them, follow them - they work.Actually came looking to order another pan so that I can bake 2 loaves at the same time, instead of having to wait or use a smaller pan. Remembered that I needed to do a review. :o)
Lefty Frizzell "Lefty": All of my reviews on the Chicago Metallic bakeware are going to look much the same. The performance of all is great. They all have nooks and crannies that are difficult to keep clean.But, boy this stuff can cook.
Lior Paster "IT Professional from NYC": Top top quality, heavy construction, durable, keeps its shape in the heat, non-stick but doesn't use any coating (I hate coating), made of metal/aluminum so it doesn't corrode or get stained. You can simply feel the top quality of these pans. Best pans you'll even own.Great for Challa, and any type of bread.