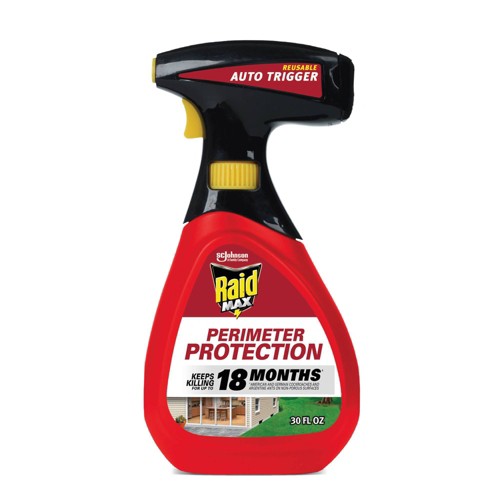 Please rating for this item if you love : 0 star
Check Price In Store: Target
Raid Perimeter Protection Trigger Spray Pesticide 30 Fl Oz
This Raid MAX Perimeter Protection Refill is an effective and long-lasting solution against pests. Use this Refill bottle with your existing Auto Trigger. Its powerful and reliable formula protects you and your family from various bugs and insects. Forget about having separate spider spray ant killer mosquito repellent roach defender gnat aerosol lawn insect killer and other household remedies – now you can get them all in one convenient product. Try Perimeter Protection before hiring an expensive exterminator – with Raid you're like a pro! It keeps killing pests for up to 18 months*. It not only kills bugs but also creates a consistent and effective barrier in your home and in the garden as well. Take back your space and do it by yourself! Just spray window frames baseboards cabinets porches patios and other perimeters** where long term control is needed. You'll see that the auto trigger is precise and easy to use. Raid MAX Perimeter Protection is water insoluble so it keeps defending you through changing weather and seasons. Don't worry - it's safe for various surfaces and its water-based non-staining formula*** leaves no oily residue or lingering odor. This Refill will save you money while also reducing plastic waste. Apply this insect killer once and get up to 18 months* of not being bugged. Raid Perimeter Protection will allow you and your family to rest and simply enjoy being at home and in the garden. Nothing can stop you! *keeps killing American cockroaches and Argentine ants for up to 18 months on non-porous surfaces **See label for specific directions ***Test in an inconspicuous area before applying DIRECTIONS FOR USE: Assembly directions: 1. Remove cap and trigger holster. Replace holster on bottle for future trigger storage. 2. Uncoil hose drop weighted dip tube into container and tighten cap. 3. Set the automatic trigger to the position 'unlocked'. After use set the automatic trigger to the position 'locked'. 4. Keep the reusable auto trigger hose dip tube and holster for use on compatible refills. How to use: 1. Test in an inconspicuous area before applying. 2. Hold container upright and spray away from face. 3. For indoor use: spray insects directly or the surface where insects hide. Apply around doors windows hidden areas around sinks and storage areas behind baseboards around doors and windows behind and under refrigerators cabinets sinks and stoves the underside of shelves drawers bookcases rugs carpets and similar areas. 4. For outdoor use: Spray with wind if breeze is blowing. Do not contaminate fish ponds or apply directly to water. Do not use on edible crops. Apply to outside surfaces of buildings where insects tend to congregate. Spray areas include but are not limited to screens window frames eaves porches patios garages and refuse dumps. 5. Repeat spraying as necessary but not more than once per week. USES: Kills ants fleas flies gnats roaches ticks silverfish crickets spiders scorpions mosquitoes centipedes firebrats small flying moths stink bugs sowbugs ground beetles boxelder bugs. WARNINGS: Keep out of reach of children. INGREDIENTS: Active Deltamethrin 0.03percent. Other 99.97percent. Total 100.00percent.
M. E. Volmar: This is a handy and attractive cheese plane with a very sharp blade that cuts from every angle, glides easily and produces thin, clean and effortless slices every time. Its sharp blade never seems to need sharpening, and its hefty body fits comfortably in the hand, making it require less force to operate than the more traditional cheese planes do, and rendering it perfect for either firm or soft cheese.Like the rest of the products from the OXO Good Grips line, this one is a great value of superior quality, unsurpassed durability and flawless performance. Its ergonomic design and big, pressure-absorbing, outstanding non-slip grip, complete with flexible fins to accommodate your fingers and an oversized hole for easy hanging, allow you comfortable, daily, wet or dry use. Its elegant, stylized shape makes it perfect to move back and forth between the kitchen and the dinner table.Its easy-to-clean, simple construction and dishwasher-safe, hard-wearing materials make this a tool that you will be able to depend on for years, and its stainless-steel metal parts will permanently keep your rust worries away.After submitting this product to over two years of normal use, mine is still just like new. I even use it on blocks of chocolate, to make fast-melting slices when I bake.--Reviewed by M. E. Volmar
Michael A. Duvernois: Got this as a gift for a foodie in my household. Oxo kitchen tools (and toys) have great handles, and they're also generally good tools. This is no exception, works nicely for making thin slices on hard or semisoft cheeses. Nice, reproducible cuts for appetizer trays especially. Quite sharp.
Oahu Computer Guy & Foodie: Who cut the cheese? I did. And it was perfectly sliced. Good grip with good balance make this a must have for the cheese enthusiast.
Robert H. Smookler: I have used various types of cheese slicers over the years and have always found this type the easiest and most efficient. OXO brand is really good.
Sheri: The handle finally fell off my favorite cheese plane after years of use. I've been on a search for a good replacement. There's a lot of junk out there. Eureka! OXO makes great kitchen helpers. This plaine is very sharp and does a great job on the hard and softer cheeses. I'm very pleased.