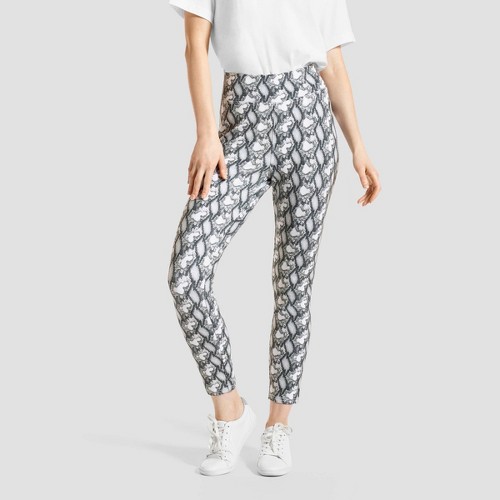 Please rating for this item if you love : 0 star
Check Price In Store: Target
Hue Studio Women S Snake Print Mid Rise Classic Knit Denim J
Hue Studio hi-rise knit denim skimmer in this eye catching faded snake print will make you stand out this season! Wide elastic waistband stays in place and is comfortable. Be super comfortable pairing these with a long tunic and shortie boots. Easy to be trendy and comfy day or night! Color: denim/gray. Gender: female. Age Group: adult. Pattern: Snakeskin. Material: Cotton.
magictraveler: First, this is a very cute machine. I bought the red one and it looks very nice on my countertop. I was worried it might be loud after reading a review, but it is NOT - not at all. We made lemon sorbet and it turned out great. The only thing is, I recommend using 1/4 cup less sugar than the recipe says, because it was quite sweet. The sorbet was yummy and fresh, and the most delectable fresh lemon aroma drifted from the machine as it churned away. Yesterday we made vanilla ice cream, and it was delicious. It is so cool to watch it firm up and fun to count down the seconds at the finish. With summer approaching, this will be a fun machine to have around for the kids and guests! Making ice cream and other frozen treats was never so easy and fun!
Mamachills "Mamachills": I am adding comments on 7/27/08 to my original from April 2006: If I only used this machine once a year, it would deserve the space it occupies on my kitchen counter. I probably only use it about 3-4 times a year, but I could not do without it. I just finished making Nigella Lawson's (Food TV) Margarita ice cream. If you have any doubts about an ice cream maker, get that recipe and try it, you'll be glad you got the ice cream machine. Again, I recommend the Ben & Jerry's ice cream recipe book to go with it!------------------------------I never knew ice cream could be so easy. Someone at work shared his Ben & Jerry's book with me, which inspired me to get the ice cream maker. I love this machine. Seemed like it used to take all afternoon to crank that hand ice cream maker (back in the day) when I was a kid, now this machine does it in under 30 minutes. I feel like Rachel Ray! Since half gallons of ice cream at the grocery store have gone down to 56 ounces, I'd just as soon spend my money for the ingredients to make my own.My first batch was strawberry, from the Cuisinart recipe book that came with the machine. It was wonderful. Just be sure to have your bowl good and frozen, one batch i had to do twice because i only left the bowl in the freezer for 18-20 hours. Reviewer B. Pfahnl "bpfahnl" suggested putting a ziploc bag of ice cubes in the bowl when you have it in the freezer -- excellent suggestion.I do try making half batches since I live alone and don't need a quart and a half of ice cream at a time. Because of the price and fat in heavy whipping cream, I use part half and half. Still good ice cream. And another colleague at work suggested using 1/4 cup or so of Dream Whip for smoothness. Jury still out on that one.But it's all good. Seems like you can't go wrong. If you don't have one yet, hurry! Before summer gets here and you really want a delicious bowl of homemake ice cream!
mammo8: Works great...6 cups is perfect for husband and I, never been sorry for purchase. Being Cuisinart and red helps too.I use all my recipes for the ice creams that I used years ago in the old hand crank and crushed ice makers.
Mark C. Etheridge: I just received this yesterday, and after freezing the container for 6 hours we tried a batch of frozen yogurt. I was a little apprehensive, since I'd read reviews where people were unable to get good results even after freezing the unit for 24 hours. My first batch worked flawlessly! The machine was quiet, operated smoothly, and it was soooo simple! I am going to buy an extra freezing cannister so we can do two batches back-to-back. We've been using our old electric rock salt machine, but now we'll probably get rid of it. Also, due to the ease of using this Cuisinart maker, we'll make more of our own ice cream more often. I recommend it.
Mark J. Fowler "Let's Play Two!": The only bad thing about this ice cream maker is that it is so easy to use and the ice cream it makes is so delicious that you may find yourself making a fresh batch of ice cream a couple of times a week - and that may show up on your backside like it has mine!Seriously - with no ice or salt to mess with it is VERY easy to use. The key to this maker is the cylinder which has walls filled with anti-freeze. You put the cylinder into the freezer long enough to freeze it, then just put your favorite ice cream recipe into the turning cylinder and 20 minutes later you have ice cream heaven! There's even an alarm that goes off a few minutes before the end that signals to you the time to add goodies - nuts, chocolate chips, fruit, or whatever you like.***ONE WORD OF WARNING ABOUT THE OPERATION***: If you do like I did and ignore the instructions you may be delayed in making your first batch: You HAVE to start the machine (and turning the cylinder with the spatula inside) BEFORE you pour in your ice cream mix - if you DON'T the liquid will freeze in just a few seconds, locking the spatula (and the cylinder) in place, and when you go to start the machine - it won't.It is incredibly easy to clean as well - pretty much just the smooth-walled cylinder and the plastic spatula, then just put the cylinder back into the freezer and it's ready to make your NEXT batch.The texture of the ice cream that comes from this maker even seems smoother and "ice creamier" than what I've seen from any other variety of home-use ice cream machines.Great ice cream, easy to use, easy to clean - pretty doggone inexpensive. If you have any inclination to make your own ice cream, this is the machine to have, in my humble opinion.