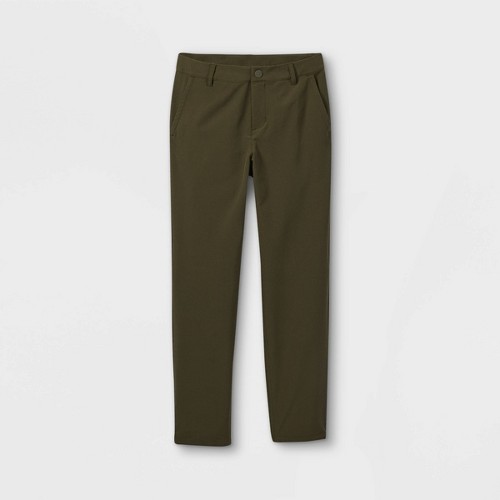 Please rating for this item if you love : 0 star
Check Price In Store: Target
Boys Golf Pants All In Motion Olive Green 14
Why we're ALL IN: Golf pants made from moisture-wicking fabric with a quick-dry finish are specially designed for a fresh and lightweight feel to comfortably take on a range of activities. Four-way stretch lends great range of motion as he bends stretches and goes about an active day and an adjustable button closure with the belted waistband lets him find a stay-put fit. Rounding out the design is UPF 50+ rated sun protection for ample shielding from harmful rays during outdoor play. When families come together to discover the joy of staying active All in Motion is there to make it easy and comfortable to embrace a bustling lifestyle. From running errands to running intervals the collection AIMs to propel you forward with thoughtfully designed pieces that fit and feel great — movement is the core of this performance line with a 100percent satisfaction guarantee. Size: 14. Color: Olive Green. Gender: male. Age Group: kids. Pattern: Solid. Material: Recycled Polyester.
B. Chacon "B.J.C.": I purchase these and you get what you pay for. These were cheaply made and the weld point snapped after two uses.
Bheald: My checkered caked pattern was a success. The Ateco rings cut perfectly, and made my process easy and smooth. Would recommend.
Bradley Nelson: These are fantastic cutters. I love the 11-piece set because there is so much flexibility, whether you're making biscuits, cookies, raviolis, or whatever. And for $15, that's quite a bargain. Far, far, far better than buying some cheap 4-piece set at Target that will bend and end up misshapen.The big concern with these cutters, however, is rust. They need to be dried well. However, if you put a bit of cornstarch in the bottom of the tin, these WILL NOT RUST! Guaranteed. Just wipe them off before using. Wash and dry normally, but don't stress about whether or not there's a still a drop of water on them. Highly recommended.
B. Sanko: This set included 11 fluted round cutters in a metal box for storage. They are a well-made product, which I expected for Ateco. I use them to cut cookies, biscuits, fancy pieces of cake from a sheet cake...They arrived promptly, were fairly priced, and I have been using them for years. They are still like new.
Canadian "GWN": Very well made - despite the ubiquitous "Made in China" - these 11 crinkle cutters (from 3/4" to 3-1/4") all have nicely rounded tops which are very easy on the palms as you use them repeatedly.BUT - the best feature is the little can, in which they are all stored neatly, concentrically.Why not 5 stars? - I would have preferred larger crinkles (especially for the larger sizes).