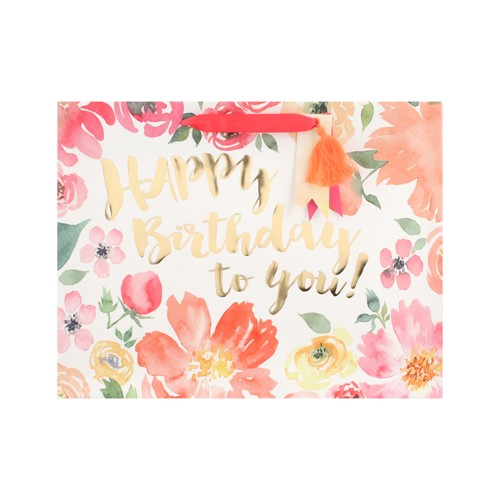 Please rating for this item if you love : 0 star
Check Price In Store: Target
Floral Medium Gift Bag Spritz
"Make your little darling feel extra special with this Large Pink Stars Gift Bag from Spritz™. Featuring white text ""She leaves a little sparkle wherever she goes"" printed over a pink background this pink paper bag is perfect for giving a gift to your little girl. Add some star-print tissue paper to coordinate with accents along the sides and you're all set to present the sweet gift. Pattern: Quote Floral."
nan from cincy: This knife cut through my crusty bread like it was butter. Haven't had such a good bread knife in years, I'm getting another so I can cut something else without having to wash it.
Neschie Smith: Oxo manufacturers, you need to understand your market. Your utensils were originally designed to help people with arthritis or other disabilities in their hands (I know the inventor's sister). Your "fat" good grip handles are good for anyone, but especially for seniors and those with disabling hand issues. HOWEVER, Oxo, how do you expect someone with disabilities to get these knives out of their packages???? I just bought 4 of your knives, but after trying for two hours to get one out of its package, I gave up. I'm returning ALL of the knives. I tried cutting the plastic package with kitchen shears, special heavy-duty electric shears, serrated knives, sheet metal shears and several other tools. I almost CUT MY FINGER OFF trying to get the knife out of it's package. In spite of all this, I still wanted the knives. So I found a scrap of 2x4 lumber, laid the knife (in package) on it. Next, I used a hammer and chisel to POUND the chisel through the tough plastic. The only chisel I have is 1/2" wide, so it took forever to pound through because I had to overlap each cut. I was determined to get the knife out of the package (surely I'm smarter than a plastic package). I finally "won" but was so angry that I decided to return everything. I wasn't willing to go through that three more times in order to get the knives out. I'm so upset with the manufacturer because of the absurd packaging. Dumb. As for the knives, I have owned 3 other Oxo knives for 20 years. Two are serrated and still cut easily. The paring knife, even when new, has to be sharpened before each use. I continued to use it because of the large, soft handle. I had to throw it out last week because the handle fell apart (that's okay because I did get 20 years out of it). I'll look for another manufacturer who puts big handles on their very good knives, and easy-open packaging. I'd actually give the serrated knives a 5-star rating and the un-serrated a 3-star because they don't hold a sharp edge.
Principaled Reviewer "Timothy Loversky": We have owned a couple of bread knives. All were serrated knives, but not all cut bread well. The OXO (and we love that brand!) is a favorite. The handle has a good grip... made of a harder rubber or plastic. It is also a well balanced knife that holds comfortably in both my hand and my wife's hand.The best thing about this knife is that it cuts. It cuts soft bread, hard bread, bagels, etc. Like with all good bread knives, you have to let the knife do the cutting and not push down. This one works like a champ!
Randolph Speight II: I have had some cheaper bread knifes and I have used general knifes for bread, but this knife is really great
Rocky Reasoner: This knife is sharper than some of my chefs' knives and slices bread perfectly without tearing. Essential for home bread makers.