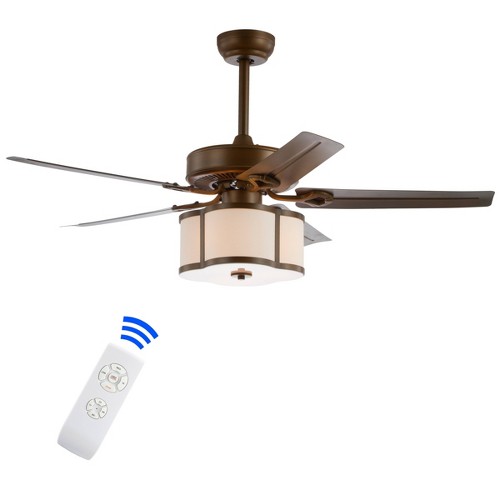 Please rating for this item if you love : 0 star
Check Price In Store: Target
52 LED Metal Wood Ceiling Fan With Remote Satin Bronze Jona
"Our 52"" bronze ceiling fan's tailored design has a trendy scalloped-drum lamp shade for an elegant modern finish. Five reversible blades provide plenty of air flow by remote control. A diffuser panel conceals 3 LED light bulbs for a polished look."
Marie Alline: I love this bread keeper! It is on my counter and I use it constantly! I make bread in my bread maker and it's perfect for any size loaf. I'm terrible at slicing bread straight so it is a lifesaver with the insert. Just make sure you use a sharp serrated bread knife when slicing home made bread. I have learned the hard way that home made bread tends to crumble, deflate and make a mess easily if your knife is dull. With the cutting guide inside the keeper, it will help to avoid that. Great item and I would recommend it to anyone who makes home made bread.
M. Lang: The product works just like it supposed to. It is clear, compact and easy to use and clean. Outside of a great way of storing homemade bread, I love the included slice guide. Although I could always go out and buy a slicing guide, I liked the combination of slice guide and storage container. Whoops, I almost forgot the best part. As you collapse the unit to close it, keep your nose close to the air holes on the side for a quick blast of homemade goodness! Now that is truly the best part!
M. Stewart: Gorgeous box; the other reviews are correct in that it is hard to open & close without making a mess. Yes, it expands to hold bigger loaves, but it becomes a balancing act to put in the bread initially, and to get a slice out, until there are few enough slices to stay in one side.Even though it isn't easy to use, we still use it, since it does look nice, and the small air holes do keep the bread in good shape.We don't use the flimsy slicing guide for cutting.
Nuria: It's so lovely to have you demand reviews for items I never bought.....and I'm only giving this so you'll stop sending me emails. <Sigh>
Ratmammy "The Ratmammy": This is actually my second purchase of this product. The problem with the "slicer" itself, the white portion of the item, is that it will eventually break down after continuous use. After losing two of the "teeth", it became more difficult for me to get the size of slice i liked. So i went ahead and about another one. the cost is cheap, so I felt it was worth it. And now i have two plastic containers, and can be handy in the event i bake two loaves in one day.