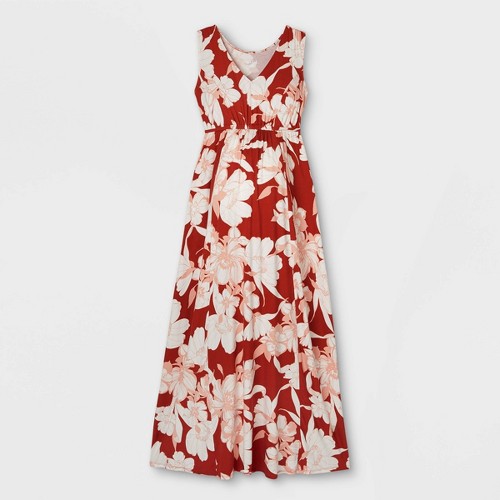 Please rating for this item if you love : 0 star
Check Price In Store: Target
Sleeveless Ruched Front Maternity Dress Isabel Maternity By
Say hello to summer style with this maternity maxi. The sleeveless silhouette will keep you cool throughout your pregnancy the extra length offers plenty of coverage and mobility and the ruched front detail kicks up the style factor. Top with a sunhat and you're ready for brunch or the beach. Color: Brown Floral. Gender: female. Age Group: adult. Material: Rayon.
J.Chris: Pros:Moves a good amount of air, even at speed 1 setting (lowest speed).Cons:Speed 1. It's way too loud for me. I set the fan about 8 ft away from my TV, near a sliding patio door. The TV volume had to be turned up quite a bit.
J. Cummings: the fan works well and it's too noisy. i like the three speed settings. it fits well into our small windows.
John L. Guest "Honest John": I've had many "bottom end" Lasko's over the years. All basically the same.. rectangular steel box, 2 braces holding the motor (one end only) and a 5 bladed fan. The box owes its rigidity to the two plastic screen grids screwed to the front and back. All seem to have plastic "feet" to help stabilize it front-to-back so it stands better from the force of air being forced through. They typically are all 3 speed.Lasko's are mass produced, American-made fans retailed widely at many outlets, at least in the USA.. usually larger chains.. during warm seasons. They normally retail for $15-20 and represent excellent value at that price. If you order by mail and have to pay shipping, much value is lost. (this particular offering sells 3 units so the shipping is shared to bring the per-fan cost to around $25 each.. assuming of course you can use 3 fans)Over the years, I'd say they average 3-6 years or more of regular use (many thousands of hours) Their mode of failure is usually shaft support failure.... they just get so they won't "go" when powered on. Of the many brand names I see on these box fans, I believe the Lasko is the BEST quality and longest serving.. they are designed and made in the USA.Good points*they are cheaper than virtually any other option (except a few other similar clones.. they all are basically identical.. they often are offered as "promo" or "loss leaders" at the "big box stores" for under $20 each)*barring physical damage they work quite well for many years.*they CAN move a lot of welcome cooling air!!*the most reliable of the box-fan suppliers in my experienceMinor "problems" ..*BIT loud on HIGH (not unreasonably so.. when you move this much air, it makes noise.. the fan itself is quiet)*plastic blades snaps rather abruptly if a child or whatever sticks something into the blades while its on (at least I've had this happen once.. not sure if all blades are that brittle.. I snapped blades from another unit onto it and it served a long life)*the design is not "efficient" if you need truly forced air pressure due to lots of "leakage" front to back around hte blades.. Lasko makes a shrouded fan at a higher price which would be much better in that applicationLasko 20" Weather-shield W Thermo* The narrow width make them VERY prone to falling over (even with the plastic "feet" attached).. I don't think I have had a one that hasn't fallen over several times.. luckily they are rarely damaged by this. You should just plan on putting it where you can "lean" one edge of it's intake side against somethingI see no mention of power consumption in the product specs, but they seem to use about 90 watts (all of them have power usage tags on them. but you'd have to have the unit to look at it) At average USA power cost (9-15 cents/kwhr) they are cheap to operate.All in all I RECOMMEND THE UNIT if you can get it for the $15-20 range (watch for sales or "loss leader" values too).It is worth noting that the above "weather-shield" thermo-controlled unit (which is a considerably better fan in construction, water resistance, and air movement).. the thermo control may be a plus to you, but I just turn it off or on as needed) is a "good value" especially if you're having it shipped as it is only a couple of dollars more than this one (as shipped) and includes free super-saver shipping IF YOU NEED it shipped!If you plan to use it in areas or where it will be exposed to some water now and then, you probably should go for the above-mentioned "weather shroud" unitLasko 20" Weather-shield W Thermo... made to sit in a window and survive the occasional rain storm. In that case the thermo control could be more valuable for unattended operation.
John P. Healy "zentojazz": Nice to see Made in the USA on the outside of the Lasko 20" box the fan arrived in!Delivery was before scheduled and caught me and my two cats by suprize! Cats have nice new box to play with and I have great smooth operating and quiet cooling Lasko 20" box fan just the right size for my apartment. If you run it on the highest speed naturally it is a little louder. This fan delivers the goods,goods in this case being circulating cool air. Appreciate the prompt delivery also. You may wonder why the early review since having the fan only a couple hours,well the reason is I trust Lasko for a good product since my previous fan was a Lasko I have used for the last 10 years! Motor just wore out after good work for 10 years. Thanks Lasko!
Jorge F. Reynolds: Feb 2012: My review below was before they swapped the original motor for junk while pretending the unit's unchanged. It only looks the same but on opening my newest for 1st periodic cleaning bits flew out that proved to be cheap plastic tie-downs that couldn't stand the heat and the motor windings seemed similarly downgraded. Check the web for fire hazzard recalls.Jan 2010: To my original review which follows, I'm just adding this note that Lasko says this model only draws[when new] 83 watts @ High, 69 @ Medium & 56 @ Low Speed. The 170 watts reported elsewhere is in error.I also note neglecting to mention my need to avoid blocking daylight as much as possable, thus clear plastic for the 'shroud' mentioned below.With no range hood in my city apartment, I've run these [at Mid Speed] virtually 24/7 in my kitchen window for decades, sucking fresh air thru the rest of the apartment while expelling stove heat & air-borne greece, etc.I'm comfortable with this because it's relativly easy to take the motor apart for a simple cleaning about once every 9 months [or so]. I've also added 2 4" circular layers of the old, cheap, black, 'washable' air-conditioner filter material between the back of the motor and the interior protective grill to lessen the amoung of gunk sucked into the motor.What with the cooking, this filter and, for esthetics, the inside grill are also removed & cleaned in the bath tub 3 or 4 times a year. The grills are a pain as soaps are only partly effective & brushes don't quite serve for the tiny grill opening.With all this beating, the fans have all lasted an astonishing 5yrs++ !BTW: To deaden vibration noise, etc. I hang the fan from 2 springs at the top of the window. I noted that with the fan running I could feel air being sucked in from outside around the sides of the fan so I've made a clear plastic shroud to block these areas for greater efficiency. I've also taped bits of this plastic on the 4 corners of the inside grill wher some more air circled in & out.