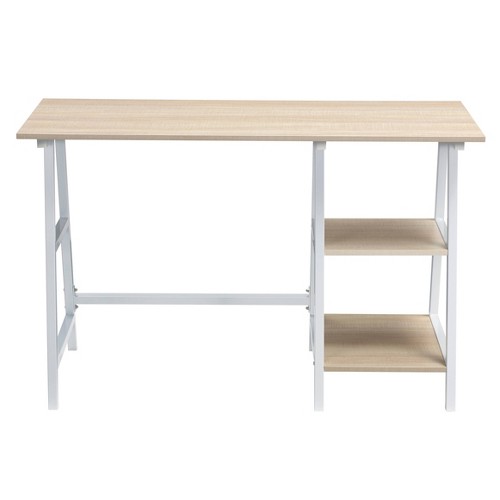 Please rating for this item if you love : 0 star
Check Price In Store: Target
47 Rectangular Writing Desk With Open Storage Shallow Wood
"47"" Rectangular Writing Desk with Open Storage Shallow Wood Grain - Office Essentials"
Debra Schiff "http://hereandthere123.blogspot...: I already had a set of black plastic round measuring cups from OXO, so I wanted to see how these (ehem) stacked up against the old ones (about 10 yrs old). Here are my thoughts.What I liked:1. The oblong shape. It fits well into containers and jars. It is especially good for scooping up ingredients in bulk containers. If you're in a pinch and can't use liquid measuring cups, they also make it easier to remove sticky ingredients using a silicone spatula.2. I really liked the 3/4 and 2/3 measuring cups. It just makes life a lot more convenient in terms of measuring flours when baking.What I didn't like:1. I didn't like how thick the plastic is on these cups. It makes them stack very high in the cabinet. I understand that they probably needed to design the handles that way for the ring, but they definitely could have manufactured them with a strong, thinner plastic.2. The shape, while handy for scooping, makes it tough to make space for these cups in the cabinet or a drawer (if you're like me and tend to have a few kitchen items). Not only is the set tall, it's also long. Measurably longer than my old, round set.3. The ring and the hooked ends of each cup were highly annoying. Eventually, I just took the ring off. I'm old enough to know how to stack my cups together and not lose them in between the flour, the sink, and the cabinet.4. Flours really cling to the plastic, especially the textured outer part of the cup as well as the grippy handle. I expected this to happen because the cups are plastic, but I didn't expect it to be worse than my original plastic cups (not textured at all).Overall, I can see why they're popular, but OXO still needs to tinker with them a bit.
Diane: I bake frequently so when my old measuring cups broke it was time to buy some new ones these are perfect for all measuring needs
Dinakar Sarma "Dino": I'm used to using measuring implements with a bit of weight. Metal, with more metal, held together by metal. These guys are plastic, and chunky as heck. The shape of the measuring cups is such that the flour tends to not stick to the corners of the bottom. You know how when you measure out things like corn starch on a humid day, and the thing tends to stick to the bottom, because of the shape of the measuring device? Because these have a rounded edge, as well as that ovular shape with tapered stuff going on, the flour seems to slip right out. Definite bonus.I don't think that the numbers will stay the colour that they are for very long, as the increment of the size of cup is printed on raised lettering with a coat of paint over it. Because it's raised, it's going to be exposed to the elements more than it would if it were sunken into the handle. That being said, because it is raised, there is no pocket for flour to collect in. This means that if I need to switch from regular baking to gluten free baking, I need only give the cups a quick rinse, and I'm safe. With other measuring cups, who have things pressed into them, there is the concern that flour will collect into those pockets, and not come out completely.In my hands, they feel a bit chunky. I'm not a huge fan of the feel, but I guess that if you had small hands, or other such issues with gripping things, you'd appreciate the feel.They have the increments that bakers use, like 1/3, 1/4, 1/2, but also 3/4, and 2/3. VERY handy, so that you don't need to repeatedly do 3 separate 1/4 cup measurements if you want 3/4 of a cup of something. Very handy. The loop that they attach to can easily be snapped on or off. Handy feature. I don't like the cups lassoed together while I bake. I prefer to unhook them, do my measuring, wash them off, then put them back on the ring for storage.
D. Phillips "30-Something from the City": I bought these as a gift for my in-laws to replace a miss-matched set of measuring cups. I was surprised by the weight of the plastic after opening them. They are much heftier than I was expecting for such inexpensive cups.The handles are covered with a rubber-like coating that makes them easy to hold even after spilling a little olive oil on your hands.Overall they seem high quality and should be durable over the long-term. I'm happy with the purchase.
E. Byers: Since we wanted a set with 3/4 and 2/3 in it, and we were a fan of the OXO brand we purchased the previous version of these measuring cups. Even knowing the major complaint of the numbers washing off.Well, they've been good measuring cups, and the numbers have indeed worn off. It's not a huge deal, but before you grab one, you end up having to go through the stack to make sure it's exactly what you think it is.What is new and improved - 3 things from what I can tell.- Sizes are now raised! They are still colored, but instead of round screen printed dots, they are raised fractions (still painted..which may wear off)- Scoop like shape. Makes for easier pouring, and easier scooping out of containers.- Now clip onto ring. Before there was a ring that you had to pull apart, which means you had to thread them on. These cups have cut outs allowing you to easily snap them on/off the ring. Before we just threw the ring out since it was a huge pain. This one should allow us to keep them organized better.What's worse.- Egg separator no longer included (we didn't personally use it, but still is a loss not getting it)What's the same (and still good)- Still have a raised line indicating the halfway mark on each cup.- rubberized outsides (easy to grip and hold on to, even with wet hands)- smooth insides (most ingredients slip right off)I believe the limitations (that we were willing to live with) have now been removed, so these should now meet the same high expectations I have of other OXO products.