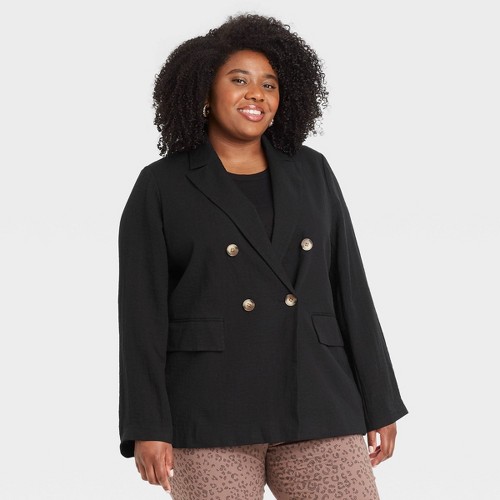 Please rating for this item if you love : 0 star
Check Price In Store: Target
Women S Plus Size Double Breasted Blazer A New Day Black 2X
Add a smarter finish top your casual or formal wardrobe with this Double Breasted Blazer from A New Day™. In a neutral color this long-sleeve blazer is crafted from lightweight fabric with soft lining that allows you to move through your day with ease. It features a classic silhouette with beautifully notched lapels and bound interior seams to define the classic shape. Plus the front button down and front pockets add functional flair to your look. Wear over a tucked-in tee or a button-down shirt along with jeans or trousers to amp up your tailored style. Size: 2X. Color: Black. Gender: female. Age Group: adult. Pattern: Solid. Material: Rayon.
Jillie Bean "~COOKIE QUEEN~": I was very disappointed with the quality of this cookie press..It was advertised as Stainless Steel when in fact its aluminum I think for the money I could have done a lot better and thought that perhaps because it was made in Italy it was going to be a better press then I received..December 2008...Ok folks..I stand corrected!..even though I was disappointed in this cookie gun...I used it for the first time this year..and it pumped out the most perfect little cookies in no time flat!..it was easy to use...and I wish the tube was a bit larger...the discs are great and I made lots of great little cookies...I am glad I didnt return it!
J. Merolla "Savvy Shopper": This is a very nice cookie press but I thought that, with 20 dies, there would be some of the old-fashioned ones, like the camel and the traditional Christmas tree that I have on my old screw-driven press, but they are missing. There is a different Christmas tree, but no animals at all. It did take a little getting used to, but I do like it very much.
Michael Desimone: This is a high quality cookie press and we've been using it for over two years with no problems. Love that it is made in Italy and high quality with so many options and press plates you will be busy baking cookies for years to come!
Nilla: I had previously owned another brand of cookie maker but lost an important piece on it so it no longer worked. I figured it was less of a hassle to replace the whole cookie maker rather than purchase a replacement part. When I purchased this deluxe stainless steel one I had my doubts because the handle operation looked a little bit funky. My previous one did not operate like this. But I really needed a cookie maker quickly so I tried it. LOVE IT! I noticed a complaint in one of the reviews about it skipping - maybe she received a defective one because mine works so smoothly and does not skip a beat. I can pump out those cookies so quickly it's amazing and consistant. And of course there are wonderful designs to choose from. Many people use it for spritz cookies only on Christmas. I use mine year round. One nice thing about it is that I look like I've spent hours on these delicate little cookies when in reality it's quicker than any drop cookie and the recipes are simple, simple, simple! And if you dip one end in dark chocolate or white chocolate they look very fancy. You can add lovely colors to your cookie dough and produce a rainbow of possibilties. This cookie maker is a breeze to clean. The pieces come apart easily and wash with hardly any effort. On the side of the box it shows the finished shape of each disc which is very helpful because some of the discs have a design that look nothing like the finished product. It makes a beautiful little heart cookie that is wonderful for Valentines Day. It makes a perfect little Christmas tree or wreathe for the holidays. It makes cute little flowers or stars or just fun shapes that are not anything in particular. I highly recommend this cookie maker. It's so easy to use and kind of fun. The possiblities are endless.
Ohana "Mr&Mrs": I bought this to replace my plastic one that I've used for 4 years (Wilton). This is all metal (aluminum, I think) and it is a lot smaller but still very functional like my previous one. You can see how much dough you have left but I for see this to last a lot longer!