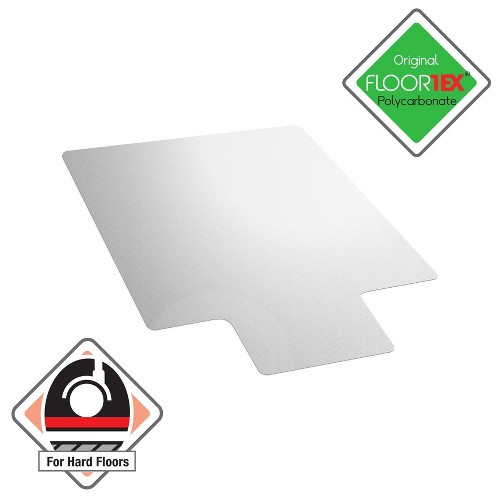 Please rating for this item if you love : 0 star
Check Price In Store: Target
48 X53 Polycarbonate Anti Slip Chair Mat For Hard Floors An
"Floortex Unomat Polycarbonate with anti-slip backing provides the ultimate in quality clarity and durability. Provides ergonomic benefits for chair user by providing easy glide movement and reduced leg fatigue. No cracking no curling no dimpling no yellowing no smelling. Free of toxic chemicals and PVC. Polycarbonate mats can be used immediately unlike PVC plastic there is no need to wait for the product to lie flat. Size: 48""x53"". Pattern: Solid."
M. Johnson "Tea Lover": This book is a must have if you get a Zoku (which I also highly recommend). There is a large variety of recipes from simple, to fancy. The flavor combos are creative, and it gives you ideas for decorating the pops too. They turn out as beautiful as they are tasty. After reading it you will be inspired to create your own recipes too.
PugLover: This cookbook is great. I have really enjoyed reviewing all of the recipes. Sure - some are more difficult than others, but there is a nice variety in this book. For me it was totally worth it just to get the quick shell recipes alone. We have only tried the chocolate so far, but it is so tasty. A few of my favorite recipes in this book are the banana from the strawberry banana one, and the raspberry/blackberry ones (but I used mixed berries). Also, it has great instructions for tips on using the Zoku. Definitely recommended.
Robin Cline "Solarobby": If you have a Zoku Quick Pop maker (or two....I have the original one-slot and then I bought the double-slot here at Amazon), I recommend you get this creative little book, which will inspire you.
savinggrace "savinggrace": This book is so beautifully illustrated and easy to follow. It helps you to understand the Zoku better. It might have been even better if they made the recipe units for different sized molds. These recipes produce too much for a single mold unit. It would have been nice if they used a matrix for the ingredients like on a box of rice. I am just math lazy and bought a single mold Zoku. Dividing 3/4 of a cup, 3 tablespoons or 3 1/2 tablespoons is kind of dicey in my kitchen.
S. G. "s.g.": I bought this when I bought the pop maker. I think the recipes are fine, but there really isn't much in the book I wouldn't have figured out myself.A couple of good creamy recipes that are now available for free on recipe websites. As for "pop embellishing" well, that wasn't too hard to figure out, either. I'd save the money and spend it instead on extra pop sticks, which seem to disappear the way socks do....