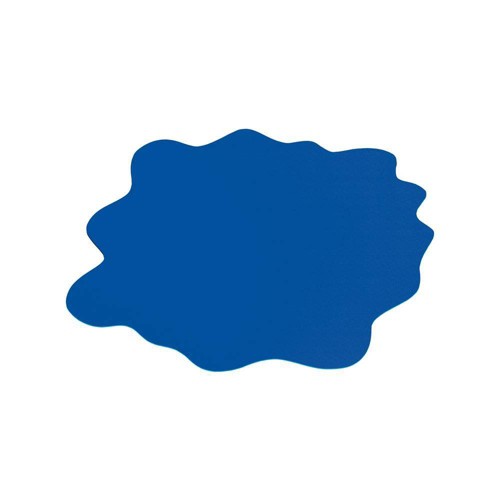 Please rating for this item if you love : 0 star
Check Price In Store: Target
40 X40 Vinyl Multi Purpose Mat For Carpets Blue Floortex
The Colortex Sploshmat is a unique splat shaped mat to protect your valuable flooring from falling food drink and mess resulting from a host of child activities. Great use for under high chairs when feeding your baby or young children. Also perfect for floor protection while potty training! Fun shape combined with effective practically. Free of phthalates tin lead and cadmium for durable but safe floor protection for your home. Easy to clean and safe to use around children and animals. Can even be used as an effective chair mat when your child starts to use a desk! The Colortex Range adds color to any office space or home. Available for both carpeted and hardwood floor. Color: Blue. Pattern: Solid.
M. Robb: I've had the 6 inch for years and just splurged on this one. It holds a great edge and slices effortlessly.
sac: if you are familiar with the pro s line by henckels, you already know you are going to love this knife. if not, they are well made, well balanced, comfortable, and sharp knives! i love the 6" chef. i use mine every day, multiple times a day, and it's one of the first knives i go to. it is definitely worth every penny. you will have it a lifetime! you actually get really spoiled after using these knives, but you don't realize it till you are using lesser quality knives at a friend's kitchen! buy it, you will love it.
STG "esteegee": I am an amateur chef (in training) and have been practicing this hobby for many years. Of all the knives I have accumulated, this is, by far, my favorite chef's knife. But, as others have commented, the proper grip causes the sharp angled edge of the spine to wear into your index finger. (As do many forged knives like this) I asked a pro chef in school what they do about that, and he told me to just use a long 1" wide strip of emery cloth to round the spine. The motion is similar to polishing shoes, back and forth, holding the ends of the emery cloth down and below the knife. I posted a picture of the before and after.After rounding the spine, this knife has become an absolute joy to use. It holds its edge very well, and has great balance. It re-sharpens easily and is very stain resistant. By the way, many people comment that they steel the knife before every use. I find that it holds an edge well enough that that's not always necessary. I steel mine about every 4th or 5th use, and then only a few strokes.
T. Cheng: This chef's knife is a dream to use and has a permanent place in my collection.I am not a believer of large knife sets and own very few knives. I believe that most tools in my kitchen (including knives) must have more than one function. To date, I own this knife, another 8" chef's knife, a serrated knife, and a paring knife. These knives are all I need to prepare almost any dish. I test every knife I use before I purchase one.I was in the market for a heavier chef's knife and came across this Henckels during a sale. It has all the features I'm looking for:- The 8" was perfect for my smaller hands.- It has a fantastic weight and balance - it is considerably heavier than my other chef's knife (perhaps double the weight) and makes many other knives feel like children's toys.- Full tang, with a riveted handle.- The edge is wicked sharp and easily maintained with regular use of a honing steel.This knife is one of those kitchen tools that make you feel happy when you use them - it's beautiful and you know it's the right tool for the job.Ignore all the advertisements of "dishwasher-safe" and "easy to clean". Any knife is easy to clean and maintain if you take proper care of them. I recommend hand washing the knife to promote the life of the handle, it's really not that hard.
wiredweird "wiredweird": I've probably had this 200mm (8") 'Professional S' knife for ten years, maybe more. It's always given good service for our household use, and gotten ordinary good treatment (including hand washing only, no machine). I sharpen it by hand, and it takes a fine edge and holds the edge reasonably well.So, imagine my surprise when I discovered a crack working its way across the blade, about a third of the way back from the tip, and now about half-way from edge to spine of the blade. Well, at least one other reviewer has talked about the tip falling off so they wouldn't be surprised. I never heard of such a thing, though.My grandfather's kitchen knives still work just fine, and they must be at least 75 years old. I have other bladed tools that are even older. I know that nothing lasts forever, but I really expected a lot more from a brand with Henckels's reputation. I mean, the reputation it used to have.This really seemed like a good knife. Now, it's only a matter of time until a big chunk of the steel blade simply falls off. 5 stars for what the knife used to be, worst possible rating for this unbelievable failure.Incredible.-- wiredweird