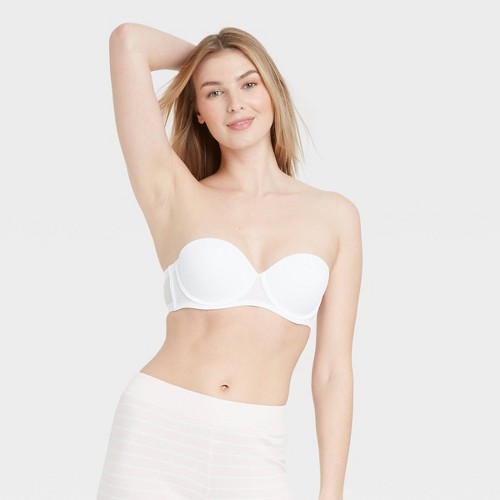 Please rating for this item if you love : 0 star
Check Price In Store: Target
Women S Lightly Lined Strapless Bra Auden White 36B
The Lightly Lined Strapless Bra from Auden™ provides the versatility you need in your intimates — because every outfit has specific undergarment needs so you can go about your day in complete comfort. With lightly lined cups this bra offers the coverage and shaping you need for confident wear while its strapless design lends itself beautifully to strapless blouses tanks or any top with minimal coverage around the neck and shoulders. If you're looking for a little more support you can always transition this piece to a more classic bra with the included detachable straps and you'll love the sleek design of a solid color with a plain center gore and underband for simple style that doesn't intrude on the look and comfort of your everyday outfits. Size: 36B. Color: White. Gender: female. Age Group: adult. Material: Nylon.
Leesa "Leesa": How can you go wrong with a potatoe masher LOL..............it works great nice and sturdy very happy with my purchase
Mary L. Nowak: This is great! I haven't had a masher in years and this one is just perfect - the right size, not too big - works in a small or large bowl, is sturdy, comfortable to grip, and will easily mash your potatoes or squash or whatever you fancy in a few simple strokes. Fits in a regular kitchen drawer for storage.
Morgan Smith: These OXO kitchen tools have proven to be amazing! I have yet to find anything that compares. This masher works great without much effort, and the foods come out perfect. As for quality, it hasn't rusted or shown any defects in almost two years of use. This includes throwing it in the dishwasher! The handle is large, easy to grip and having bad wrists, makes mashing more comfortable as a result.I was so impressed, I have a cart full of their products ready to buy when I move into my new house. Not only has this piece performed flawlessly, but the entire set I received has too. I can only imagine how well the rest of their products will serve me.Whether for yourself or a gift (or both), OXO won't disappoint!
Rachel E. Evans "Love My Kids": I have always had cheap potato mashers that either bent or broke. But, like most things, you get what you pay for. This is why I decided to go with this one. It doesn't bend or flex when you are mashing, and I use it for potatoes as well as other things like bananas and beans. I wash it in the dishwasher and have had no problems. A little pricey, but you might as well get something quality that will last a long time.
sharkychick: First of all I have to say that I was looking for another nonstick type masher to replace my old one that has a breach in the nonstick and is starting to rust there. :( Often I will boil the potatoes in a nonstick pan then, after draining, pour them back into the hot pan to mash them. I looked at nonstick and nylon mashers and nothing struck me enough to make a purchase.So, I decided to go old school and look at all stainless steel mashers. I figured I'd just bite the bullet and pour the potatoes into something else for mashing, or just boil them in a stainless steel pot.Being a fan of OXO already, I wanted to look at their offerings and ended up choosing this one. As much as I know I probably have a 99% chance of getting something of superior quality from OXO I was still shocked at the heft of this masher. It weighs 6.9oz / 197grams.The entire unit is so sturdy and feels perfect in the hand. The stainless steel head is amazingly heavy duty. It's more of a matte finish, unlike what you usually see in a stainless steel utensil so I actually had to look at the description again to make sure that it is indeed stainless steel. I was comforted to know that because I don't like chrome or mystery metal. I'll pay more to get a nice grade of stainless steel every time.I could not be more pleased. You could bonk an intruder on the head with this thing and do enough damage to get yourself out of the house safely, methinks. :) As for mashing potatoes - it doesn't get better!