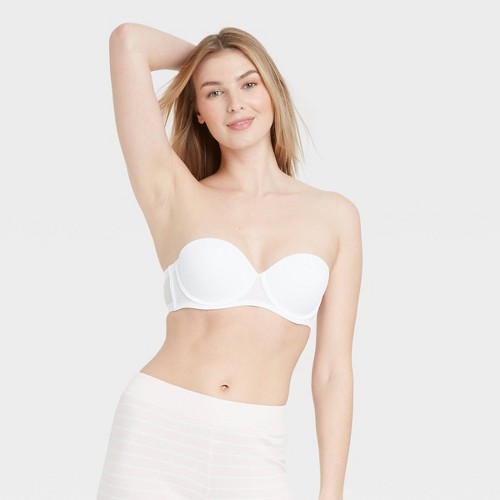 Please rating for this item if you love : 0 star
Check Price In Store: Target
Women S Lightly Lined Strapless Bra Auden White 34DDD
The Lightly Lined Strapless Bra from Auden™ provides the versatility you need in your intimates — because every outfit has specific undergarment needs so you can go about your day in complete comfort. With lightly lined cups this bra offers the coverage and shaping you need for confident wear while its strapless design lends itself beautifully to strapless blouses tanks or any top with minimal coverage around the neck and shoulders. If you're looking for a little more support you can always transition this piece to a more classic bra with the included detachable straps and you'll love the sleek design of a solid color with a plain center gore and underband for simple style that doesn't intrude on the look and comfort of your everyday outfits. Size: 34DDD. Color: White. Gender: female. Age Group: adult. Material: Nylon.
Sondra Butler "gourmet food lover": I bought this unit to replace one I had purchased in 1995 or 1996. I originally wanted to replace just the bowl as I had broken it, but with Amazon's price of $26.60 total I just had to go for an entire new unit. It was shipped free too. I ordered the new Black Chrome finish and it really is lovely. My original one was white and this is a very surprising addition to the line for such an inexpensive price!!The only thing I can say from reading the other comments is people are expecting too much from this smallest of food processors. It is made (and tells you so in the instructions) to be used continuously for no longer than one minute. If you pulse it properly and don't just leave it running, it is fine. This processor is the one I keep under the kitchen cabinet to be used to make small amounts of sauces,finely chop up garlic,chilies, etc. I have a much larger DLC-5 which I use for larger tasks.If someone is purchasing this for the first time I highly recommend sitting down and reading the instruction booklet before proceeding. I haven't had any problems with the old one because I did that very thing when it first arrived. I even read the new booklet again, just to make sure if they made any changes.I was most happy to find all these years later, they still manufacture the original unit. I am not a touch pad fan and I am happy Cuisinart recognized many of us still like the original processors just as they were!! Adding the new finishes to the line as I said above just sweetened it up for me!!!It does have a powerful motor, but it is only a 21oz capacity, so that should make people aware not to over extend their expectations. It is the perfect compliment to the larger processors and I would highly recommend it. For such an inexpensive price I think it is worth it!
Southern Review: A time for every seasoning......and a utensil for every purpose. The Cuisinart Mini Prep does not serve well as a primary processor for heavy jobs. That was not its intended design, or function.I obtained my first mini prep as a promotional gift with a DLC-7 purchase. For many years they have been contributing to my cooking enjoyment as a problem-free, complimentary team in a busy kitchen. When their lexan lids eventually chipped, (which admittedly is a major cause of aggravation with Cuisinart's products) I opted to replace them rather than spend up to 50% of their new cost for replacement bowls. I upgraded the old DLC-7 that is still mechanically perfect, with a MP-14 TM Limited Edition.The Mini Prep perfectly compliments larger processors. I specifically elected to stay with Cuisinart's older, boxier design; because its function is favored over the newer, sleeker model, the DLC-2ABC.The mini prep makes delectable, creamy homemade sauces and dressings. It performs equally well making pesto, crèmed butter, chopped fresh herbs, including garlic, chopped nuts, small portion purees, deviled eggs, spreads, and speedy fresh salsas. It has a fast and slow lever whose function I like because they may be "pulsed" on and off with an instantaneous response. This offers a demanding cook tremendous control over several types of prep functions conducive to small processors.Mini Prep seems perfectly designed to make one and a half cup portions of emulsified sauces and dressings, such as cilantro mayonnaise for grilled fish, or a dollop on fresh corn salad.Here is a basic example of how I use this workhorse.Herb mayonnaise: place dry seasonings, a dab of honey, poupon mustard, flavored vinegars, or lemon/lime juice in the jar. Pulse to mix. Add about a tablespoon (who measures?) of Just Whites, dry pasteurized egg whites to the liquid (no cholesterol, calories, or salmonellae fears) ---pulse to mix---add a hand full of fresh herbs (cilantro, or dill, or tarragon is nice)----pulse to chop slightly. Then use the wonderfully designed lid that holds oil and has two holes on the top that will drizzle in the oil of your choice, without opening the lid, or fiddling with additional attachments that drizzle oil. You have the additional control to shift the motor speed instantaneously from high speed, to slower, or pulse mode, in direct accordance to your temperamental sauce's precise requirement as it thickens.Result: Restaurant quality chef's sauces come together effortlessly in minutes! Large processor's work bowls are too large for this type of job. One must repeatedly scrape the bowl's sides, and the motors are additionally too powerful to make small portions described above as successfully as the Mini Prep's performance.The Mini prep is very lightweight which makes it a delight to store in the pantry. It assembles and disassembles quickly and effortlessly. I especially love the function of the two (tiny) holes on the lid, along with the ease of the lid's removal for ingredient additions. The design and function permit those who love to cook an opportunity to enjoy their creativity in the kitchen without fighting with obstinate, dysfunctional appliances.It is a great convenience and a breeze to use. I love this little workhorse.
Sparkletruly: I replaced my KitchenAid mini chopper with the Cuisinart because of the price and it was available in red. It's a nice little appliance and works well but it doesn't seem to be as sturdy as my former KitchenAid. My old chopper lasted for 12 years so hopefully this will give me at least a decade of service.
Spyce: I have been using the Mini-Prep for a few years. I like to use it for small jobs like chopping herbs, parmesan cheese, and for making pesto. I haven't had any problems with processing parmesan cheese as one reviewer did. The blade has two sides, a blunt side for processing hard items like parmesan cheese, chocolate, and coffee beans and a sharp side for processing soft items such as onions, garlic, meats, and mushrooms. The sharp side is labeled sharp. If you alternate between processing hard and soft items, you have to remember to check the position of the blade to make sure you are processing with the right side. In addition, the processor has two speeds, HI & LO. The LO speed is recommended for use with the sharp side of the blade and pulse action while the HI speed is recommended for use with the blunt side of the blade and continuous processing. The Mini-Prep has a lot of kick to it for such a small appliance, and I have found it best to hold it steady with one hand, particularly when processing hard food items, because it will jump when powered on.One thing I noticed, in the instruction and recipe manual under Operating Techniques, the instructions indicate that hard cheese is processed with a blade and position speed of Blunt/HI but the instructions for grated parmesan cheese in the recipe section uses Sharp/HI. I pulse at BLUNT/HI and then do continuous hold until its grated like I want it. For best results, cut the cheese into small pieces as indicated in the instruction manual before processing.The Mini-Prep does a fairly decent job of chopping onions and garlic. On occasion I find a stray piece that the blades missed but that's probably because I don't always cut the pieces as recommended. Overall, I think this is a great little processor and well worth the price. Just remember to read the instruction manual before you start using it.
Susan Newhall "Susan Newhall": I wore out my original one, so this purchase was a no-brainer. I pulse/chop carrots for salads, and just this use is worth the price. If I don't have the mini food processor and I'm going to make a salad, I often skip carrots since I would have to drag out the big food processor, and wash all the parts afterwards. Carrots are so good for you, and I like small pieces of carrot in salads, not chunks like you get with a knife. I use the mini processor for making small amounts of sauces, dressing, and grating single servings of firm cheese. Very useful and versatile. This one is just like my old one, except the black chrome is new to me and very nice looking.