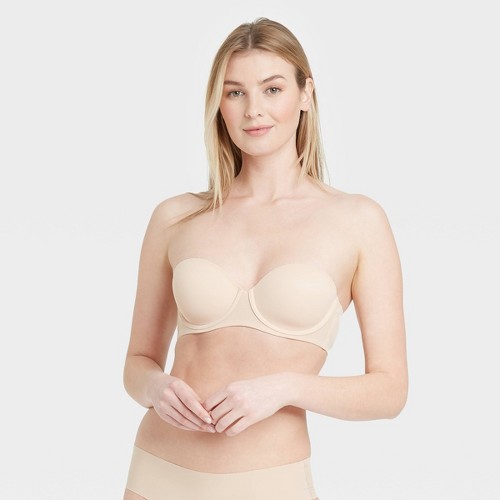 Please rating for this item if you love : 0 star
Check Price In Store: Target
Women S Lightly Lined Strapless Bra Auden Soft Beige 34C
The Lightly Lined Strapless Bra from Auden™ provides the versatility you need in your intimates — because every outfit has specific undergarment needs so you can go about your day in complete comfort. With lightly lined cups this bra offers the coverage and shaping you need for confident wear while its strapless design lends itself beautifully to strapless blouses tanks or any top with minimal coverage around the neck and shoulders. If you're looking for a little more support you can always transition this piece to a more classic bra with the included detachable straps and you'll love the sleek design of a solid color with a plain center gore and underband for simple style that doesn't intrude on the look and comfort of your everyday outfits. Size: 34C. Color: Soft Beige. Gender: female. Age Group: adult. Material: Nylon.
stefanj: THis book has been real helpful to my daughter. She is just starting out and has made some really good flowers with this book. A must if your into deco-ing.
strongbear: This product is of great quality. The product was very easy to use and it will have you making some beautiful decorations of flowers and other decorations. I highly recommend this seller for their speedy and excellent product.
susieq: I purchased this book without taking the course. Cake decorating classes in my area are almost nonexistent so I have to be self taught. Lots of pictures and detailed instructions will guide you through the beginning of cake decorating.
sweetthing: I have almost every Wilton Yearbook since 1977. I still use them and review the back issues frequently for ideas. I do do not like the newer issues as much because I do not care for fondant, so I love the older books.
tachi1 "tachi1": On the whole, I like this book very much. I have to say, however, that some of the instructions in it were contradicted by our instructor and she said she was instructed by Wilton to do so. I certainly felt that her way was better and, since it involves such basic instructions, I wanted to share it with you.For all the projects in this book other than covering the cake base and the cake itself--that is to say all the flowers, the bow, the leaves, and the borders along the bottom--wherever it says to use just gum paste, you should use a 1/2 gum paste and 1/2 fondant mix. Sure enough, it made it easier to do everything, there was less hardening and bumps, and everything looked prettier. (I had previously worked with gum paste on my own and wish I'd known this).Another thing that I noticed is that, in some cases, (especially the bow) the final product would have looked MUCH nicer if we'd made them thinner rather than as instructed in the booklet. It may be that, since this is an introductory course to forming decorations by sculpting rather than by piping, maybe they thought that thinner would have been harder to work with.But, all in all, it's a very nice reference (as well as an effective advertisement for countless Wilton products!)