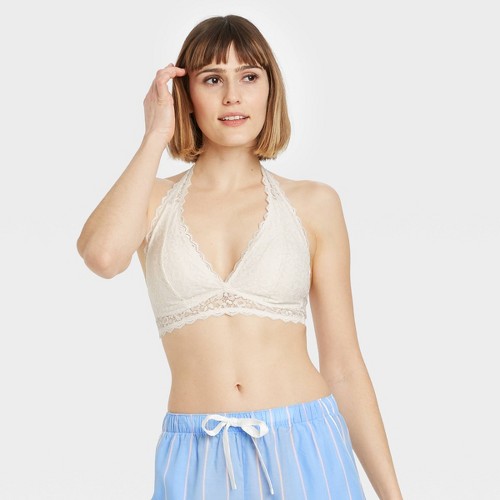 Please rating for this item if you love : 0 star
Check Price In Store: Target
Women S Lace Halter Bralette Auden White M
It's easy to elevate your intimates with a layering piece making the Lace Halter Bralette from Auden™ a lovely addition to your collection of undergarments. The allover lace design lends the classically sweet look you love paired with removable padding for functional comfort. Its pretty design lends itself beautifully to layering under your favorite flowy tank top or drapey tee as the lacy material adds dainty detail peeking out from necklines and low-cut armholes. Whether you incorporate this piece into your everyday looks or you simply love wearing a pretty intimate under your clothing this lace bralette will have you feeling comfortable and beautiful from the inside out. Color: White. Gender: female. Age Group: adult. Pattern: Solid. Material: Nylon.
tony: I've used this knife for quite some time, and it's wonderful. The weight is great and well balanced. It holds an edge rather well, and it sharpens easily. For the price, I think this knife can't be beat!
veronica s: This knife was a Christmas gift for my mother, who generally enjoys cooking but isn't the type to invest in high-quality kitchen equipment. I used it while visiting and really enjoyed it. I thought the knife was pretty solid and just as comfortable as my Wusthof Ikon chef's knives and wouldn't mind owning it myself (in addition to my current knives rather than instead of).Having just used it for a day or two, I don't know how well it will hold an edge in comparison to a more expensive knife but not a huge deal for a beginner or intermediate cook (and knife sharpening is a dollar or two per knife). My mother loved the gift and I think it's perfect for her, especially if she doesn't take meticulous care of it in the long run (which is possible, and a consideration when making my selection).I think this knife would be a great initial investment for someone starting their collection or upgrading from cheap or stamped steel knives. My mother is someone who cut everything with serrated knives so for her this knife is amazing. For a more serious or advanced cook, it may not be the best choice.
W. Dietrich "WD": This chef's knife is the best that I have ever used. I have used it daily for the last year on everything and it has not lost its sharpness. It is the perfect size and weight. If you are looking for a do-it-all knife than your search is over. You can spend more on a knife but I doubt it will perform any better.
A. Nichols: Great bread knife. It's shorter than I imagined but I guess that's my fault for not knowing how long 7 inches actually are. That sounded perverted.. ha!
Joshua Willis: Great bread knife that gets the job done without breaking the bank. Full tang, nice heft, and cuts through hard crusty bread effortlessly.