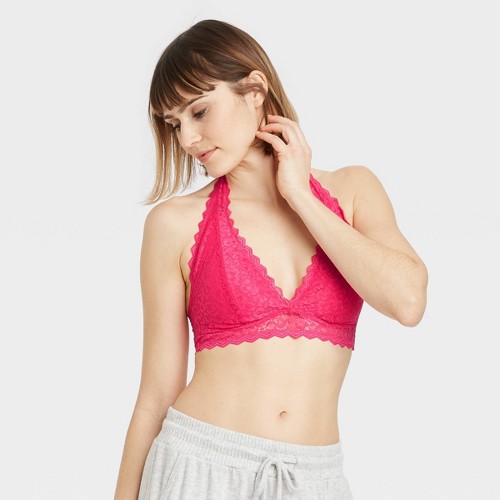 Please rating for this item if you love : 0 star
Check Price In Store: Target
Women S Lace Halter Bralette Auden Pink XXL
It's easy to elevate your intimates with a layering piece making the Lace Halter Bralette from Auden™ a lovely addition to your collection of undergarments. The allover lace design lends the classically sweet look you love paired with removable padding for functional comfort. Its pretty design lends itself beautifully to layering under your favorite flowy tank top or drapey tee as the lacy material adds dainty detail peeking out from necklines and low-cut armholes. Whether you incorporate this piece into your everyday looks or you simply love wearing a pretty intimate under your clothing this lace bralette will have you feeling comfortable and beautiful from the inside out. Size: XXL. Color: Pink. Gender: female. Age Group: adult. Pattern: Solid. Material: Nylon.
Catspec "Catspec": Carbon steel..the best to cook oriental dishes. I LOVE this WOK - purchased it a few years ago at another outlet. Had used an old thin one for many years...this is great...the only drawback is the slightly wobbly handle mine has...that might be why it was at the outlet where I bought it, but I am not complaining!! LOVE it - HUGE capacity for large fried rice dishes and large stir-fries. Cleanup is easy - you clean it right away and you are ready to go. MUST be oiled to preserve the quality...that takes about one minute to clean and oil.
Connie from Tucson: My husband and I decided to try the vegetarian life 6 months ago and I was learning how to make a good veggie/tofu stir-fry. I had a 30-year-old small basic wok that was unseasoned carbon steel like this one, but light weight. It was splattering on me and I had to constantly hold it with my left hand while cooking, so decided I needed a bigger, heavier one and I wanted a lid so got this matching lid, too.Joyce Chen 14 Inch Aluminum Wok Lid with Wood KnobI love this thing, it's so heavy that I don't have to hold it at all, and if I'd known that, I might have ordered the one with the two small handles instead of this long handle, for storage purposes. But after seasoning this, which I followed the nicely detailed directions, it has been a workhorse in my kitchen. I can stir-fry enough vegetables for two meals, and store one for later use. You have to take good care of it, meaning keeping it seasoned (oiled) on the inside or it will rust. That rust easily comes off with a little scrubbing and more oiling. It works best if you don't use soap after cooking, just rinse with water and use a paper towel or non-soapy scrub brush to clean off any stuck food, then put it back on the burner and heat it up, add your oil and wipe that all over the inside, let it set a while. Then with a clean paper towel, wipe the inside to get off excess oil and store it, without putting any other pots, etc into it because its a bit greasy. If you don't want that trouble, buy a coated one, but this is the authentic deal.
fast_matt: This product (the wok I own is a Joyce Chen from Target - identical except that it has bakelite instead of wood handles) seems solidly made and generally works well; the carbon-steel body is thick enough to be strong yet light enough to be comfortable, the handles seem to be securely riveted in place, and the helper handle is a useful touch.It transmits heat very well, browns meat rapidly, and can be run hot enough to properly stir-fry; prior to this wok I had a 12" non-stick and the non-stick coating self-destructed after one or two uses. A non-stick wok is a rather pointless exercise.However, the seasoning instructions did not work adequately on my electric range; while I was able to get the very bottom to season properly, the sides refused to turn colors and after using the wok for a while a thin film of rust developed about 1/3 of the way up the sides. I scrubbed it off with 0000 steel wool and re-seasoned.I found the following procedure, modified from one on a website, to work well, but take NO responsibility if you happen to destroy the small handle on your wok trying it. Mine survived fine.First, stove-season the wok per the instructions, concentrating on the bottom. Trying to heat the sides over an electric range was ineffective; that's what the next step is for.I found it works best to pre-heat the wok on medium to medium-high heat, THEN wipe oil onto the inside surfaces with a repeatedly-folded paper towel. Take care that your hand does not contact the pan or the hot oil in the towel; use the paper towel in such a way that your fingers are several inches from the hot surface. BE CAREFUL! This will require wiping more oil onto the pan fairly frequently, but has the added advantage (over pouring, then spreading) of limiting the amount of oil in the pan, so if you over-heat it the flames will be inches rather than feet high and quickly go out.After stove-seasoning, let cool and remove the long handle by unscrewing the hanging eye. Wrap the small handle in a wet dishcloth or wet paper towels, then wrap the wet cloth completely in aluminum foil. This will keep the handle below 250 degrees F or so as long as there's water left.Pre-heat the oven to 450 degrees.Heat the wok on a burner at medium heat to heat the bottom.Wipe the entire inner surface with oil, then (USING TWO OVEN MITTS!) put the wok in the oven for 20 minutes.Remove (REMEMBER THE OVEN MITTS!), let the wok cool, rinse the oil out with hot water, and lightly scour the inside with a fine nylon mesh (I used the bag some onions came in) to smooth the rough spots. Re-wet and re-wrap the cloth keeping the handle cool. Dry with a paper towel and heat briefly over medium to medium-high heat to remove any remaining moisture. Repeat the oven-seasoning procedure at least 2 or 3 times.Yes, it's a bit of a pain in the posterior, but at this point the entire inside of your wok should be a rich brown color, darkening to black near the bottom. NOW you're ready to cook!
G. Powell: This pan is a wok of art. I really like using it to cook oriental dishes. I've owned one for years. The previous one I owned didn't have the wood handle, and I'm glad I have it. It makes serving from the pan much easier.Flat bottom vs round. I used to have round bottom pan, but the gas stove I have now recommended not using a wok ring. Least ways not one which retains the flame/heat. After having used both for a while, I can say it doesn't seem to matter much. By having a flat bottom pan, its one less thing to thing to hassle with. The pan is less tippy while cooking. Also if you have an electric stove, you have to have a flat bottom pan, the radiant heat from an electric burner just doesn't get the pan hot enough for a round bottom pan.I had looked at the Lodge cast iron woks, and decided that this pan being a bit deeper would be better. I had thought about non-stick, but I after cooking in it for a number of years, the oil/fat deposits have left a nearly non stick surface. Also at the high tempetatures I cook things at, it seemed like a non stick surface wouldn't hold up. (At least not the previous non-stick finishes that were available then.) Also price factored in, this pan is about 1/5th the cost of the good non-stick pans.Why a wok? The idea is to use a small amount of oil to cook at high temperature food and seal in the juices. This process splatters the oil a lot and the deep bowl of a wok keeps it in the pan. Also by having a small bottom area where the oil is being blasted by the heat, it keeps the temperature of the oil up, as you finish cooking things you push them up the side of the pan.Why rolled steel? The temperature gradant of the material is severe. Its really hot on the bottom of the pan, and much less so up at the edges. Makes it easier to control the cooking.This isn't a first fry pan for a kitchen, at least not mine. But its a great addition.
Joanna Daneman: 1. High carbon steel seasons well (a process by which you impregnate the steel with a layer of oil.) Follow the directions. 2. Never wash a wok with detergent or put it in the dishwasher. We scrub ours out with coarse salt and follow with hot water, a swipe of a paper towel and then a bit of cooking oil. 3. The flat bottom isn't traditional but if you have an electric stove, it's required (the wok ring and round bottom don't work as well on electric stoves. To cool the wok, remove from the electric element; for gas, just adjust the gas level.) 4. The handle is also not traditional but handy and well made.In short, you can't find a better wok. High carbon steel WON'T rust if you take care of it according to directions. And it cooks better than non-stick surfaces, which should not be heated as hot.