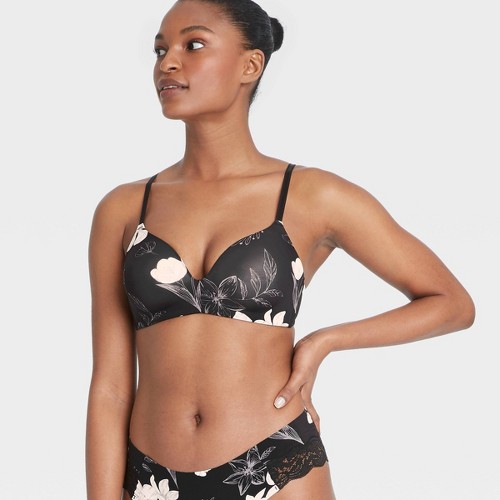 Please rating for this item if you love : 0 star
Check Price In Store: Target
Women S Floral Print Bliss Lightly Lined Wirefree Bra Auden
Women's Floral Print Bliss Lightly Lined Wirefree Bra - Auden Black 32B Color: Black/Floral Print. Gender: female. Age Group: adult. Material: Nylon.
Piraha Mura "Piraha": It's a round solid bottom carbon steel wok. The handles are solid and well made so far. I love the price and prime delivery. It came all the way from Taiwan. So it keeps all the stars.I had an non-typical sized 13-inch Chinese cast iron wok for 2 years. 14 inch makes a lot of difference in the volume but still fit reasonably into my twin kitchen sink. My typical wok ring is for 14 inches and above. It was slightly too large for my old wok. Carbonized food residue can integrate with the cast iron or come off in trunks. I think carbon steel should be better.I would have got the small steel loop handles if they are not more expensive including shipping. For seasoning I can put the whole wok in the oven or the gas barbecue. Also, wood will break down sooner than metal, right? Without the wood handles, it could fit better in the sink. However, the wood handles are much more convenient than without. I can happily live with it.The wok comes with a clear protective lacquer. The boiling, hot soapy water, and abrasive pad helps to remove most or all of it. I don't know if there's something special about my hand dish detergent - Palmolive pure & clear ultra. When the undiluted detergent make contact with the wok surface, the surrounding area seems to have lacquer still on it. And before the lacquer comes off completely, wiping the wok with kitchen paper towel will result in greenish color on the paper. And when the wok seems to be very clean, it seems to rust on one side (slightly brownish spots) as soon as you are washing the other side.The seasoning instructions are a bit brief. I would dry the wok first completely before adding oil for example. And they should say what to expect after you season the wok.Peanut oil has a higher smoke point so I wonder if that would make the kitchen less smokey. I would say the idea of seasoning is to get a least a brown color on the shiny carbon steel surface, black doesn't hurt as long as it is even (see my pic). If you don't do that during seasoning, a proper stir fry will do that for you (unevenly though). The sturdy wood handle is great to manoeuvre the wok to get some brown color on the side. The area near the rim doesn't matter much as it is not hot enough during cooking and food don't get there to be carbonized.For after use care you don't actually need to put oil on it, as long as you don't use detergent. I dry it by flame because when it is wet, any normal rust will stain the sink.I don't know why I didn't season the bottom of the wok. I didn't remember if it is in the instructions. The whole bottom rust after use. For the oven seasoning method I used to put oil on both sides. For this one I just smear oil on the bottom and put it under the stove, normal side up.
Yours Truly: Some years ago, I tossed out the grungy wok i bought in Chinatown and replaced it with a fancy flat-bottomed stainless steel one. Big mistake. I was impossible to stir fry the dishes I was accustomed to making in a flat-bottom wok because the oil went to the bottom and it couldn't be easily distributed. And the steel just didn't conduct the heat to my satisfaction. Carbon steel may be a pain to season, but it's still the best conductor of heat for stir-fry. The design is quite pleasing, and I love the wooden handles, because I don't have to reach for a potholder when I'm cooking. Although the instructions don't tell you what kind of oil to use for seasoning, I suggest peanut oil. I started with some corn oil and it blackened, but it scrubbed off and I started again. Success!
Catspec "Catspec": Carbon steel..the best to cook oriental dishes. I LOVE this WOK - purchased it a few years ago at another outlet. Had used an old thin one for many years...this is great...the only drawback is the slightly wobbly handle mine has...that might be why it was at the outlet where I bought it, but I am not complaining!! LOVE it - HUGE capacity for large fried rice dishes and large stir-fries. Cleanup is easy - you clean it right away and you are ready to go. MUST be oiled to preserve the quality...that takes about one minute to clean and oil.
Connie from Tucson: My husband and I decided to try the vegetarian life 6 months ago and I was learning how to make a good veggie/tofu stir-fry. I had a 30-year-old small basic wok that was unseasoned carbon steel like this one, but light weight. It was splattering on me and I had to constantly hold it with my left hand while cooking, so decided I needed a bigger, heavier one and I wanted a lid so got this matching lid, too.Joyce Chen 14 Inch Aluminum Wok Lid with Wood KnobI love this thing, it's so heavy that I don't have to hold it at all, and if I'd known that, I might have ordered the one with the two small handles instead of this long handle, for storage purposes. But after seasoning this, which I followed the nicely detailed directions, it has been a workhorse in my kitchen. I can stir-fry enough vegetables for two meals, and store one for later use. You have to take good care of it, meaning keeping it seasoned (oiled) on the inside or it will rust. That rust easily comes off with a little scrubbing and more oiling. It works best if you don't use soap after cooking, just rinse with water and use a paper towel or non-soapy scrub brush to clean off any stuck food, then put it back on the burner and heat it up, add your oil and wipe that all over the inside, let it set a while. Then with a clean paper towel, wipe the inside to get off excess oil and store it, without putting any other pots, etc into it because its a bit greasy. If you don't want that trouble, buy a coated one, but this is the authentic deal.
fast_matt: This product (the wok I own is a Joyce Chen from Target - identical except that it has bakelite instead of wood handles) seems solidly made and generally works well; the carbon-steel body is thick enough to be strong yet light enough to be comfortable, the handles seem to be securely riveted in place, and the helper handle is a useful touch.It transmits heat very well, browns meat rapidly, and can be run hot enough to properly stir-fry; prior to this wok I had a 12" non-stick and the non-stick coating self-destructed after one or two uses. A non-stick wok is a rather pointless exercise.However, the seasoning instructions did not work adequately on my electric range; while I was able to get the very bottom to season properly, the sides refused to turn colors and after using the wok for a while a thin film of rust developed about 1/3 of the way up the sides. I scrubbed it off with 0000 steel wool and re-seasoned.I found the following procedure, modified from one on a website, to work well, but take NO responsibility if you happen to destroy the small handle on your wok trying it. Mine survived fine.First, stove-season the wok per the instructions, concentrating on the bottom. Trying to heat the sides over an electric range was ineffective; that's what the next step is for.I found it works best to pre-heat the wok on medium to medium-high heat, THEN wipe oil onto the inside surfaces with a repeatedly-folded paper towel. Take care that your hand does not contact the pan or the hot oil in the towel; use the paper towel in such a way that your fingers are several inches from the hot surface. BE CAREFUL! This will require wiping more oil onto the pan fairly frequently, but has the added advantage (over pouring, then spreading) of limiting the amount of oil in the pan, so if you over-heat it the flames will be inches rather than feet high and quickly go out.After stove-seasoning, let cool and remove the long handle by unscrewing the hanging eye. Wrap the small handle in a wet dishcloth or wet paper towels, then wrap the wet cloth completely in aluminum foil. This will keep the handle below 250 degrees F or so as long as there's water left.Pre-heat the oven to 450 degrees.Heat the wok on a burner at medium heat to heat the bottom.Wipe the entire inner surface with oil, then (USING TWO OVEN MITTS!) put the wok in the oven for 20 minutes.Remove (REMEMBER THE OVEN MITTS!), let the wok cool, rinse the oil out with hot water, and lightly scour the inside with a fine nylon mesh (I used the bag some onions came in) to smooth the rough spots. Re-wet and re-wrap the cloth keeping the handle cool. Dry with a paper towel and heat briefly over medium to medium-high heat to remove any remaining moisture. Repeat the oven-seasoning procedure at least 2 or 3 times.Yes, it's a bit of a pain in the posterior, but at this point the entire inside of your wok should be a rich brown color, darkening to black near the bottom. NOW you're ready to cook!