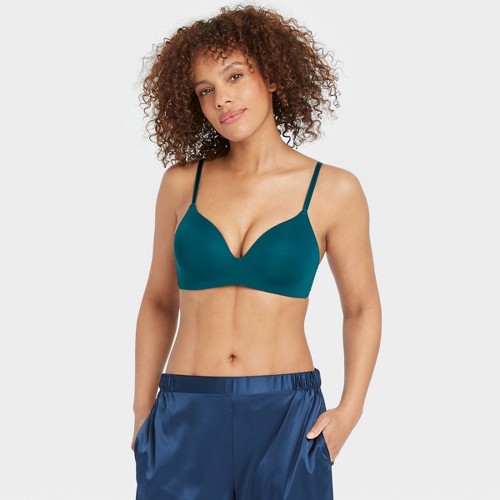 Please rating for this item if you love : 0 star
Check Price In Store: Target
Women S Bliss Lightly Lined Wirefree Bra Auden Teal 34A Blue
Women's Bliss Lightly Lined Wirefree Bra - Auden Teal 34A Blue Gender: female. Age Group: adult. Pattern: Solid. Material: Nylon.
Janey Lee: When I got this machine, I put the bowl in my freezer and after 6 hours tried to make some ice cream even though the bowl was not completely frozen.If you read all the other reviews here, you know that it doesnt work that way.You need to freeze this bowl for a very long time before you make your first batch. Like 24 hours or more.Other than that, the machine is great, easy to use and easy to clean.
Jennifer Illuzzi: This is the first ice cream maker I have purchased, and this seems to have been a good choice. So far I have made dark chocolate gelato that came out fantastic, and some strawberry frozen yogurt. After 25-30 minutes in the machine, the consistency and texture are quite good...definitely hard enough to eat immediately. I wish the recipe book was bigger, but I found the gelato recipe on line (epicurious, I believe) and it worked fine (except the custard is kind of a pain to make, lots of stirring and constant attention...). After having lived in Italy for a year, I really missed creamy Italian gelato, and so now I have my own way to make it. And it's also nice because I know exactly what goes into every batch. After you remove the leftovers to the freezer, it is necessary to let them defrost for a little while before serving them, because the ice cream/yogurt, etc. gets hard (no commercial softeners in there). Not a big deal though. This machine is pretty loud, but nothing too unbearable. I would recommend it for anyone interested in a small, easy to clean, easy to use, ice cream maker.
Jennifer S.: I have made sorbets and various full and low fat ice creams. It is easy to use if you follow the directions and easy to clean. It makes a product that is frozen but not hard. Good consistency for eating right away. We store the frozen bowl in the freezer with the bottom side down, it seems to get things a little firmer this way.
J. Fuchs "jax76": This ice cream maker is easy to use, takes up almost no space, and turns out bowl after bowl of creamy custard based ice creams, light fruit-filled ice creams, and fluffy sorbets all with a minimum of set up or effort. The bowl goes into the freezer until it has frozen solid (I just leave mine in there all the time so it's frozen when I need it), and in two seconds the base is set up and I'm pouring in French Vanilla Bean ice cream, or champagne citrus sorbet, or fresh peach ice cream with peach chunks. Sorbet is as easy as grinding up some frest fruit in the food processor or blender, mixing in a simple sugar syrup that takes 5 mins. to make with sugar and water, and optionally adding a little lemon juice or a teaspoon or two of alcohol to give it a softer consistency. I like adding champagne -- it softens the texture but tastes great as well, giving it an added tanginess that helps keep the sorbet from being too sweet. Clean-up is a breeze as there are only three parts to clean. The freezer bowl, the plastic piece that sits inside it, and the top.Seriously, I have not bought commercially made ice cream since I got this maker. I just go to the market, see what looks freshest , and it's sorbet within a few hours. Ice creams almost as easy and much better than Steve's, Baskin Robbins, etc. I can't say enough about this little unit that looks like nothing. It's sure something! And at less than $50, it's a bargain. I've bought them for all my friends.
Jill Jones "Regular Gal": Maybe I just got a lemon, judging by all the favorable reviews, but my cuisinart ice cream maker just doesn't work! I was really looking forward to making low-carb ice cream, but, no dice. At the end of the 25-30 minutes, still just totally liquid sweetened half-and-half. I've kept the freezer bowl in the freezer for a week, used the most basic recipes, even with sugar, just in case that was the problem. I've tried about 6 times with different ingredients, chilling it all, adding flavorings and sweeteners only at the end. A couple of times I ended up with butter because I just couldn't believe that a cuisinart product could fail so utterly and I just kept it turning. What a disappointment! On the plus side, I've found I can salvage the ingredients in two ways. First and simplest, just pour it into popsicle molds and freeze those. Not creamy in texture, but still a nice frozen treat. The other method I learned at our local children's science museum. Put the cream mix into a zip-loc bag. Tak another large zip-loc bag and put in a couple dozen ice cubes, and 1/3 cup of salt--just regular table salt works totally fine. Put the yummy bag into the bag of ice. Now shake it for about 10 minutes, until it turns into ice cream. If you wish, you can use a pair of legging-type pants for a convenient shaker. Turn the pants half-way inside out, so that one leg is inside the other. Put the double bag into the middle of the leg, grab both ends and shake. You don't have to shake very vigorously. Check to see how it's coming along every 5 minutes or so. Once it's frozen, open the salt-water bag, take out the ice cream bag and give it a quick rinse to wash away the salt. Voila!