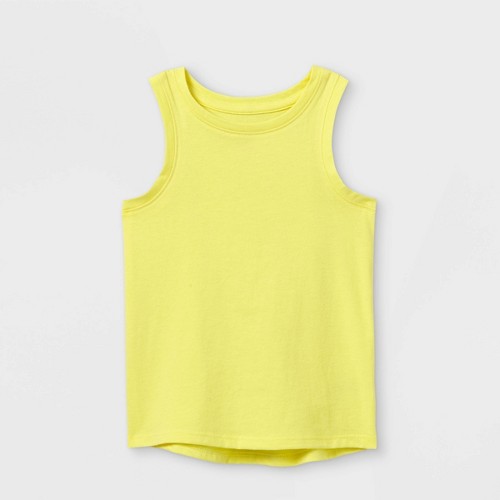 Please rating for this item if you love : 0 star
Check Price In Store: Target
Toddler Girls Tank Top Cat Jack Yellow 12M
Freshen up her cool comfy style with this Tank Top from Cat and Jack™. This toddler girls' tank top in a solid color makes a versatile warm-weather pick. It features a crewneck and a relaxed shape for easy style. The sleeveless top is made from soft and breathable fabric to keep her in all-day comfort. Have her wear it with jeans shorts or leggings on a sunny day and easily layer it under a hoodie or sweater to keep her cozy when the chill sets in. We designed this product using at least 20percent recycled polyester (excluding trimmings ornamentation interlinings and linings; see below for full fiber content) a fabric that's created by turning old plastic into new polyester fibers. Making products with recycled polyester helps prevent plastic waste from ending up in landfills — another way we're committed to promoting sustainability. Size: 12M. Color: Yellow. Gender: female. Material: Cotton.
molu: I have 8 sheets that I use over and over, and often. I love this. My mom first came across these on a trip to Taiwan (she took a baking course there while on vacation over 15 years ago) and came back with 3 sheets. She is still using the same three sheet today plus another two that she bought more recently.I always wanted some but never knew where to look, what they're call, and how to buy. That is, until it came across as a "recommended product" by amazon one day. They're exactly what my mom has and works just as well. Everything slides right off (even the delicate lacey cookies). They don't burn or scorch (if you're melting sugar with a kitchen torch). They're thin so you can roll them all up together to store a used paper towel core.One thing I noticed last night is they don't get covered in rancid sticky grease. That seems to be happening to my Mafter silicone liners. They have developed this waxy/sticky residue that won't wash off. But not these. And another issue I have with the silicone liners, mine are falling apart at the edges after just 2 years. And I rolled them up once for storage and now one won't un-roll and lie flat anymore.I just love these. They're so much cheaper (than the silicone liners) especially with Amazon's buy 4 get one free deal. Try it. You'll love it.
psorion: Why did I not buy this years ago!? This parchment paper is so handy and makes making anything in the oven so much easier. I used the parchment paper to make pizza and rather than having to prepare a pizza on a separate tray then maneuver it onto the hot stone after putting cornmeal down, I prepared the pizza on the parchment paper and slid it onto the hot stone and that was it! The pizza slid right off when it was done and I rinsed the parchment paper and was done. No stone to clean and no cornmeal all over the place. I can't wait to start using this when I bake desserts. A kitchen item everyone should have!
RDawn: I wanted to buy a silpat for my cookie sheets because I bake a lot and thought it was wasteful to be throwing away all that parchment paper. However, my cookie sheets are large (about 13.5x18). This seemed like the best fit and was reusable, so I bought it. So glad I did!It is a thin, coated parchment paper. My baked goods come off perfectly from it, and it's easy to clean. The coating is supposed to be silicone, and feels a bit waxy (in a good way). I love this so much I bought another one! Now I have one for both cookie sheets.
robmac: It is thinner than I thought it would be but it works well. My wife just doesn't like to wash it. She would rather use foil and spray Pam on it. Then she can just throw it away. So, I wash it for her to save a few bucks on spray and foil.
Sandra D: I've only used my mat 2-3 times, but am loving it so far. My only comment (not really a complaint) is that on the very first use, the biscuits I baked on it left a 'stain'. It's not like I'm going to be pulling out these sheets to show to company, though, so it's not a big deal. What I care about is the functionality, and so far they are performing great -- nothing is sticking at all, and they don't curl up on the edges like normal parchment. I love that I am no longer wasting parchment paper by using once or twice and throwing in the trash -- great, green product! (As someone who owns both, I highly recommend these sheets over Silpat, which I bought for way too much money and then only used once because of it's weird, rubbery texture and the fact that it attracts lint, etc.)