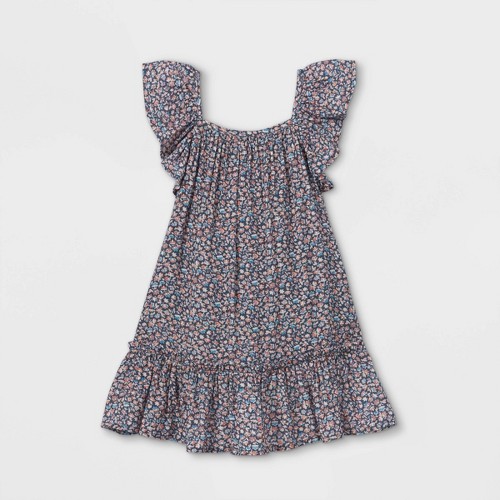 Please rating for this item if you love : 0 star
Check Price In Store: Target
Toddler Girls Floral Ruffle Sleeve Dress Cat Jack Blue 5T
Add pretty florals to her dress collection with this Blue Floral Ruffle Sleeve Dress from Cat and Jack™. This toddler girls' knee-length dress with a ditsy floral print over a blue backdrop makes a charming warm-weather outfit. It features a cute square neck a frilly tiered hem to add some movement and short flutter sleeves for summery style. The breathable material ensures cool comfort while the pullover design allows for fuss-free dressing and changing. Help her wear this dress with sandals or sneakers when it's warm then add a cardigan and tights during the cooler season. Size: 5T. Gender: female. Material: Rayon.
Howdy06mom "howdy06mom": I never make rice on the stove and always use the microwave. This product offers a much larger capacity than my Pampered Chef brand so i can double the recipe without spillover.
Jack E. Wilson "carlsbadjack": I keep two or three of these on hand. They are an excellent inexpensive gift when you visit someone. Though inexpensive, I absolutely love them. They cook rice and vegetable to perfection. And for some people, those are both challenging endeavors, and I hate rice when not done properly.
James Allen: There are very few products for which I will give a five star recommendation. This is one of the few. I received this cooker many years ago as a gift and did not use it at first. Let me preface this by saying I am a huge fan of the Japanese sticky rice and it is very difficult to find a device that will cook it well. This little microwave pot does it exactly right. I have steamed vegetables in it, cooked pasta, and of course loads of sticky rice. If you follow the instructions, you really can't screw up with this one. I did learn to set my microwave at 70-80% before cooking or the rice would boil over and leave a sticky mess in the microwave. Definately a must have for any kitchen that needs fast, healthy meals m/ a microwave.
Jane Phero: Love this item, I use along with the sushi maker, easy to use and easy clean up, life can't get any easier. Thank you
Janey "Amazon customer": I don't cook rice all that often, so I've only used it once for that and followed the guidelines given with the cooker. The rice came out fine. I've used it many times for potatoes, broccoli, butternut squash, and apples. In all cases, I wash the vegetable or fruit thoroughly, don't bother to pat it dry, and then cook it without adding any additional water. You don't need to add any more water, because this is a steamer. In the case of squash I peel and remove seeds and cut it up. Whether I cut up other things depends on what I am using it for after cooking. Then I microwave on high until the food is cooked. I usually use the basket insert, and pull that out, drain any liquid out of the cooker. There usually isn't a lot.With the apples, I mash them in the cooker, skin and all, and make applesauce. I sweeten it with sugar or Splenda. It doesn't take much, because I don't want it super sweet. I also usually add cinnamon and freshly-grated nutmeg. Apple pie without the calories or work.Potatoes I use as I would boiled potatoes and serve whole or mashed, or let cool and use for home fries, hash browns, or potato salad. Squash--usually mash that. For all of these, you have only 3 or 4 pieces to wash. No big kettle and hot water to deal with. Be careful when opening the cooker, though, because the steam is very hot.I just checked and I know I paid less than the current price, but I think it is still a good value, since it includes measuring spoons and cups, a pasta measurer, etc. I was so impressed I bought each of my sister's one.The cooker is easy to clean and I use it frequently. That last is important. I don't know how many microwave products I've purchased over the years that are used once or twice and then work their way to the back of a kitchen cabinet. I find them on the next major kitchen cleaning frenzy (those don't happen often enough), and, at that point, I have to be brutally honest and ask myself--will I ever use that again? If I am good and honest, I then put it in a bag to be given away. Let it clog up someone else's kitchen cabinet! Meanwhile I will be using my rice cooker!