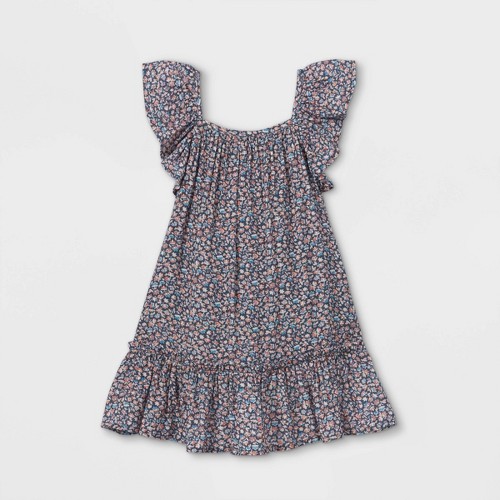 Please rating for this item if you love : 0 star
Check Price In Store: Target
Toddler Girls Floral Ruffle Sleeve Dress Cat Jack Blue 18M
Add pretty florals to her dress collection with this Blue Floral Ruffle Sleeve Dress from Cat and Jack™. This toddler girls' knee-length dress with a ditsy floral print over a blue backdrop makes a charming warm-weather outfit. It features a cute square neck a frilly tiered hem to add some movement and short flutter sleeves for summery style. The breathable material ensures cool comfort while the pullover design allows for fuss-free dressing and changing. Help her wear this dress with sandals or sneakers when it's warm then add a cardigan and tights during the cooler season. Size: 18M. Gender: female. Material: Rayon.
A. Boston: This is a nice set...I like that they're stainless steel, but given that they're metal I didn't expect that they'd be so easily bent. Without much force at all they do give. It's not a huge problem for me since I'll only use them once in a blue moon for baking. Otherwise they're easy to use and clean, I really like that they come off the ring without taking each one off to get to the last one. Theres just a little notch and you can pull it off. The rubber grip handles are great and I like the colored markings, much easier to spot then if it were etched into the metal. On the whole it's a perfectly good set of measuring cups.
A Customer: The OXO Good Grips are generally great kitchen tools, well made and long lasting. These measuring cups are no different. However, they remind of the defect in old Stanley screwdrivers: the handles are so comfortable that it is too easy to bend.Pros:-Well made-Accurate measurements-appears to be long lasting-Comfortable to useCons:-Comfortable Handle bends too easily-Handle too heavy, makes cups not very steady on a table top
Addison Dewitt "I'm nobody's fool.": PROS:Not having experienced the older version of these measuring cups, I'm not quite sure where they've improved, but it seems like this set has very strong handles which would not bend unless someone is purposely trying to bend them with a lot of force. I try to bend them and can barely do so, which leads me to believe they've made that portion much stronger and thicker. The grips do not come off at all, so any past complaints about that feature have been resolved in this new design as well. I like how these are bent at the tip and form a nice spout to pour from. The brushed stainless is nice looking and easy to clean.CONS:The clip which keeps these together has a small opening to remove cups separately. The opening is a bit too small to remove these cups easily and even though I'm sure it will get a bit easier with the product's age, at this point, it's extremely difficult.In closing, I'm pretty happy with these cups and as an avid cook, I'm sure I'll be using these quite often instead of my measuring cup which requires me to view the lines and take away or add as I'm pouring. Now I can just dip the cup in or fill it and I'm good to go! Great product with one minor caveat.
AJ: Love the rubberized handle that are easy to grip even if your hands are slippery. Came out perfectly in the dishwasher. They have a nice weight to them, so I never worry about them getting bent or dinged when they get tossed in a drawer. Plus the size marking is large, colored, and raised so they are very easy to read (unlike my old set that was just stamped with the size so you had to catch the light to read it). Best set of measuring cups I've ever owned.
A. John "military mom": I originally used theKitchenaid Classic Measuring Cups and Spoons Set, Redbut the problem with this set since I've had it for so long was that I couldn't figure out what cup they were since the measurements were almost rubbed off. These were a great replacement although it wasn't a complete set and I do have to get the measuring spoons to go along with it. They are dishwasher safe and the measurements are etched deeply into the handles and seems very durable.I do have an issue with this though. The handles are a little too short. I wish they were at least an inch longer with still the same thickness to prevent bending. When scooping I almost always end up with whatever I'm scooping getting on my hands. They are very well made but since they are made of steel, items such as butter tend to stick a little bit more to them. I do love the rubber handles that are at the end because they give me a good grip and do not "bite" into my hands while I'm scooping.There are only 4 measuring cups. 1/4, 1/3, 1/2 and 1 cup. I wish there was a 3/4 cup as well but I guess that's me just not wanting to scoop up 3 - 1/4 cups.Besides those 2 details these are very good measuring cups and I give them 3 1/2 stars.